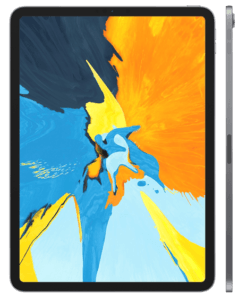 There are several iPad options, and you might be confused about which one to buy. However, if you decide to go for the iPad Pro, you would be choosing the best iPad currently existing. This iPad can withstand almost everything you can ask from an iPad. But there comes another tricky part, as you have to choose between two sizes: the 11-inch iPad Pro and the 12.9-inch iPad Pro.
We take a closer look to help you decide on which one to choose.
The iPad Pro 11
The iPad Pro 11 (2021) is more portable and lightweight than its sibling. This makes it suitable for reading, watching and work. It has storage options, up to 2TB and memory options of 8GB upwards, while it now features the new Apple Silicon chip. However, it retains the display option (Liquid Retina) as from previous versions.
Pros
Reasonably priced

More portable and lightweight

It comes with the M1 chip

Has up to 2TB storage options

Lovely display

Wi-Fi and Cellular models support 5G
Cons
It doesn't have the XDR display

Smaller screen estate for work

Smaller keyboard
The iPad Pro 12.9
The iPad Pro 12.9 presents you with the biggest screen estate you can get on the iPad. There is a lot of room to work, especially with the Apple pencil. It also has the latest XDR display (Liquid Retina), which is great for watching and editing high-contrast and high-brightness HDR content, with a snappy and insanely fast M1 chip for its performance. However, the size and cost could be a problem for some users.
Pros
Biggest screen estate on an iPad

A new Liquid Retina XDR display

Has the M1 chip

Best for high-contrast and high-brightness HDR content

Supports 5G on Wi-Fi and Cellular models
Cons
It could be too big to move around with

Expensive
iPad Pro 11 vs iPad Pro 12.9
Internally, the 12.9-inch and 11-inch iPad have the same specs. They both have Apple's latest M1 chip that has an equal number of performance and efficiency cores (four each). This is the same number of cores you will find in M1 Macs.
The only real difference between the two is the display, and we don't just mean size.
Both iPads have eight-core GPUs, and they both have only 8GB memory options on 128GB, 256GB and 512GB storage models. While they both have 16GB memory options for 1TB and 2TB storage models. There is support for the Smart Keyboard Folio and the Apple Pencil 2 on both models.
If you purchase the Wi-Fi and Cellular version, you are assured of 5G coverage anywhere you are. The significant difference between both models is the display. While the iPad Pro 11 retains the Liquid Retina from its previous generation, the iPad Pro 12.9 features the new XDR version of the Liquid Retina. The iPad Pro 11 display still very much delivers for watching videos and reading texts. Due to its compactness and size, iPad Pro 11 is easier to grip while watching movies and reading eBooks.
Again, the iPad Pro 11 display is enough for most users. However, serious professionals that constantly deal with high-contrast and high-brightness HDR content are better off with the iPad Pro 12.9.
The new XDR display delivers top brightness levels and deep contrasts and reveals subtle details hidden on the regular displays. It is best for viewing and editing high-contrast and high-brightness content, like HDR videos and photos. If these are features you require, then the iPad Pro 12.9 is better suited for you. The bigger screen estate that comes with the iPad Pro 12.9 is also excellent for drawing apps that need the Apple pencil.
People who don't need HDR content, don't draw and don't require a big screen estate – the iPad Pro 11 (2021) should do the work for them. It now also comes with a high level of power with the latest M1 chip. The size is easier to handle, and it has a lower starting price compared to the iPad Pro 12.9
Final Verdict
Overall, we would recommend the iPad Pro 11 for most users, as it is more portable and lightweight while the M1 chip gives it enormous power. We will recommend the iPad Pro 12.9, as it is better suited for editing and detailing videos and graphics. Whichever one you choose you can always sell iPad of any model to us if you're looking to upgrade for a newer model.
The M1 chip means that you are getting the same level of power with both, while the deciding factors are the display and size.