Samsung Galaxy Book Pro: Things You Should Know Before Buying
Jun 10, 2021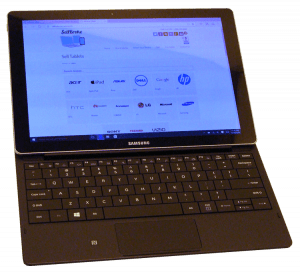 Samsung has always been known for its sleek and beautiful designs, and the Samsung Galaxy Pro does not disappoint in that aspect. With a brilliant design, different processor options, good spec sheets, optional LTE support and an AMOLED display. However, the build quality is compromised due to its lightweight. Laptop also comes with a non-rechargeable S Pen that is used for accurate and precise use.
It comes with a discrete NVIDIA GPU, perfect for gaming and multimedia editing options; it works great for outdoor works due to its anti-reflective screen.
If you already use a Samsung Galaxy phone, using this laptop will give you a feel of the apple tied ecosystem. It will allow you to sync and share photos, notes and other things you might require to share with your phone.
Design
The laptop comes at an incredible 11.9mm thin and 1.39kg, and even though it is a 15.6-inch touch screen, this laptop is exceptionally light and portable.  It comes with limited ports such as the USB Type-C, a headphone and microphone jack, and a MicroSD slot for multimedia.
It also comes with two good Dolby Atomos software, AKG speakers on the bottom side of the laptop. However, it does not have the resonance and bass like most top-firing designs.
The Galaxy Pro comes with an all-metal chassis, and it is a good thing considering the thin design of the laptop and the bottom part of the laptop is big enough to cool the processor.
Keyboard and Trackpad
The 15-inch keyboard has a 1mm travel distance, but it feels good to use after a while due to its rubber dome design and scissor mechanism. It has three-stage backlighting.
The trackpad uses a Microsoft precision driver, and it is large compared to most laptops in its caliber. It gives an instant click sound and has a unique smoothness to it.
Display
The keyboard of the Samsung comes with AMOLED technology. During testing, it delivered an excellent representation of color with 85% AdobeRGB, 96% DCI-P3 and 100% sRGB, which is more than expected for a laptop of its class. It also supports the VESA Displayed 500, which makes watching movies a clear and precise range.
The Book Pro supports the wide-color gamut and supporting apps. It also has come with an adaptive light- it adjusts the laptop color depending on the level of natural light. It has an HD 1920 x 1080 resolution and a dark glossy screen, which creates lower reflectivity.
Performance
The performance of this laptop is excellent, depending on the usage. You can use it however you want, switching between silent and high-performance modes. It is a Core i7-1165G7 laptop and a windows ten operating system.
The Galaxy Book never gets hot, although it could get a little warm with constant use. A core i7 does not usually come with a fan mode, but you get to switch between having a high-performance mode or a silent mode with the optimized option in this laptop. It also lets your laptop get a balance between comfort and work.
Aside from the fan that silently blows, the laptop comes with one of the fastest SSDs. The performance is a pretty good one, and it is a good buy.
Battery
The battery life of the Galaxy device is one of its good features. Coming at 68WHr, the Samsung galaxy book pro has a fast-charging enabled adapter that can give you up to 8 hours of work in just 30 minutes. This great laptop can be used for up to 11 hours on a full charge on light to medium work. And up to 9 hours on a heavy workload.
Final Verdict
The Samsung laptop for people who want light and sleek laptops and love a good number pad on a laptop. It is excellent for work, school, leisure, and it provides good productivity. It has terrific audio with great bass loudspeakers, and it also has excellent battery life.
You might experience minor issues with the audio, where the speakers are on the bottom edge instead of the top part. The webcam is also not good.
Samsung focuses on the AMOLED screen tech in this laptop, and it has a very accurate color display. Its S Pen enhances the functionality of this laptop, and with your Samsung smartphone, you can get absolute fun with it.