MSI GS76 Laptop Review: Thin and Light Gaming at an Affordable Price
Jun 01, 2021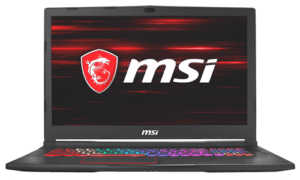 MSI GS76 Stealth is a thin, sleek and portable laptop packed with up to 10th Gen. Intel Core i9-11900H processor and the NVIDIA GeForce RTX 3080 SUPER™ graphics. You can hardly tell it's a gaming laptop from its feel and look, unlike most gaming laptops.
The GS76 is an improved version of the GS75; its heavier and thicker build makes an excellent cooling system.
MSI is currently making many good features into their new generation laptops, both for gaming and creativity, and the GS76 is one of the newly released premium laptops. Unlike the previous laptop that came before this (the GS75), the MSI redesigned and made the GS76 laptop closely looks like the GS66.
Design
The MSI GS76 is, in a way, like the MacBook Pro. It comes in a thin body, which it's hard to tell because of its large screen—coming at 5.4 pounds (2.45kg). Like the MacBook Pro, the MSI GS76 has its logo at the back of its metal cover. The laptop is furnished with Thunderbolt 4 support and an SD slot.
The inside of the laptop does not have much going on, and it has its power button right above the keyboard. The laptop has two audio speakers, plus a subwoofer when is excellent for multimedia screenings and gaming.
Keyboard and touchpad
The keyboard of the MSI is one of the most critical features of the laptop, it is an island-style, beck lit, flat-topped keyboard, which could raise an eyebrow for some gamers, but it does not stop its smoothness delivery. It also allows for the customization of each key.
The touchpad on the laptop is large, click pad style pad. It does not have different right and left click buttons, and that does not disrupt everyday use. The GS76 keyboard contains a touchpad and a numeric keypad about the same size as the MSI GS66 Stealth.
Display
The computer comes with a 17.3-inch QHD (2560 x 1440), 165 Hz, IPS display. Extra display options are available from 1080p up to 4K with different color coverages and refresh rates. MSI finds it comfortable to add the matte IPS.  Since the production of the MSI laptops, no G series machine carries glossy touchscreens or OLED.
Performance
The MSI GS76 is an impressive, high-performance laptop, perfect for games. It comes with an NVIDIA GeForce RTX 3080. It scored 16.0 of connectivity frames per second in challenging games and 67.6 frames per second n average use when tested.
The laptop tends to get a little hot while in use because of its tiny structure and extensive gaming. It causes the fans to run on loud noises and hot to touch. The MSI GS76 runs on games well, and at high detail setting, the full resolution enables a seamless gaming experience.
Connectivity
One of the best things about using this 17-inch MSI GS76 laptop is a lot of connectivity. Notwithstanding its thin body, the MSI GS76 comes with a two 3.2 Gen Type-A USB ports, one 3.2 2nd Gen. Type-C USB (10 Gbps), a DisplayPort, one Type-C USB Thunderbolt 4, the Power Delivery (PD), and the DisplayPort connections.
The laptop lets you use the video outputs all at once for getting a large multi-view.
Even though in terms of performance, you can't compare it to regular standard gaming laptops. But with Intel Core i7-4710HQ CPU and 64GB of RAM, it is good enough to get even the most tedious work done. So when you're playing new games, you can hardly tell the difference.
Battery
The battery is surprisingly stable pre even though the MSI GS76 is a gaming laptop. When tested with multimedia playback, it lasted for almost 4 hours.
However, playing a game lets it drain faster as it hits the GPU and the CPU harder. The MSI GS76 99.9 mm four-cell battery is suitable for a couple of hours with average use. If you want to do is write or edit, it could last for up to 8 hours.
Final Verdict
The MSI GS76 cannot be compared to other heavy and bulky gaming laptops. Its slim and sleek design will not give it away as a gaming laptop at first glance.
Although it costs more than most gaming laptops, the design and premium features that comes with it makes it worth it. And with the new different features MSI keeps adding to their new generation gaming laptops, it is safe to say that it is one of the best options for gaming laptops out there.