Top 3 Best Ryzen Gaming Laptops in 2021 So Far
May 18, 2021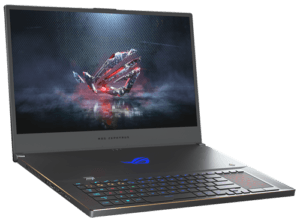 Ryzen is a processor made by the AMD product line. It serves different functions, from gaming PCs to high-performing business workstations. Ryzen has between four to 32 cores, although most models produced for users have four cores. It also has about 62 processing threads that help to handle many tasks at a time.
An average processing speed is over about 3.4GHz, but the top models mostly clock up to 4.3Hz. It supports DDR4 memory, and you can expand the PCIe slots. This gives room for you to build it as you like.
Why do gamers rate the Ryzen highly?
After testing and using the Ryzen processors many times, we noticed why it is popular among gamers. Although Ryzen is not restricted to only gamers, it also serves creative and business tasks so well. Here are some of the benefits of using a Ryzen processor:
Excellent processing speed
Ryzen processors present different performance levels, but the top models are famous for their extraordinary multitasking abilities. The AMD Ryzen processors come with four to eight cores, while most competing brands come with a maximum of six cores. Due to Ryzen's ability to handle multitasking, it is a great processor for gamers who usually need their laptops to multitask.
Top graphics that suit all environment
Ryzen processors give you the chance to experience a top paring when combined with the graphics APU from AMD. In comparison, other laptops allow graphics processing on the integrated graphics chip. AMD utilizes dedicated graphics with its RAM to speed up loading time and offer a better gaming atmosphere.
If you want to get a discrete card for graphics, AMD is arguably the best you will find. Gamers have realized that the graphics that come with Ryzen laptops are enough to cater for their needs.
Affordable and offer high value
The reason that most PC users do not buy high-end CPUs is the high cost. However, AMD has found a way to make the processors affordable while offering premium functions. With this, you are assured that of a decent gaming experience without spending too much.
AMD matches most top processors while costing less, which makes them highly valued.
It works well with most devices and technology
One of the most significant considerations for gamers is to have their laptops working well with their accessories. AMD offers this, which is a reason for its popularity among gamers, especially eSports gamers worldwide.
It is durable and reliable
AMD is a trusted name among gamers for its durability and reliability. Gamers can continually upgrade and tweak the Ryzen through new changes that come into the market.
Top three Ryzen Gaming laptops in 2021
Asus ROG Flow X13
Pros
Gorgeous and flexible design

Ultimate gaming and general performance

Outstanding battery life

It has a solid XG-Mobile eGPU
Cons
The keys quite small

The display is not bright enough

Expensive
The ROG Flow-X13 is a top gaming Asus laptop that delivers excellent performance while weighing below three pounds. It features the latest Ryzen 5000-series CPU and the GeForce GTX-1650 Nvidia Max-Q graphics chip. Its uniqueness comes from its solid XG-Mobile eGPU that takes the performance to an even higher level with the RTX-3080's power.
The design of the Flow X-13 is top class, with Asus opting for the gravity-wave design that covers the magnesium-alloy chassis. It has 360-degree flexibility that helps it to convert into a tablet, tent and stand mode.
Asus Zephyrus G15
Pros
Top Nvidia and AMD performance

Has a 165Hz,1440p panel

Astonishing battery life

Clicky keyboard

Stylish design
Cons
A not-so-vibrant display

It doesn't come with a webcam
Asus delivered outstanding performance and a top battery life with its ROG Zephyrus-G14 last year. However, it couldn't handle more than the 2060 Max-Q Nvidia graphics card, which was one major drawback. Asus has come back this year, eliminating that drawback in the G15. The G15 comes with the latest Ryzen 5000-series processor and the GeForce RTX-3080 Nvidia graphics chip.
The Asus ROG G15 still delivers an excellent battery life despite the increased power. The keyboard and speakers also got improved, although the display could be more vibrant. The display is still smoother and sharper than the G14's, and the refresh rate has increased to 165Hz. It is a top gaming laptop, and it is VR-ready.
Asus Zephyrus ROG G14
Pros
Light and thin design

Top Nvidia and AMD performance

Top battery life

A bright display with a 120Hz refresh rate
Cons
Absence of a webcam

Poor keyboard lighting
The G14 is one of the most portable gaming laptops ever, and it is VR-ready. It comes with the top Ryzen 4000—series AMD processors and a solid RTX or GTX graphics card option. If you combine these features with the top battery life, you will realize that you have a performance monster in this gaming laptop. It has a bright display, topping its category in this aspect and a refresh rate of 120Hz and the AMD FreeSync support.
Head on to our website to see how you can trade your laptop with us for cash and use it to buy your dream computer. You will be amazed how easy to use and profitable SellBroke is.