Lenovo ThinkPad P14 Gen 2: An Ultra-Workstation Indeed
May 17, 2021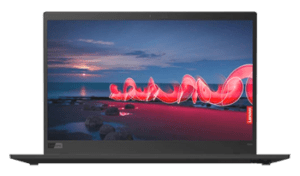 Lenovo has gone all in on this very mobile and powerful new work station. Weighing at 1.47kg, the ThinkPad P14 Gen 2 is the smallest of Lenovo's workstations. It has excellent battery life and features the power of AMD Ryzen 7 pro processors and integrated AMD Radeon.
The Ryzen Pro series is essential for AMD, as it is the competing line of products for intel's pro chips. Last year, Lenovo successfully used the AMD Ryzen Pro CPUs, which has made their laptops highly rated and functional.
This ultra-workstation is built to endlessly endure the strenuous demands of as many workloads as you may have.
Design
The laptop comes in a portable, super-thin, light package that weighs 1.47kg and comes with a 14-inch all in compact chassis. Its portability allows it to be easily mobile, making it super-functional for engineers, students, designers, and web developers to use anytime.
It has a black/ storm grey color with a metal chassis, and it comes with a smart reader, a 2x USB Type-A 3.1 Gen 1, and 2x USB Type-C, two thunderbolts 4.0 port, an RJ45 ethernet jack, a 3.5mm microphone/ headphone jack and a side docking connector.
Display
Lenovo gave this workstation discrete graphics for display. With its NVIDIA Quadro T500 with 4 GB of VRAM, the ThinkPad P14 Gen 2 lets you handle intense responsibilities analysis and video editing.
Even though the colour has good accuracy, you recommend using calibration to edit your videos.
The Lenovo comes with a nit of 514 and has an FHD (1920 x 1080) and UHD (3840 x 2160) that allows you to select between a vivid and bright image when you want. It also comes with a multi-touch panel and lets you adjust the screen to your desire to create or watch multimedia content.
Keyboard and touchpad
The ThinkPad P14 Gen 2 comes with a backlit keyboard with highly functional and traditional keys. It has standard spacing and has a nice and tactile feel making it easy for typing generally. However, this laptop does not come with a Numpad, a keystroke of 1.8mm and a key pitch of 19.05mm.
The mylar surface touchpad is 100mm x 69 mm sized, with multi-touch features. It is 3.3mm thick and has a resolution of DPI of 304. It has fast precision for the right and left clicks.
Performance
This model is a super performing laptop that endures continuous workload. It is the best for heavy power users; with its unmatched performance and speed, the ThinkPad P14 Gen 2 comes with up to 48 GB PC4-25600 DDR4 SDRAM memory and fast SSD storage (M.2 PCIe NVMe.
The P14 is a very responsive system, and this could be due to the AMD processor that comes with it.
It is also successfully tested for application compatibility and usability by an independent software vendor; hence ISV certified. It has terrific processor options, 5G connectivity, and wifi-6.
Battery
The battery life of the Lenovo P14 Gen 2 is laudable; like most Lenovo laptops, you can count on excellent battery life. It has a great power consumption rate, and when tested, charging gets to a hundred per cent from zero in about two hours, and when it was used for video playback, it lasted for up to 7-hours. The processing unit of the Lenovo P14 Gen 2 is not reduced on the battery life, which is very impressive.
Audio
The Lenovo ThinkPad P14 gen 2 has a tremendous audio delivery. Although you may not be able to compare it to most high-end laptops, the highs and mids of the sound have good separation.
The speakers are very loud and clear for their size, and it comes with Dolby audio and allows you to set the audio to whatever you want depending on the content you are getting.
It comes with a dual noise-cancelling microphone. This helps you make calls and listen to multimedia contacts seamlessly. The audio control also works when muting background noises when using the laptop.
Final Verdict
We immediately think of a business laptop with premium and sleek designs when we hear about the Lenovo ThinkPad.
The Lenovo ThinkPad p14 gen two laptops is a sleek business laptop that focuses on security, productivity, and battery.
The Lenovo ThinkPad P series has workstation customers in mind, so it is only natural for the Lenovo P14 Gen 2 to give the best performance. For a business laptop, the Lenovo P14 Gen 2 provides value for money for excellent battery life and overall performance. If you need extra money you can sell your laptop for cash with us and buy a new one.