HP EliteBook 830 G7 Review: Perfectly Priced Business Ultrabook
May 10, 2021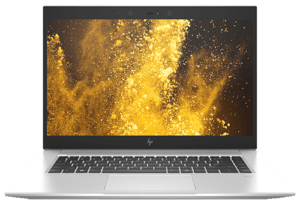 When it comes to business laptops, you can always call on the EliteBook 830 G7. HP delivered a 1080p 13.3-inch display that promises many vital features, smooth performance and an easy-to-type keyboard. This laptop barely has its flaws, but the 10th Generation Core-i5- 10210U Intel processor, 32GB memory option and a 1TB SSD option all sound enticing.
For a laptop so compact and sleek, HP EliteBook X360 830 G7 will not cut a hole in your pocket.
The EliteBook 830 is a premium business laptop that you will enjoy using a lot. Not conforming to the usual style of a business laptop, the EliteBook 830 has beautiful aesthetics that comes in a sleek aluminum chassis. Only coming closer to it will make you notice the business-like feel of the computer.
Design
The HP EliteBook 830 G7 is a laptop that has a sleek look and premium feel. Measuring at 11.6 by 7.9 by 0.8 inches while weighing about 3 pounds, the EliteBook has a 360-degree hinge that allows free movement and lets it turn on different sides.
For a laptop not too big, the HP 830 G7 has good range ports. The HP EliteBook 830 G7 has an HDMI connector, a charging plug, two thunderbolts three ports that can be used for charging located at the right. And other the left, there is an audio jack, a Kensington lock, two Type-A USB 3.2 ports.
Display
The EliteBook G7 comes with 1920 by 1080 resolution, 13.3-inch display. It comes in a touchscreen and non-touchscreen model and has an extensive view due to its image aspect ratio of 16:9. Even with its not-too-high resolution, you can count on getting clear images. The display takes about 85% of the screen, averagely reaches 250 nits in the entry model; and up to 1000 nits when the brightness is maximum.
The EliteBook 830 G7's touchscreen has multitouch support for gestures such as pinch to zoom, while it also features the HP Active, a pen stylus in support of on-screen drawing and writing. The edge to edge glass covers the display.
Keyboard
The EliteBook 830 comes with an elegant, backlit, and reasonably quiet keyboard. This backlight toggles with the Fn key. It allows typing to happen in a bouncy but comfortable way.
Additionally, the keyboard also turns off when it's not in use and surprisingly has a reasonable travel distance. The touchpad comes with a precision glass that works for control.
Performance
The Elitebook 830 G7 has the 10th Generation Intel quad core processor with options from Core i5 - Core i7.
The 10th generation quad-core processor powers the Elitebook 830 G7. It has both Core i7 and i5 options like the Elitebook 840.
The configuration starts with the Core i5 Intel processor that clocks between 1.6GHz to 4.2GHz using turbo boost. There is the 10th generation Core i7 Intel processor in the superior model, and it clocks between 1.2GHz to 4.9GHz with turbo boost. The Iris plus Intel graphics chip pairs the processor, and it reaches 1.10GHz when it boosts.
All the processor options also come with the UHD graphics chip from Intel, and it handles web surfing and several other business tasks with ease.
The HP Elitebook 830 G7 comes with a minimum of 4GB RAM and a maximum of 64GB of RAM across the models. It also has a 128GB SSD minimum and 1TB SSD maximum.
Battery
With its 65Wh battery, the G7 can last up to nine hours after a full charge, depending on what you are running on it. The battery time cuts to about five to six hours when you connect it to the internet or use it at peak brightness.
There is fast charging that charges about 50% in half an hour and stays almost a day before it requires charging again.
Final Verdict
The HP EliteBook 830 G7 is a premium and well-built business laptop with good colour accuracy, comfortable angles, a good contrast ratio, and high maximum brightness. There are very few downsides to the Elitebook 830 G7, but there is a feeling that it could go all the way.
While the basics are intact, HP didn't do enough to separate the Elitebook 830 G7 from its competitors. However, the pricing is what matters in the category that the Elitebook 830 G7 belongs to. As most of the laptops do not have a significant advantage over the others, you should look out for the best prices on offer. If you need extra cash, sell your laptop to us and use it towards a new one.