Logitech Craft Keyboard: Not Your Average Keyboard
Apr 21, 2021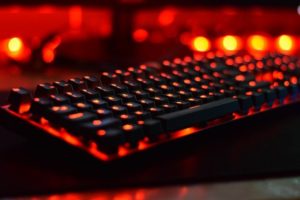 The Logitech Craft is not another gaming keyboard, I promise you. Logitech's Craft is a complete package for creative professionals who are looking to take their interactive experience with their work to the next level. But, it comes at a cost. For $170, this is an expensive investment, and you should seriously think twice before taking the plunge unless if you're confident that this will optimize your workflow. An the upside you can always keep the keyboard after you sell your pc and use it with a new one.
Let's dive into this.
Pros
No flex

Premium build quality

Specific keys for Windows and macOS

Wireless

Rechargeable

Crown dial
Cons
Pricey

Short battery life

No mouse included

No wrist rest

Shallow key travel
Design
The $170 Craft is a well-engineered piece of tech. Every part of the keyboard screams premium and luxury; two words that do not necessarily come to mind when you think about keyboards. However, Logitech went all out designing the Craft, and I'm glad they did.
Weighing 960g, the Logitech Craft is made of solid, premium materials. However, the Craft comes across as conservative and straightforward. It features a sleek and thin design with rounded edges that add to its aesthetics.
The Logitech Craft comes in a black color sporting an aluminum bar at the top where the crown dial rests easy. The matte finish adds to the overall beauty of the look and is practical as it keeps oily fingertips and the resulting smudges at bay. The keyboard also features rubber pads at the bottom for added grip to improve the whole typing experience.
The Craft connects to your computer wirelessly via Bluetooth and Logitech's Unifying USB receiver, offering dual connectivity. The USB Type-C port on the keyboard provides high-speed charging for the inbuilt 1500mAh battery and cannot be used for connections. The keyboard also features an on/off switch to save power and increase battery life.
The keyboard's backlight is also worth mentioning. The inbuilt sensors detect your hands' proximity to the Craft and turn on automatically. The backlight also dims after 5 seconds to further extend battery life.
The Logitech Craft main selling point is the medium-sized dial on the left corner of the keyboard. The signature crown attached to the keyboard is akin to Microsoft's $99 Surface dial which offers similar capabilities but only works on a select few Microsoft products. If you're a Mac user who has had envy over the Microsoft Surface Dial, the Logitech Craft is definitely something you should consider.
Performance
At nearly $200, the Logitech Craft with creative input dial is almost twice the price of its closest option. By default, the Craft's input dial supports a range of Adobe products including Photoshop, Premiere Pro and a host of editing and creative tools. It also offers support for Microsoft Office suite including Word, PowerPoint and Excel, although only on Windows.
The dial supports multiple touch functions in addition to its twist functions. For example, tapping the dial brings up an on-screen menu for selecting supported functions within an app such as brush-type or font size.
At an OS level, the Crown can be used for tasks such as switching apps, desktops or changing volume. The inbuilt battery of the Craft underperforms a little but is quite average.
The Logitech Craft also allows connections over a wide variety of devices and OS, so you don't have to worry about compatibility.
Final Verdict
The Logitech Craft is an excellent keyboard with perfect performance. It boasts great accuracy, a connection range of up to 10 metres and a good battery life of up to one-week uptime at full charge.
The Crown dial, the Craft's jewel, offers full customizability and comes in handy especially for creatives who do a lot of video or photo editing.
Although the $170 price is a little too steep for a keyboard, I believe the Craft offers excellent price-to-value ratio, increasing productivity and enhancing workflow.
So, should you get it? Yes, you should. It's worth it.