Acer Predator Triton 300 SE: A Strong Challenger for the Zephyrus G14
Mar 29, 2021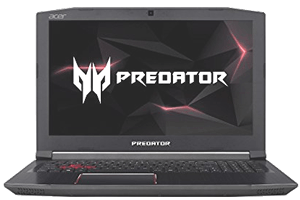 The Acer Predator Triton 300 has finally presented itself as a worthy challenger for the ROG Zephyrus G14. When the ROG Zephyrus G14 came, it was a game-changer. It was new and different from the usual, with a screen size of only 14-inches, a good battery, and an RTX GPU. For about a year, no other gaming laptop could stand up to present itself as a worthy challenger.
The Acer Predator Triton 300 SE has come as a worthy challenger and we finally have a choice between two great gaming laptops. The Triton 300 SE is a 14-inches gaming rig like the G14, and it comes with a 144HZ screen refresh rate and a similar RTX-3060 GPU. It has 512GB of solid drive and 16GB RAM.
The Triton 300 SE's design and size are so small that you might not look at it from the view of a gaming laptop.
Design
In most cases, the lightest and thinnest laptops don't always make the best device. The sacrifices are not worth it in most cases. The Triton 300 SE did not go for ultrathin or super light, rather a small footprint.
It weighs 3.7 pounds and has a 0.70-inches thickness. It is a very portable laptop but a lot of other gaming laptops achieved this level of thickness. The Triton 300 SE's 14-inches screen is where it feels so small.
Because of this small size, it can serve other functions than only gaming. It is mobile, easily fits into a bag, and occupies decent space on the table.
Display
Like we pointed out earlier, the screen size of the Acer Triton has a lot to do with its entire outlook.  It also offers a very good image quality. It has a 144Hz refresh rate and a 1920 x 1080 IPS screen which is great for responsive and smooth gaming. The brightness is not much due to the screen's matte layer, maxing out at 290 nits.
The color saturation makes up for the brightness, as well as the contrast. It reached 99% sRGB, and 77% AdobeRGB, which is great for a gaming machine. it has a contrast ratio of 1500:1. Although the color accuracy is not that spectacular.
For brightness and color balance, the Zephyrus G14 is better, with 322 nits max brightness.
Performance
The performance of the Triton 300 SE is what stands it out asides from its size. The Triton 300 SE uses a 35-watt processor, which is unique. Although the Zephyrus G14 also has a 35-watt chip, it is however from AMD and not Intel.
This is the first time Intel is making this processor type. It comes with the 10nm SuperFin build which is the latest on the grid.
An Intel Core-i7 quad-core processor, 16GB of RAM, and 512GB of the solid drive is what you will find in the Triton 300 SE. reports also say that Best Buy will be the exclusive seller, which means it might be quite hard to find. It also only comes in this sole configuration.
The Triton 300 SE has the RTX-3060. This means it is a gallant gaming laptop with a lot of gaming power. Although, the Zephyrus G14 comes out of the tests as the faster of the two for gaming. This might be due to the cooling system by Asus.
Keyboard and Touchpad
The Triton 300 SE doesn't particularly come with the best keyboard. Acer used the standard Predator keypad on the Triton 300 SE.
The keyboard has three-zone RGB-lighting and four different levels for backlighting brightness. You can adjust the patterns and colors through the PredatorSense application.
The touchpad is smooth and large. The click mechanism is great and it is of high-quality. The Triton 300 SE has a 720p webcam on top of the screen. It doesn't have an IR camera. Therefore it doesn't have hands-free logins from Windows Hello.
Battery Life
Usually, gaming laptops do not have great battery lives. But the Triton 300 SE seems to be different. It makes use of a lower-wattage processor that helps improve battery life after a full charge. According to Acer, the Triton 300 can give up to 10 hours of battery life.
Final Verdict
The Acer Predator Triton 300 SE represents the latest gaming laptops. They are small but quite powerful. If you have an older and bigger one, you can sell your laptop for cash to us and use it to buy a new one. This small-sized gaming laptop is what gaming laptops will aspire to be from now on. The price point of $1,400 is also not as expensive considering that it is a gaming laptop.
Although, the Zephyrus G14 delivers better content creation and gaming. But they still fall under a similar category, and the cooling system of the Triton 300 SE makes it a better working laptop.