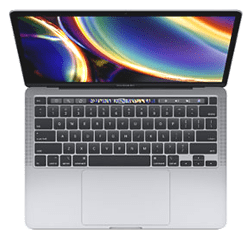 Apple MacBooks don't exactly come with cheap starting price points, they are expensive but what you will get is premium experience on the devices. The Macs are solidly and elegantly designed. However, there are times you can't lay your hands on a Mac or some software that it doesn't support. And that is why we have provided this guide to give you three alternative options to the Mac.
If you ask us, the best option as an alternative to the Mac is the Dell XPS 13. It might not offer the MacBook's sleekness but it offers great performance and speed while maintaining a relatively lightweight. There are other alternatives as well which include Asus and Lenovo.
Our Top MacBook Alternatives
The Dell XPS13, Asus Zenbook UX333 and the Lenovo ThinkPad X1 Carbon.
The Best Of The Bunch: Dell XPS 13
This XPS 13 is the latest model by Dell and it comes with the tenth and eleventh Generation Core i7 and Core i5 CPUs. Meanwhile, Apple included the M1 chip in its latest MacBook Pro and the 10th Generation Core i7 from Intel based models. The M1 chip is also present in the Mac Air but it doesn't have Intel-based options.
For design, the XPS 13 has 0.58-inches of thickness and a weight of 2.64 pounds. Meanwhile, the MacBook Pro 13 is a little thicker with a 0.61-inches thickness and weightier at 3.1 pounds. For the MacBook Air, it is 0.63 inches in thickness and 2.8 pounds of weight. Although you won't notice these differences by merely looking at them.
You will get RAM options to 32GB on the Dell XPS 13 and a max of 2TB of storage options. The MacBook Pro 13 has similar options for RAM but the storage is at a max of 4TB. The Mac Air has a RAM option of 16GB max and 2TB storage.
You will get more connectivity with the XPS 13 as it has a pair of Thunderbolt-3 ports, the MicroSD slot, and the 3.5mm jack for audio. Dell also included adapter options from USB-A to USB-C which helps you plug in an external mouse or keyboard. There are touchscreens in some configurations and the UHD+ resolution.
Another Great Option: The Asus Zenbook UX334
This laptop from Asus is another great alternative for the MacBook Pro 13. It comes in Icicle Silver and Royal Blue finishes, with configurations up to the tenth-Generation Core i7 CPU and the discrete GeForce-MX250 GPU from Nvidia.
Meanwhile, Apple doesn't include a dedicated GPU in the MacBook Pro, but the new M1 chip Macs have different configurations that have resulted in three CPU choices in the 13-inch Macs.
However, the Zenbook UX doesn't come with a high resolution Full-HD, unlike the Macs. Although it tries to compensate by packing more ports which include a pair of ports for USB-A, one for USB-C, an HDMI output, a MicroSD slot, and the 3.5mm jack for audio. It also has a "screenpad" that allows a combination of touchscreen and the regular touchpad. It has a military-levelchassis which boosts its durability against drops.
Lenovo ThinkPad X1 Carbon (Gen-8)
This is another alternative for the MacBook Pro and it has a screen that is slightly larger than the 13-inch Apple's models currently in the market. The Lenovo ThinkPad has a seven-set configuration that is based on 10th Generation Intel processors along with its IPS screens that have 4k or Full-HD resolutions.
If you compare, the latest MacBook Pro 13 locks configurations to 2880 by 1800 resolution max. It also comes good with connectivity like other laptops listed here. There are two Thunderbolt-3 ports for this ThinkPad X1, it has a pair of ports for USB-A, one 3.5mm jack for audio, the HDMI-1.4 port, and the WWAN slot in some models. In the Mac Pro, you will only find the 3.5mm jack for audio and an option of two to four ports for Thunderbolt-3.
Like the Mac Pro, the Lenovo. ThinkPad X1 is also 0.59-inches thin.
Final Verdict
MacBooks are pleasing to the eyes and the new M1 chip makes it even better. The good thing about the latest M1 chip is how it comes cheaper than its Intel alternatives. The M1 chip Macs have longer battery life and higher processing speed than their predecessors. If you have an older model you can sell your MacBook for cash to us and use it for an upgrade.
However, our top three picks for Mac alternatives also offer great laptops that work well as both a business tool and a leisure tool. From the price point, they are mostly cheaper than Macs. They also allow for more flexibility as we all know. The macOS can be sometimes limiting, especially when it comes to software compatibility.
Several options can serve as a replacement for Macs, all you need to do is determine what you need them for and go for one that fulfills your needs.