Should You Buy a MacBook or Windows Laptop?
Mar 23, 2021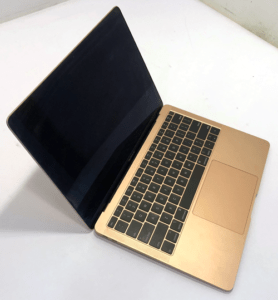 For a long time, I was always an Apple person. I believed that Apple was the standard for technology and it was the pinnacle for performance for every type of creative usage. But as I started to improve my knowledge about the creative uses of different laptops, my view began to change. I discovered that PCs might not have Apple's aesthetics or feel as nice as Macs, but they are creatively astute. The reason for these views might be due to the number of PC manufacturers out there and that Macs have this exclusivity that Apple has managed to create.
The most important thing I learned when I started looking towards PCs as a creator was the value they offered. You get so much more for your money compared to Macs. It is almost absurd to compare the latest Mac to the latest PC, as it would be an injustice and unfair comparison. This is because the level of performance and amount of power you can get from a PC is way more than what you will get with the Mac.
If you ask most creators why they still use MacBooks, you will get reasons ranging from the legacy and tradition of Apple, User experience, aesthetics, and personal preference. You will rarely get to hear reasons such as performance and power. This is what Windows laptops offer creators.
MacBooks are great when it comes to font rendering and security. These are valid reasons to stick with the MacBook, but as a creator, you need to get more from your laptop performance-wise and in terms of power.
Let's dig deeper into why I think Windows laptops are better than MacBooks for creators.
Graphics card
MacBooks come with great graphics as they have powerful graphics cards that help them handle the most graphic-intensive tasks like video editing and gaming. However, it varies per model.
The issue here with MacBooks is that only high-end MacBooks have dedicated graphics, as the affordable ones only use Intel's integrated graphics, and this doesn't cut it for a lot of creators. For example, gamers will need to invest about $2,000 for a top MacBook that can offer a good gaming experience.
Designers might be able to pull off their work with the graphics card in the affordable MacBooks, but they have more options with Windows PCs. Gamers, video editors, and other professionals with a need for intense graphics will prefer to go the Windows PC route. This is because there are more options on the platform.
Several affordable PCs will serve you with a great gaming experience and powerful graphics cards. In recent times, several Windows PCs with higher graphics capability than Macs.
Gaming
Gamers are creators that need a lot of power for what they do. From graphics power to processing power. The latest games require high-speed processors. Although MacBooks have powerful processors they are pricey. To get the desired level of power in the processor, you will have to invest in the Mac Pro Series.
There is also the option of overclocking processors in some Windows PC. You can always increase the speed of the processors in some Windows PC.
Apple has always thrived on being exclusive, but gamers need a laptop that is compatible with most games. There are fewer games on the macOS than on the Windows platform. There are close to 7000 games on macOS, compared to more than 20,000 games for Windows.
Apple is putting in a lot of effort to bring more games to the platform but it is hard to compete with Windows in this regard as more game developers prefer to create games for Windows over macOS due to the ease.
Value for money
You can get more Windows PC within a tight budget and it will deliver what you want. There are always options available for Windows PCs. The biggest MacBooks have great features but they also cost a huge amount of money.
Being a creator you want to get all you can when you spend on a laptop. With the same prices as top MacBooks, you will get Windows PCs that have better specs.
The upgradeability is also an issue here, as you will spend way more on upgrading a MacBook than what you will spend to upgrade your Windows PC.
Bottom Line
MacBooks are great and they have outstanding functionality. The user experience is top-notch and they are always attractive to look at. However, as a creator, you want to get a job done. For everything you want in a MacBook, you will find it in Windows PCs and it will be way cheaper. If that convinces you you you can sell MacBook for cash to us and buy a Windows or Linux machine.
MacBooks are great for Students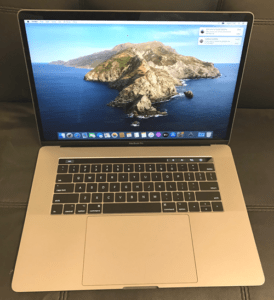 No matter the level you are in your education, you will need a laptop as a student. You could be in college or high school, it doesn't matter. The requirements for learning in today's world involve going online and using the laptop to learn different software and skill.
One of the best laptop makers in the world is Apple. They produce laptops for all types of people including students. The MacBook lineup is great for all kinds of people and students are not left out. From the ultra-portable ones to the powerful ones, the MacBook serves all kinds of needs. The MacBook Pro, the MacBook Air and other types of MacBooks are readily available to help you through all sorts of tasks.
There are laptops like the MacBook Air that have enough power to face every type of academic challenge you will throw at it. Other MacBooks are also available to help you through your academic works as a student. We look into some of these options that students could acquire to help them with their school work.
MacBook Air M1
Apple silicon was announced in the middle of 2020. About six months after that, Apple announced the first laptop that doesn't use Intel-based processors in over 10 years. The MacBook Air M1 was the first in the MacBook series that has the M1 chip. For students, this is perhaps the best MacBook that they could lay hands on.
The MacBook Air has enough power and features that make it so good for anyone considering its smaller budget. The first notable feature is the battery life that lasts for about 18 hours after a full charge based on the activity you are using it for.
The MacBook has the lightest weight among all Apple products. It weighs 2.8 pounds and is easy to carry around. What makes this more interesting is that the MacBook Air has a similar screen size to the smallest model of the MacBook Pro.
The MacBook Air is not all about its weight and battery, it also has important internal components and the M1 SoC. There is also the touch sensor ID and the backlit magic keyboard.
Although the MacBook Air is not all rosy as it has its small issues. One of such is the absence of enough Thunderbolt 3 USB ports, the not so bright display, and speakers that are inferior to most models of the MacBook Pro.
For all of the awesome battery life, it is not as good in this regard as the 13-inch version of the MacBook Pro.
However, these drawbacks are not enough reasons not to buy the MacBook Air as a student. It offers great value for students and other users in general.
Sell Macbook Air A2337 13" MGNE3LL/A 2020 - 3.2 GHz M1 Chip 512GB laptop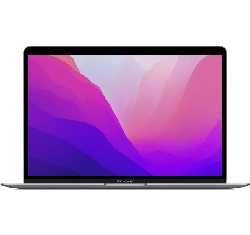 MacBook Pro 16
If what you are looking for is a lot of power, the MacBook Pro 16 is the best MacBook for you as a student. It has several configurations for users, it has the options of 64GB RAM, an 8-core processor and storage of up to 8TB.
However, even the base configuration is a delight for students and users in general. The 6-core, 16GBRAM, Intel Core-i7 model is a beast model. To cap it all, it has the AMD GPU to add a lot of graphics power.
It can handle almost all forms of tasks that a student requires, although it could be a bit behind for intense workflows. The MacBook Pro 16 is a machine that doesn't give you doubts.
Although you have to have it in mind that there might be an update soon.
Sell Macbook Pro A2485 16" 2021 MK1F3LL/A M1 Chip 16GB 1TB laptop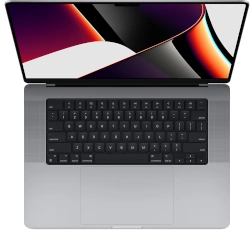 MacBook Pro 13
Thanks to Apple silicon's arrival, the MacBook Pro 13 is going through a transition moment. There are the MacBook Pro 13 M1 and the Intel processor models. This can make it a little complicated when you want to purchase this model.
If what you are looking for is more storage up to 2TB and 16GB RAM, then you should go for the intel model.
The M1 version offers Touch Bar, a long-lasting battery life, more display brightness, and speakers that sound way better. Although when you compare the price to the MacBook Air, it cost $300 extra.
Sell Macbook Pro 13,1 13" 2017 A1708 MPXQ2LL/A 2.5GHz i7 512GB laptop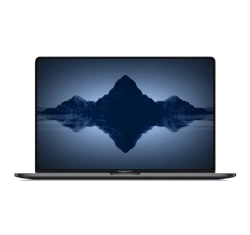 As a student, you need a laptop that is reliable and efficient. MacBooks offer these qualities without a doubt. It could be a PowerPoint presentation, writing papers, keynote presentations or picture editing. The MacBook is always there to serve you. If you have an older model you can easily sell Macbook to us for cash and pick up a brand new one.
The MacBook Air is arguably the best pick for students as it offers more power and undoubted performance.
Best MacBook For Programming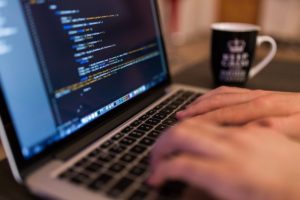 A lot of programmers use MacBooks for their work and I just wondered why. This prompted me to do some research on why developers love the Mac and the best choice of all for programming. The first thing I did was to establish the least requirements a MacBook needs to be considered a programming laptop.
Before we proceed, let's take a look into why the MacBook is good for developers
In the world of information technology, the Windows-based PCs were the dominant force a few years ago. But lately, Apple PCs have increased in popularity especially among developers. The big question is, why the sudden change any what influenced it?
When I asked a couple of developers, they said it was all about the command line, Unix. The current servers and system files come with Unix as the foundation. The Unix fast grew into everyone's favorite.
Another benefit is the compatibility of the macOS cross-platform. It makes it easy to run other OS like Windows and Linux.
When you add all these to the exceptionally looking build that characterizes most Macs, it's easy to see why it's become everyone's favorite. Although, some macs are better built for developers than others.
Now that we know why the mac is good for developers. Let's look at the least requirements needed by a programming mac.
Screen and display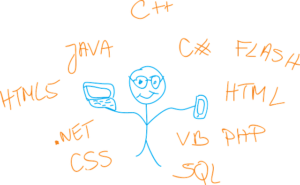 For app and software development, a large screen is vital. It will be best to work with a display that is high-definition Retina. Developers use about three tabs simultaneously. Therefore, it is good to have a display that is big enough to accommodate all at once and you wouldn't have to start making contact switch between tabs (it can be exhausting).
CPU
A processor powerful enough to manage the developer's applications is essential. Using an i5 or i3 dual-core should be fine in most cases, even though you'd a higher speed processor will make the work faster.
i5 is the least requirement to run the up-to-date Xcode versions. For graphic-heavy works, you will need an i7 and better RAM.
GPU
The GPU that comes with the most recent MacBooks is fine enough to run any app development.
Storage and RAM
RAM is the most important requirement of all. At the moment, an 8GB RAM is required to run a code comfortably
Older MacBooks with 4GB RAM cannot work. You will need to upgrade it.  It is advisable to go for 16GB and above so you'd be ready for any future changes.
Ports
As a developer, it is important to get a mac with enough ports. There might be a need to make use of another display a flash drive, an external keyboard, or a mouse.
Battery
Developing software or app consumes a lot of power. This is why battery life is so important in a programming system. The latest MacBooks have a battery life of up to 12 hours and that should do the work.
Best MacBook for programming in 2020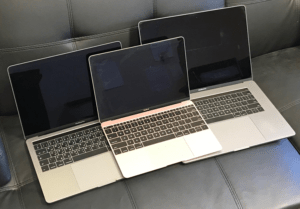 Now that you know the least requirements for a programming app. It's time to know the best MacBook for programming in 2020.
After a lot of considerations and tests. I noticed that the best MacBook for programming is the MacBook Pro. It is light in weight and quite portable, which makes it convenient to move with.
It combines this with the well-powered processor, a display that is high-definition Retina, a good enough 8GB RAM, and four ports that are Thunderbolt 3.
There is the 2020 13-inch model and the bigger 2019 16-inch model.
For developers who prefer working with a smaller screen, the 13-inch model is fine. It also comes with the latest configurations.
It starts with a base model that has the 8th Generation 4GHz quad-core Intel Core i5. It is upgradable to the 10th Generation 2.0 GHz quad-core Intel Core i5. The base model 8GB RAM is expandable to 16GB, while the 256GB storage can be increased to 512GB. It comes for a price between $1,299 to $1,799.
The 16-inch model is a replacement for the 15-inch Mac price range here is from and it was an upgrade. The processor is the 9th Generation 6GHz 6-core i7 and it is upgradable to a 9th Generation 2.3GHz 8-core i9. It has a 16GB RAM and a storage of up to 1TB. You can get it for a price between 2,399 to $2,799.
Final Verdict
When compared, the 16-inch MacBook Pro sports a better spec than the 13-inch. However, the latter is good enough for most programming needs. Apple is trading Macbook laptops of all sizes with great success.
If the display isn't big enough for you. You can always get an external monitor that is affordable.
The Benefits of Owning a Windows-Based PC or Laptop Over a Mac
The debate between owning a PC or a Mac has been a long-running consumer struggle for years. This article will demonstrate just some of the pros of owning a Windows-based PC or laptop over a Macintosh device.
For full disclosure, I have been using both PC and Mac for many years, and while I do enjoy using both for specific purposes, I prefer a PC setup as my go-to daily work and leisure device. PC has many pros going for it, as it can be built future proof, has a lot more software, is the best place for gaming, has a greater use of backward compatibility, and more.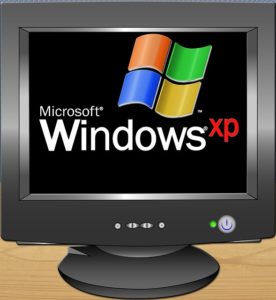 1) Future Proofing
Unfortunately for newer Apple computers, they cannot be upgraded or built to your specifications. For Mac, they produce several versions of the same computer, so you still have somewhat of a choice of what you can get, but usually at a premium price.
For PCs and laptops, if it's in the system, it can be upgraded and changed to whatever you may desire. If you need it to be faster, last longer, expanded its storage, or even add an extra USB port, you can do that.
2) The Selection
When your figuring out what PC or laptop to purchase, from many different companies, you will be greeted with what will seem like endless options of what computer you may want.
Apple, as it stands, only manufactures Mac computers with just a few variations to choose from, again typically at a premium price.
Since many companies make different PCs and laptops, it results in a larger selection of computers with a wide variety of prices. There're many great builds and prebuilt computers that are very cost effective.
3) Software, Please!
PCs and laptops have more software available to them as programs can be easily modified and built for those devices. Basically, if you think it, it properly already existents on PC. Due to its more extensive variety, you get to choose what you want, pay for what you want, and even at times, obtain must of the programs for free.
On Mac, there is usually an equivalent to some of the programs on PC, but it may not work as well.
4) Backward Compatibility
Windows-based PCs and laptops have greater backwards compatibility, not just with its OS, but with cables, external devices, software, and hardware.
For example, a five or more-year-old Windows computer can run the latest Windows OS (depending on the specs of the computer). Also, windows still use many Machine learning cable ports on their computers.
However, with Mac, usually if you have an older Mac computer and upgrade to a newer Mac OS, you will lose some features as the specs in your computer may not be compatible with newer or even older system features.
5) Gaming
I had to through this in here, but simply Macs don't have the power or graphics cards needed to run video games. With the many customizations that PCs and laptops offer, it's the best place to play video games compared to the Mac.
I hope this article helps you make the best for your future device!
Are MacBooks or iMacs Good for Gaming?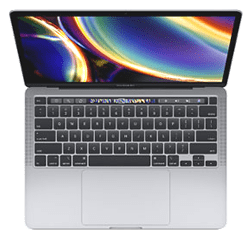 Since its inception, Apple has carved an image for itself. An image of innovation and great things. From innovative designs, excellent software optimization, impressive build-quality for all their products, effective customer support, and exclusive prices – Apple has remained exquisite for as long as it is.
For computers, Apple has Macbooks and the iMac, two types of PC everyone would love to own. Well, maybe not gamers. Despite all of the good things on these Apple-made PCs and the accolades they receive, they have never been seen as ideal for gamers.
Is this view true? Are Macbooks and iMacs good for gaming?
The answer is No, Macbooks and iMacs are not great for gaming. Serious gamers never consider the Mac, if they own it then it is likely for other things asides from serious gaming. Most gamers already know why Macs are bad for gaming but a lot of other users do not know these reasons.
Here are the reasons you should not consider buying a MacBook as a gaming laptop.
The hardware doesn't have enough power for gaming
Apple products are great and quite costly at that. But most gamers will rather go for a PC than a Mac. Asides from that the PC offers you more freedom to do things, there is also the hardware issue. Serious gamers know how important hardware is in gaming.
The hardware in a gaming computer must be capable of providing adequate support for the powerful graphic chips that are used to run the games. Without a doubt, most Macs have an excellent CPU. The display on almost every Mac is great as well. For storage and RAM, they deliver greatly too.
However, there is an essential gaming hardware that is not great in Macs and it is the graphics. Most Macs use the integrated graphics cards from Intel and they are underpowered. Every gamer knows that integrated graphics cards are not great when it comes to gaming. Even if you use the best APUs, they wouldn't still deliver.
With a dedicated graphics-card, iMacs still wouldn't be capable of running most games smoothly. Consider that Macs are still more expensive than most PCs, therefore it doesn't make sense to leave cheaper and better gaming laptops for an expensive option that will not deliver.
Macs' hardware is not built for gaming, they do not possess enough power to run almost every game a serious gamer would need. Also, there is the issue of the operating system that is not so compatible with a lot of games.
For example, there are over 20000 games you could get on Windows, while there only 7000 for Macs. They are not just built for gaming.
Macs are not easily upgradeable
For serious gamers, they know that there is always the need to upgrade their hardware from time to time. This is because games are getting more advanced by the year. Therefore, to play the newest games, there will always be the need for hardware with more power.
It is quite unfortunate that Macs cannot be upgraded. You cannot always piece them apart because you want to run a game. To do so, you require a huge sum of money. It is not worth it when you consider the cost at the end.
This is why serious gamers will never want a Mac for gaming.
How can casual gamers enjoy gaming on the Mac?
As earlier stated, there are some games available on the Mac. But the selection and range are not all that. Serious gamers will always stay away from the Mac. However, as a casual gamer, there is a way you can work around playing games on the Mac.
The process is called Cloud gaming.
Cloud gaming gives a gamer external access to a PC or computer in the cloud. The gamer will make use of the CPU power of his/her Mac to play different games.
The GeForce Now from Nvidia is what made this possible. It allows easy use and better compatibility with some popular games on PC.
All you have to do is visit the GeForce Bow website to download it on your Mac, then go ahead to install and sign in.
Conclusion
The answer to the main question on if Macs are good for gaming is quite evident. There are several reasons why you should not buy a Mac for gaming purposes. They are not just built for it. And if you already did, you can sell MacBook to us and purchase another computer dedicated to gaming.
The hardware is not up to the task, and they are not worth upgrading. Apple runs an exclusive with their OS, therefore there is also the issue of game compatibility. Most games are built for Windows.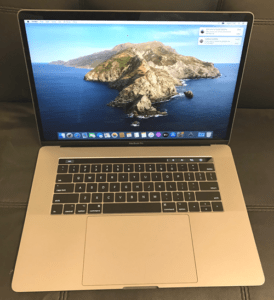 MacBooks With M1 Chips: Better Or Not?
Imagine a laptop that is faster than 95 percent of laptops in the world. This was Apple's promise when they announced that they will be transitioning to a different newly built processor. This promise brought a lot of skepticism as Apple claimed they will improve battery life and boost performance with this new chip. Combine this with the past failure from Microsoft and Qualcomm in this regard.
Now, we have received the first set of Macbooks with M1 chips, and it looks like Apple has indeed changed the laptop world overnight. Apple delivered with its new M1 chips, as they not only match their Intel colleagues, they also surpassed them in almost every aspect. The new Apple M1 chip held its own brilliantly against the most powerful Intel Core i9 chip in laptops.
Apple's new M1 chip is so good that it has immediately flipped the conversation from how to take a gamble on Apple's latest untested processor to how can the competitors like AMD, Intel, and Qualcomm match this?
In past years, AMD and Intel have being at the top, with minor improvement here and there on battery life, CPU performance, and GPU. However, Apple has decided to take the whole game to a new level that has never been seen before. The good cohesion and connection between software and hardware have helped Apple to record great success on its phone and pads, and now they have done the same for their laptops.
What is the M1 Chip?
Apple released its first chip and it is the M1 chip. It is on three Macbooks already – the MacBook Pro, the Mac mini, and the MacBook Air. The M1 has the best structure in the world of any chip right now, with five nanometers in size. It is better than Intel in this regard, as Intel is ten nanometers wide and AMD is seven nanometers wide.
The smaller the structure, the higher the number of transistors it possesses, with the M1 having up to sixteen billion transistors. That is more than the number you will find in other chips. The M1 chip has eight cores, with four of them as performance-cores that help boost pure power in the computer. The remaining four work as power savers.
The M1 chip cannot have reduced performance as a result of memory access reshape. This is due to its unified memory build, which works to make sure that every component has access to equal RAM storage.
Performance 
The new M1 chip is a performance beast according to Apple. The MacBook Air comes with this chip and it performs about 3.5 times the previous processor, and 5x the GPU performance. Apple has claimed that this new chip has a processing speed better than 98 percent of the laptops produced in the last one year. It is also claimed that the MacBook Pro could likely make better use of the M1 chip than the MacBook Air, which goes to show that we could see a better performance from the M1.
Graphics 
The Graphics aspect of the M1 chip saw a massive improvement. There are eight cores in the integrated graphics unit. This will music to the ears of gamers, as this will increase the frame rate in games. Also, creative applications that are graphics-heavy could benefit from a better graphics frame rate.
Apple also did a first with the M1, as speech recognition, image recognition, and motion analysis are all taken care of by the Neural Engine. According to Apple, the Neural Engine will bring performance improvement.
Battery Life
The M1 has an undoubted level of power, but there are still reservations when it comes to proving itself against mobile chips with the same number of cores produced by other manufacturers. The MacBook Air has the M1 chip and Apple has promised up to 18 hours of battery life. if this level of battery performance is combined with the CPU performance, it is not hard to see why the M1 chip has propelled Apple to the top.
Security
Apple blessed the M1 chip with the secure enclave and this should help the Touch ID in the latest Macs work faster than previous models.
Conclusion 
Apple has ushered the Mac into a new era of success with the introduction of the M1. The M1 gives Apple an avenue to set the pace without waiting for others in the computer world. This will also make it difficult for others to copy their work and they can revel in their uniqueness. The M1 is the entry into the future. Get ready to trade your Macbook for cash with us to buy the new model.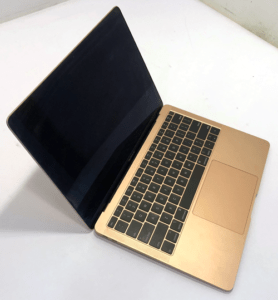 M1 MacBook Air vs. M1 MacBook Pro 13: Which should you buy?
Apple has released the new MacBook Air and MacBook Pro 13 along with the Mac Mini. What these three new Macs have in common is that they are equipped with Apple's freshly built M1 processor. The M1 chip is part of Apple's Silicon move to give the Mac its unique Apple-built, ARM processors.
In this article, we look at two of these Macs and pit them against each other. Although there is still the availability of Intel-based 13-inch Mac Pro that cost more than these M1 equipped MacBook laptops. Apple Silicon has completely taken charge of the MacBook Air, although some Intel models are still in the market.
Without further delay, let us help you decide which of the latest M1 equipped Mac you should buy. It is a straight battle between the M1 MacBook Air and the M1 MacBook Pro 13.
M1 MacBook Air vs. MacBook Pro 13 design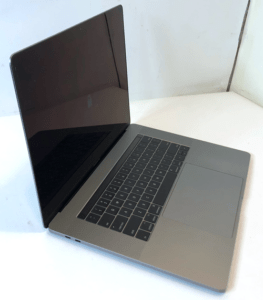 These new Macs have the same design as the versions they replaced. Both are available in grey and silver colors while there is the gold option for the MacBook Air. Both are pretty easy to move with, as they do not weigh so much. The MacBook Air weighs 1.29Kg, while the MacBook Pro 13 weighs 1.4kg.
Apple redesigned the keyboard for these models after they received a lot of criticism for the butterfly design in past models. Apple ordered a mass recall for the butterfly keyboard design for the portable Macs.
Both models have the thunderbolt 3 and USB-C ports, and they both support the newly introduced USB 4 standard. The USB 4 increases speed of data transfer between devices. Both models also have the 3.5mm jacks for headphone.
There is the latest image signal processor that helps to enhance the image in the 720p HD cameras for face time. This feature is unique to the M1 chip. Although the Pro has a better audio quality for the video calls due to its studio-quality mic that comes with directional beamforming. The Air also has a mic with direction beamforming but it is only a three-mic array. MacBook Pro also has better stereo speakers with better dynamic range, although both models support Dolby Atmos playback.
M1 MacBook Air vs. MacBook Pro 13 display
There is a very small difference in the display abilities of these models. They have all things equally in this regard except for the brightness level, as the Pro can get to 500 nits of brightness and the Air can only reach 400 nits. They both have a resolution of 277 PPI like older models of the 13-inch Pros and Airs.
M1 MacBook Air vs. MacBook Pro 13 Processor, storage, and graphics
Both have the M1 chip and the M1 has eight cores for the CPU. It has four high-efficiency and high-performance cores. This move has seen Apple migrate the Air it Silicon program, as these models now have more storage and a tad better GPU. However, The Pro still has some Intel versions, with the less costly models coming with the M1 processor.
One of the downsides to these M1 models is that they do not have the option for discrete graphics. No external GPU options, as all graphics power comes internally from the M1 chip.
For memory, the Pro can reach 32GB memory, but you will find 8GB of LPDDR3 memory as the standard and 16GB LPDDR4X in bigger models. A minimum of 256GB storage and 4TB is available for the Pro 13. However, the M1 is limited memory-wise as it only supports 16GB memory, but its Intel counterparts can be upgraded to 32GB of memory.
The standard memory in the M1 models of the Air and Pro is 8GB, and 256GB minimum storage that can max out at 2TB.
M1 MacBook Air vs. MacBook Pro 13 battery life
The best improvement about the new MacBooks is the battery life. These M1 Macs come with a good level of power efficiency like every ARM-equipped device. The Air can last up to 15 hours while you browse the web and up to 18 hours if you are watching a movie.
The Pro performs better in this regard, adding two hours to the 15 hours to make 17 hours of web browsing and 20 hours if you are watching a movie.
Conclusion
The M1 Macs are the future and there is every reason to jump on the wagon. Deciding on which MacBook to buy between the M1 Air and Pro 13 is dependent on if you need better audio, brightness, and the touch bar. Asides from these features, the Air seems like a good bargain for anyone looking to go the M1 chip route. If you change your mind after already buying one, don't fret. You can sell broken MacBook online and use it to buy the one you really want.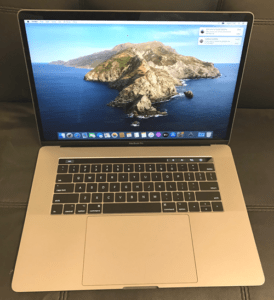 M1 MacBook Full Review: Better Than Intel MacBook?
Apple introduced this first of its kind chip earlier this month. It is a special processor only for the Mac, called the M1. The 13-inch MacBook Pro became the first model to get the M1 chip. The refreshing upgrade will bring better efficiency and speed levels to the high-end MacBook. However, what is baffling is that Apple has chosen to sell the Intel version of this MacBook for a higher price than the M1 version.
In this article, we take a look at the difference between these versions, while reviewing the M1 MacBook. Is it worth saving hundreds of dollars by taking that huge leap from the Intel processor version to the freshly introduced M1?
We compare the 13-inch MacBook Pro for both processor version. They do share some similarities, but there is a significant difference between the two. In terms of build and display, you can hardly tell the difference.
Design
The Intel MacBook Pro share design similarities with the M1 version. They have everything almost identical in this regard except for a few details. They have the same magic keyboard, touch ID, slab-looking design, and touch bar.
The major difference you will find in the designs is the number of ports. The Intel MacBook Pro has more Thunderbolt 3 port than the M1. They also have a slight difference in weight as the M1 weighs 3.0 pounds compared to the 3.1 pounds for the Intel version.
Therefore, if design and portability are what you look out for, you will be stuck when making a choice.
Connectivity
While the Intel MacBook Pro has two thunderbolt ports on each side to make it four in total, the M1 MacBook Pro has two thunderbolt ports (USB-C) sharing one bus of thunderbolt 3. For users with a lot of accessories that use thunderbolt 3, four ports are quite essentials. Although this issue can be solved by getting a hub of thunderbolt 3. The two ports in the M1 MacBook is enough for most users.
The required USB4 specifications are also met in the M1 MacBook. The USB4 is a good attempt at eliminating the confusion that comes with the different definitions in the USB3 and its several variants. It offers less technicality and more simplicity.
However, the issue with connectivity in the M1 MacBook is the incompatibility with peripheral GPUs, which includes Apple's Blackmagic eGPU. The graphics power is solely on the internal GPU cores of the M1 MacBook.
Performance
This is where the major difference lies between the Intel MacBook and the M1 variant. The Intel MacBook uses the 10th-generation core chips. And has a quad-core processor of 2.0 GHz. It also has the Iris Plus Intel graphics.
The M1 MacBook which is the latest in town comes with a fresh never-seen-before arm-based chip designed by Apple. It is the first chip to be ever designed by Apple for the Mac. This means the RAM, GPU, I/O, and security features all come in one chip. This is different from what you will find in the Intel MacBook as everything is separated on it.
The M1 chip has a special feature known as unified memory architecture (UMA). This feature helps the chip to access the same set of data without needing to copy between several memory pools.
The M1 processor also has 8-core CP, as well as an 8-core integrated GPU. There are four high-efficiency and high-performance cores in the CPU. According to Apple, the CPU of the M1 chip is 2.8 times faster compared to that of its Intel counterpart. The GPU is 5 times faster than the integrated graphics in the Intel version.
Battery life
Apple claims that the M1 MacBook has double the battery life of its Intel counterpart. According to Apple, the M1 MacBook can last about 17 hours if you are browsing the web or 20 hours for movies. a full charge of the M1 MacBook can offer twice the usage despite having a similar battery type with its Intel counterpart.
Speaker and Microphones
The M1 and Intel MacBook have similar stereo speakers that have a good range, wide sound, they both support Dolby playback. However, the difference is in the microphone, as Apple revealed that the M1 MacBook has a studio-quality microphone with a good signal-to-noise ratio. The Intel version doesn't have this.
Conclusion
So should you trade your MacBook for this one? For most Apple users, it is obvious that the M1 MacBook is the best choice.
It offers better battery life and performance.
You will have to live with fewer ports than the Intel model – and if you do not mind, it is the better option as it is less costly.