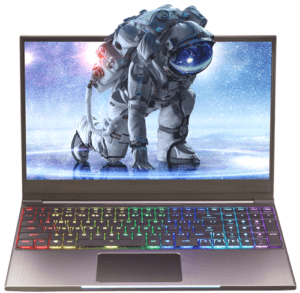 Eluktronics are popular for the new and fresh designs that they bring to gaming laptops. They are not the usual PC Company that produces everyday laptops, but whenever they do it is mostly amazing. The PC Company continued in this line with the introduction of the fresh Prometheus XVII.
The Prometheus XVII is like every other great gaming laptop you will find in the market in terms of performance but it stands out with some unique features. Its multiple small and big factors give it a unique stand in the market right now. Also, it comes cheaper than most of the other gaming laptops currently in the market.
For most gaming laptop companies to achieve maximum performance, they have to input more wattage in the GPU and CPU. In most cases, it is the GPU because that is more important. However, this makes the laptops run at really hot temperatures. To solve the thermal issues, these companies usually make these gaming laptops bulkier and they become difficult to move around.
Eluktronics found a way around this with the Prometheus XVII, as it is slimmer than most gaming laptops currently available, but it produces a performance that is as good as these bulky gaming laptops.
Build
As earlier stated, the Prometheus XVII abandons the usual thick chassis used in most powerful gaming laptops. The reason other gaming laptops do this is to accommodate desktop-level hardware components and an optimal cooling system. Eluktronics has managed to fit its powerful components in a less than 1-inch chassis.
At 0.98-inch thick, the Prometheus XVII is easy to carry around. Although the Prometheus XVII base models don't have desktop-level components, you will find this in the high-end configurations of this gaming laptop.
Despite being built this way, the high-end version of the Prometheus XVII can replace desktop rigs with ease. This is large as a result of the major tuning options offered by Eluktronics and the top-class thermal design that goes well along.
The hinge is placed centrally and is very strong. Other laptops with this hinge type do not have the level of strength found in this one. The mechanism behind the hinges is quite commendable.
Display
It has a 17-inch screen that has a 1440p resolution. This display helps you get an enjoyable and immersive experience when gaming, and you will see every detail. The response time is great at 4ms, and the sRGB is at 99%. The Adobe RGB is 86v%. The brightness level is also good at 307 nits.
Although you have to remember that you are stuck at 1440p resolution. Most of the latest games feature a render scale-option, but if you play at 1080p on the Prometheus XVII's display, there will be some scaling issues.
For serious and competitive gamers, you have to consider these options before getting the Prometheus XVII.
There is also a video playback option on the display. While the 1080p videos might appear a little bit off on the display, it takes a very close look to notice it.
Performance
The Prometheus XVII comes with enough power gotten from AMD's Ryzen-7 5800H, an eight-core and 16-core thread processor. It has a maximum boost clock that gets to about 4.4GHz. The GPU is the RTX 3070 from Nvidia.
Because it comes with a 1440p display, the power consumption is quite high. The GPU in the Prometheus XVII is the same as that of the MSI GS-66 and the TUF Dash-F15 from Asus, however, it has a better benchmark than both laptops. This is because Eluktronics found a way to design interior thermals of the system in a way that handles heat way better than the other laptops.
The Prometheus XVII also comes with software features that allow the users to have extensive control of the GPU and CPU performance. To use this, you must be very sure of what you are doing, so you can tune your system to what you want.
Keyboard and Touchpad
It has a simple-membrane keyboard that gives a great feel for both gaming and typing. There is also a dedicated number-pad.
It has a decent touchpad too, that comes with an option that allows you to turn half of the functions off. Might not be needed in most cases, but it is a unique feature. If you don't like it you can trade your laptop with us for cash and buy another one that will suit you better.
Ports
It has a USB-C port and three USB-A ports. It also comes with an SD card slot that is full-sized.
Battery life
The battery life is not the best. It has a 60 Whr battery, which is quite small for most laptops, not to talk of a 17-inch display gaming laptop. The 1440p panel needs a lot of battery strength as it consumes a lot of power.
Final Verdict
The Prometheus XVII is a great gaming laptop. The 0.98-inch chassis makes it easy to carry around, and it doesn't give up its powers for this. For such a slim laptop to deliver a performance as powerful as what you will get with bulky gaming laptops, is amazing. The clock speeds are great, the temperature control is excellent and it all under 1-inch of thickness.