The New LG Gram Lineup Review: The World's Lightest Laptops
Mar 09, 2021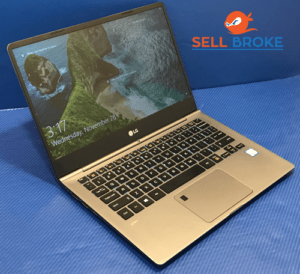 The new LG Gram lineup has arrived and it comes with new features that make it better than last year's lineup. You are getting lighter weights, better displays, performance, and battery life. If you are looking for a good laptop for school, work, and mid to high range gaming, you should definitely give this lineup a look.
New features
The LG Gram lineup usually comes in three sizes, the 14-inch, 15 inch and the 17-inch screens. However, this year, they swapped the 15-inch model for a 16-inch display option. The new 16-inch model is unarguably the best amongst the bunch.
The screen now come in a 16:10 aspect ratio which gives you more vertical screen real estate. The black bezels on the top and bottom can be a little annoying when watching movies, but for everything else, you'll love it.
They've finally added USB C charging and it's the only way to charge it. For a lineup focused on portability, that doesn't come as a surprise. If anything, it's coming late.
The new LG Gram lineup also comes with new CPUs – Intel's new tigerlake chips.
Weight
The 14-inch model weighs 0.99kg. The 16-inch model weighs 1.19kg while the 17-inch model weighs 1.35kg. These laptops are extremely light and if you're big on portability, you'll definitely be happy with whichever one you decide to get.
Design and Build
They've changed the design of this new lineup with all three models having a simpler and more minimalistic look. These laptops also have well designed hinges. It's built in such a way that it hides part of the bottom bezel behind the keyboard deck. It's something that makes those bezels less depressing to look at while streaming.
Screen
The 14-inch model has a 1920X1200 full HD display with 330nits of brightness. The other models have a 2560X1600 quad full HD screens and 370nits of brightness. They all have very bright screens and you'll be able to work under heavily lit environments.
The screens have a glossy finish and aren't touchscreen. Some people would've preferred a matte screen, but it all falls down to your preference.
It comes with a webcam. There's nothing special about it, it'll handle your zoom meeting well, but it's definitely not the best webcam in the market.
Keyboard
They got rid of the orange accent previous models had, which is something I love. It's cleaner and minimal.
They are very comfortable to type on and key travel is great.
It comes with a bigger trackpad. It's made of glass and it's very responsive.
Performance
They all come with Intel's new tigerlake chips which are very fast and will get you through the day's work. You can use these laptops for anything from programming, design, to video streaming and gaming.
However due to it's cooling system, it limits you from playing the best of games at high rates. If these laptops were better cooled they'd have a better gaming performance, but it seems that's not LG's main aim for this lineup.
Ports
You get two USB C ports, two USB A ports, microSD card slot, and an HDMI port. For an ultra-thin device, this is amazing. Most slim laptops like these don't come with as much ports as these. You definitely won't be needing an external adaptor for more connectivity.
Battery life
The 14-inch model comes with a 72wh battery that delivers 9 solid hours. The 16 and 17 inch laptops come with an 80wh battery but the 16-inch model delivers almost 10 hours of battery life while the 17-inch will give you a strong 9 hours and 30 minutes.
Internals
You get two Nvmes slots. The RAMs and Wi-Fi cards are soldered on, so you can't upgrade them even if you wanted to. It's best to choose one with enough RAM for what you intend to do with it.
Speakers
The speakers aren't anything to write home about. They good, but could've been better, especially with the extra space in the 16- and 17-inch models.
Final Verdict
The new LG Gram lineup is perfect for those who have portability as their top priority. It delivers good performance for work and games. If you want a super light laptop with a great screen, simple design, and good performance, then this is a perfect match for you. And if you won't like it for some reason you can trade your laptop with us for cash and buy a different one.