Asus Zephyrus G15 review: A Perfect Blend of Gaming and Productivity
Mar 05, 2021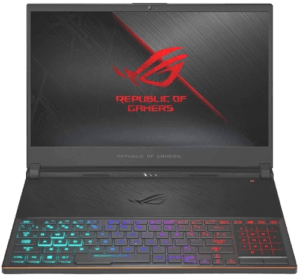 Finding a gaming and productivity laptop that offers you good performance, portability, and a good price point is hard.
However, it seems the Asus G15 has achieved just that. Let's find out the features that makes this laptop stand out.
Build
The build is fantastic. It's simple, sturdy and definitely feels like a laptop that can take a few bangs without falling apart. This year's model doesn't have the LED light up last year's model had, in case you were looking forward to that this time. It comes in two colors, the white and black. It has this prismatic reflection that can only be seen on the black model.
One thing I don't like about the build is the grid of dots on the laptop. Those dots can easily get filled up with grime. It's not a deal breaker, but if you're keen on cleanliness you should note this down before considering this laptop.
Overall, the build is great. It's light (4.4lbs), portable, clean and also powerful. It isn't much heavier than it's smaller brother Asus Zephyrus Rog G14.
Keyboard
When open up the laptop you'll notice that slight tilt common to Asus laptop. The keyboard is great, it's good for typing and gaming. The key travel is perfect.
If you like 'print keys' on your keyboard then you will be disappointed in this model because it doesn't come with one. If this doesn't bother you, then you're good to go.
The keyboard also has a greyish blue backlighting that's kind of dim. It's good on the black model of the laptop but its almost non-visible on its white counterpart because the keys are so white. In fact, switching off the backlighting on the white version will do you more good when typing in low light environments.
There's a fingerprint reader on the power button for added security, which is a good thing to have these days.
Trackpad
The trackpad is made of glass and it feels premium. It's responsive, doesn't make noisy sounds when clicking and it's something you won't have any problem with while using it.
Screen and Display
I love the display panel, it delivers. It has a 1440p screen with a 165Hz refresh rate. These specs make it good for video editing and gaming.
However, if you'll be playing high demanding games like cyberpunk 2077, you might need a screen with a faster refresh rate, unless you're cool with 40fps. Asides this, playing really demanding games will put a lot of strain on the system and that's not what the laptop is built for. For lovers of competitive shooter games, you'll be satisfied with this laptop.
In this pandemic era, we depend a lot webcam for video conferencing. Surprisingly, the G15 doesn't have a webcam. If it's something you can't do without, you'll need to get an external webcam. Looking at this from another perspective, it's a way to increase the security of your laptop. The absence of a webcam is not a deal breaker too.
There's one weird thing about the screen, it's the black bezels. They are so obvious and are even present on the white model. Whatever Asus must have included it there for, I don't see it.
Asides these minor downsides, it's a really good screen.
Performance
This is the sweet spot.
There are two variants of the G15. One runs the RTX 3070 and the other runs the RTX 3080 combined with the 5800HS. Each of them has their advantages but both are really powerful and offer amazing multicore performance.
The only problem here is they don't pump a lot of wattage into the GPUs because of the laptop's compact build. This is a limitation and a sacrifice you must make when you want a powerful gamer laptop that's also portable.
For most of you, the model with the RTX 3070 will be perfect. It's the one that offers the most value and really maximizes the potential of the GPU. The second configuration with the RTX 3080 would've been a better choice if it had 150w pumped into it. So, if your work doesn't specifically require the capabilities of the RTX 3080, you'll be satisfied with what the 3070 has to offer.
One thing to note is that the RTX 3080 configuration offers you more RAM. It comes with a 16gb RAM that's soldered on the board leaving an extra slot that can take up another 16gb of RAM. The 3070 on the other hand comes with 8gb of RAM leaving you with only 16gb of RAM if you decide to upgrade. Once again, if your job requires 32gb of RAM, you'll have to go with the 3080 config.
Fans and Heat Management
The fans can be controlled manually, which is what I recommend if you want the best performance out of it without having to endure very loud noise. It also has performance modes but wouldn't rely on those because they aren't well configured. Unless you using the laptop for light activities, it's best to manually control the fans to suit whatever you're doing.
Overall, the thermals are good, no complaints.
Battery Life
It comes with a 90wh battery that will give you 6 hours and 30 minutes of use. There's also an option for USB C charging if you have the brick.
Ports
The ports selection is satisfactory. You get two USB A ports, two USB C ports, an earphone jack, and an ethernet port.
Final Verdict
If you're a creative who loves to game after a long day of work, then you'll find the G15 a perfect fit for you. If you're a hardcore gamer. I wouldn't recommend this laptop for you. Whenever you want to sell your laptop because you picked up a wrong one, check out SellBroke's website.
Overall, the G15 is a powerful gaming laptop with a great chassis and a good price.