Top 3 AirPod 2 Alternatives 2021
Feb 25, 2021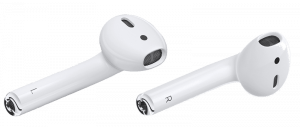 Apple changed the game when they decided to cut wires away from the earpiece. The iconic wireless earbuds come with a beautiful white design. As much as Apple is significant in the earbuds market, they do not have a market monopoly. However, it is not easily accessible to people who want to use earbuds due to the expensive rate.
Thankfully, a swarm of competitors have come out with wireless earbuds that are in most cases cheaper, and in some cases better than the Apple AirPod. Whether you are looking for a dependable running earbud, looking for great gym headphones, or something comfortable to wear all day, there is a wireless earbud that can suit your need.
The most important thing to consider when deciding to get an earbud is battery life­­. Not just for the buds but also for the charging carry case which charges earbuds whenever they are not in use.  It would be best if you wanted a fast charge option, that should replenish your buds for extra few hours in an instant. It would help if you looked out for great sound options too.
The other important thing to look out for is its integration with digital assistants like Google Assistant, Amazon Alexa, or Siri. It is advantageous to have your digital pal in your ears, helping you control your music, and giving you notifications.
Whether you are an android user looking to use an airport lookalike, want to use something budget-friendly, or you want to change from apple, we have got you covered.
Samsung Galaxy Buds Live Earbuds
With its unique butter-bean design, Samsung's buds are placed securely in a place with a wingtip instead of staying in your ear canal. It comes in different sizes, so you have a variety of choices that will suit you.  They have a bass port outside, and this unusual design makes it possible to remove the pressure sensation that comes with traditional EarPods design. These active noise-canceling EarPods are weighted to heavy sounds like traffic so that you can still have conversations. The standard touch control is present on the Samsung buds.
With excellent battery life, the buds come in white, bronze, and black colors. And they run for about six when the ANC is on. And about eight hours when it is off.  You don't get a full ear seal; however, you get a spacious performance.
Earfun Air Earbuds
You could mistake the Earfun for a big brand in-ear earbud with their minimalist and stem design. But they are one of the most budget-friendly earbuds in the market. It does not have a noise-canceling feature; however, it wouldn't be much of an issue if you listen at a loud volume.
The features include IPX7, waterproofing (This means that they can survive unexpected dunking), wearer detection, quick charging, and digital assistant support.
It is disappointing to note that it doesn't have an ANC, but the battery life is fantastic, you can use it up to seven hours, and with the charging case, there is an additional 28 hours on the go.
Sony WF-1000XM3
The Sony WF-1000XM3 is a top choice when it comes to choosing an alternative for an AirPod. They are incredibly lightweight, and they come in a beautiful design that keeps them in place. You might even forget you have them on.
The Sony WF-1000XM3 sound brilliant and come with unique and useful features like google assistant support and quick attention mode. The bud sync perfectly together, creating a beautiful and superb sound. This is because Sony's 6mm drivers combine musicality and clarity.
These premium wireless in-ears wireless earbuds are essential to making music sound better and making life comfortable generally.
Final Verdict
Even though the apple AirPod is not the first to cut wires, they gave the in-ear industry a nudge in the right direction when they arrived in 2016. And that is why there are lots of competitors with so many alternatives.
AirPod is lovely if you use an iPhone, and you would take ease of use over sound quality. However, as the wireless market continues to develop, there are plenty of AirPod alternatives everywhere. This means you do not necessarily need to use an iPhone to use an AirPod and have a list of fantastic listening experience. Suppose you are intrigued with Apple's AirPod, but you want a better sound experience, lower price, and other unique features that are not included on apple device. In that case, these alternatives are your best option. Otherwise you can sell your iPhone and buy the phone tat works best with your new headphones.