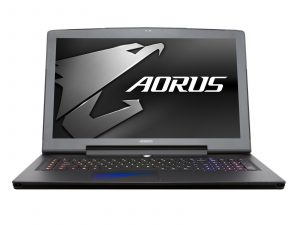 The Gigabyte Aorus 15G features a badass GPU in the RTX 3070. However, its squishy keyboard, poor battery life, and subpar speakers did not compliment the killer GPU. Nvidia has stormed the market with the RTX 39 series GPU and that means gaming laptops will come with more power than before. Unfortunately, despite this level of power, the Gigabyte Aorus 15G could not level up.
When it comes to performance, this gaming laptop offers an excellent one with its processors. It also has a colorful 15.6-inch screen with a 240Hz panel. However, the many issues such as hazy display, poor webcam placement, poor battery life, mediocre speakers, and a squidgy keyboard cannot be ignored. The system also runs hotter than expected.
If you want the Gigabyte Aorus 15G, there is a lot to overlook.
Build and design
The Aorus 15G comes in a sleek black color that covers its aluminum lid. The cover is almost plain except for the Aorus logo lighted up sitting on the center. The subtle look stands out for a gaming laptop.
Inside it is an RGB-lit keyboard that sits from one edge to the other, an averagely sized touchpad beneath it, and a long vent at the top. The top and side bezels are so thin that the webcam had to sit on the hinge. That did not go down well with me but it has a privacy shutter at the least.
The Aorus 15G weighs in at 4.7 pounds and measures 14 x 9.6 x 0.9 inches in size. When compared to laptops in the 15-inch category, it is quite handy.
Display
The Aorus 15G has a 15.6-inch display, with 1920 x 1080 pixel but it is dim. However, it is quite colorful and has a good 240Hz refresh rate.
The brightness is where the Aorus 15G display messes up, peaking at 259 nits which is quite dim. This is below the category average of 283 nits. On the color testing, it performed well above the category average.
Keyboard And Touchpad
The keyboard deck is quite comfortable for the palms, despite this, the typing experience is not great. The keys were soft when clicked. It is something that can be managed as you get used to it over time but it is so squishy especially for a gaming laptop.
Asides from that, it has super vibrant RGB-lighting, and configuring it is easy. All you need to do is go over to the Aorus Control Center to open the Fusion tab and choose between presets like Raindrop or Wave. There is also the chance to create a custom preset.
The touchpad measures 4.1 x 2.8-inch and it is pleasurably soft, although clicks are a little stiff. Windows 10 gestures such as three-finger tabbing and two-finger scrolling all worked well.
Performance
There is enough power in the Aorus 15G. it has the Intel Core i7-10870H processor along with the brilliant GeForce RTX 3070 Nvidia GPU. This graphics chip along with an 8GB video memory all result in more efficiency and faster performance.
As for the CPU, it carries enough power to open 40 browsing tabs at once along with five 1080p videos and a game running in the background. It has 512GB of SSD and 32GB of RAM.
Connectivity
The Gigabyte Aorus 15G has a considerable amount of ports. On the right, there is the power jack, a Type-C USB port, an SD card slot, and two Type-A USB ports. On the left side, there is the type-A USB port, an HDMI port, the headphone jack, the Mini DisplayPort, and the RJ45 Ethernet jack.
Battery life
Gaming laptops are struggling to keep a consistent level of battery life. While there are some with really great battery lives, their others are mediocre in this regard. The gaming laptop companies have a lot of pressure to do better for battery life.
The Aorus 15G disappoints in this regard with mediocre battery life. When put through the test, it didn't last up to 5 hours. This is quite poor when compared to a category average of 7hours 22minutes.
Heat
The Aorus 15G has this major issue, getting heated up after 15 minutes of gameplay. It gets way hotter than usual, both the touchpad and keyboard hit above 75 degrees and 92 degrees.
However, this only happens during gaming. If you don't like it you can trade your laptop for another one.
Final Verdict
The Gigabyte Aorus 15G has enough power thanks to the new GPU, it is also quite portable and the 240Hz panel is eye-catching.
However, a gaming laptop is not all about a super GPU. The mediocre battery life, dim display, heat, and keyboard issues all makes it fall short.
If you want the Aorus 15G for its powerful performance, you will have to overlook a lot of other things.