Top 5 Intel Gaming Laptops Selling on Secondhand Markets
Feb 04, 2021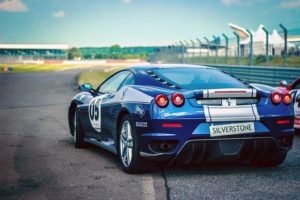 Top gaming laptops are proof of the giant strides made in the mobile hardware world. Gaming laptops used to be a shadow of the top gaming PCs, but they are fast leaving that shadow to prove that they can offer breathtaking performance on the level of the best gaming PCs. They are also shedding bezels to get thinner year after year.
A lot of accolades have to go to the manufacturers of internal components as they are the ones that made these improvements possible. These gaming laptops come armed with the most powerful graphics chips from Nvidia or AMD and have the latest processors from Intel with the fastest RAMs.
Intel has contributed a lot to the improvement of gaming laptops with processors like the Intel Comet Lake. The power that Intel offers helps gamers navigate the demands of PC games. If you have one you can sell it to SellBroke for the best value.
Without further ado, let's take a look at the top five Intel-powered gaming laptops in the market. They offer solid performance and they never disappoint you when you need to count on them. 
Razer Blade 15
Many people ask why would you buy a gaming laptop when you can just build a PC one on the cheap. The answer is simple; the 2018 Razer Blade 15". This is one of the best looking laptops produced this year. Granted it is not cheap and will set you back at least $1,900, but you're getting quite a bit.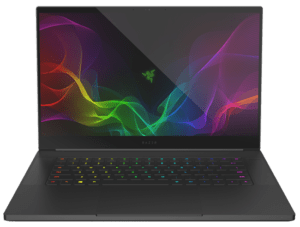 Design
The design changed quite a bit this year. If you are like me, you probably thought that the 14" Razer Blade looked a lot like a MacBook, this new 15" Razer Blade looks a little bit more unique than its predecessor. Now the corner radius is a little bit smaller and slightly boxier in shape.
There are some notable improvements in build quality as well. The chassis feels more rigid, it has a tighter build and is one of the best looking products from Razer. The logo is still in the middle of the lid, it's sunken in a bit more and still lights up.
When you open it up, you'll see speakers on either side of the keyboard and the power button on the right speaker. The speakers themselves sound good. They are similar, and maybe slightly better than the speakers on the 2015 MacBook Pro, but the 2016 and 2017 MBP speakers still sound significantly better. Overall though, these speakers a good. The audio sounds clean even though it lacks the bass like most laptops do.
Screen
The screen is fantastic. It's bright, it's fast and it has a great color gamut. There is a 4K panel available, but the 144 Hertz screen is where it's at. If you plan on gaming on this machine you'll notice the high refresh beats, higher resolution every day of the week. This is one of the best 144 Hertz video panels on the market right now. Keep in mind that it does not have G-Sync.
It's just a few Torx screws to gain access to the internals and then the panel comes off pretty easily. Finally, the memory is user upgradable. This is something that people have wanted in the past years. You can also replace the SSD and the WiFi card. It comes with a 512GB SSD.
Battery life
Battery life is fair. It's an 80 watt-hour battery pack that will give you about 5 hours of use with the screen set at 250 nits and 60 Hertz. In order to extend battery life, it's a must do. Without G-Sync you get NVIDIA Optimus which helps extend battery life. On a device like this, it makes sense to not have G-Sync and just use the tech available to extend battery life.
The AC adapter on this machine is a little bit bigger than the previous generation, but it's still really portable and has a really clean design. The plug connects into an oval-shaped port kind of like a bigger USB-C type of port. It is reversible, but it's not magnetic.
Ports and keyboard
The ports on this machine are pretty standard. You've got three USB-As, a Thunderbolt 3 with some display outs, but there's no SD slot and there's no Ethernet.
Let's talk about the keyboard. When I first saw pictures of this keyboard layout I was concerned. It reminded me a lot of the keyboard from the Razer Blade Pro and I did not like that layout very much and it's essentially the same layout. Here's the issue, the shift key on the right side and the arrow keys are positioned in a very untraditional way. Normally, the shift key is right next to the question mark key and now there's an arrow between the two.
That makes for an adjustment time period for most users that are used to having the "? + Shift" right next to one another. If you're someone that uses the left shift and not the right shift then this won't bother you. If this is your main laptop once you get used to it, it'll be fine, the problem arises when you use another keyboard that's more a traditional. It's just a remedy for disastrous typos.
Another thing that bothered me before on the keyboard is that the function keys up top only light up the function number. You won't be able to see the hotkeys being lit up. This means that the brightness controls and volume controls are not visible in the dark. using the Razer Synapse there is a workaround and you can map them out in a color code instead.
Trackpad
The trackpad is now using Windows Precision Drivers. it has great surface texture and accurate tracking. Instead of having dedicated hardware buttons, this year they are beneath the trackpad. There is one mild issue and that's the palm rejection software isn't perfect yet. Occasionally, when you are typing your palm, may move the cursor unintentionally. I'm sure it's something that will work itself out with software updates in the future.
Performance
The performance is great. It's running the i7-8750H. It's a 6-core CPU and has excellent multi-core applications. There are two GPU options. There is a 1070 Max-Q and a 1060 Max-Q. The 1070 gives maybe 25-30% better performance than the 1060. It's not significant, but it's also a little bit thicker. the performance in games for either of these cards is going to be great, and depending what you play, or what you want to do with your laptop, you'll have to make that decision yourself.
The unit I tested ran pretty warmly, but it wasn't throttling. it was coming close but never did. If you play games in a room that's not air-conditioned or you live in a warmer climate, you may get a warmer running device. Cooing a device like this isn't easy. Every millimeter that you shave off a laptop to make it thinner makes it exponentially harder to cool. Luckily, this year they did a really good job at keeping it cool.
The fans are not loud and they are very manageable. One weird thing is that they take 10-15 seconds to ramp up and down. Like a lot of gaming laptops that we've used when you push the fan butting they go straight on and are on full, with this guy they take time to ramp up. It's not an issue whatsoever, it's just something that's noticeable.
Dell G3 15
A perfect laptop feature for game lovers, contrived with the specific, urging desires of the gaming audience. Dell G3 15 is one such gaming laptops, and we shall consider its uniqueness. It is currently one of the best trading laptops in the gaming world tanks to it's great performance and affordable price.
Pros
Exceptional performance

Extended battery sustainability

Excellent audio and loudspeakers

Quality graphic design

Accommodating memory

Affordable price

Easy to carry around

Good gaming utilities
Cons
Pale and dull display

Loud fans
The G3 15 is distinguished for its incredible processing power, exceptional design, and unique gaming experience available on a laptop. It is a regular office laptop having sophisticated body parts, which are of gray-blue plastic and a matte finish. The Dell G3 15 is one of the thinnest gaming laptops among other competition.
Performance
The processor is the brain of a computer; the laptop has an Intel Core i5-9300H processor, which allows it performs effectively without slowing down. It retains a 128GB state drive, which can function as Microsoft Windows boot drive allowing for ample storage of files.
The laptop comes with an Alienware control center. This feature provides its owners access to a command library where its performance could be customized. The PC monitors usage and temperature from this control center.
Design and Display
It consists of 15.6 inches full -HD, which provides for a clear laptop view. The laptop has three USB 3.1ports. However, the structure comes with an integrated widescreen HD (720p) webcam with a dual-display digital microphone. It has comfortable typing keys but possesses a cheap and straightforward gaming system aesthetics.
The loudspeakers in the G3 15 gaming system are loud enough to surround a small meeting hall. The Peculiarities of a gaming laptop are excellent system performance, quality graphics and screen resolution, proper heat management, and efficient processors. Thus, the Dell G3 15 qualifies as a gaming laptop that offers game lovers the best gaming experience.
With the Dell G3 15, you do not have to worry about not getting the full experience in your gaming adventure. The upgraded version is equipped with a cooling fan system to improve the system's heat management.
It has an in-built software specifically designed to heighten your experience in gaming. The operating system function on Windows 10 makes every experience intense and real. There are many intriguing qualities to note about the Dell G3 15.
This model is easy to carry around because of its lightweight. It has a lasting battery life, which is primal to your gaming experience. It has space enough to accommodate large game files, and also an excellent cooling system for heat management purposes.
However, it is also pertinent to consider its drawbacks, such as the loudness of its cooling fans during use and its pale radiance during gaming experiences. With these features in mind, you can make the right choice as you get a PC that reflects your needs.
MSI GS66 Stealth
The GS65 Stealth thin retains its spot as one of the top gaming laptops in the market. It delivers an all-around performance while still having a good design and specs. It is as versatile as a notebook, and its sturdy and light look makes it very mobile. Its matter black aluminum chassis is sleek with gold accents that bring a luxurious and sturdy feel.
The screen's thin bezels allow for a chassis that is almost an inch smaller compared to other 15-inch laptops.  The SteelSeries keyboard is responsive and solid and is RGB-lit. The touchpad is quite responsive too.
The G-Sync feature is lacking, however, but this contributes to better battery life and lower cost.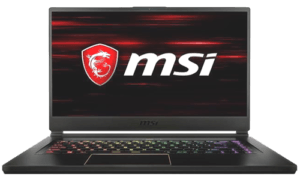 MSI GS66 stealth is an excellent gaming laptop. It is a substantial upgrade to the GS65 stealth that was released last year. The GS66 is more powerful, especially in its screen's refresh rate with a blazing fast 300Hz. Evident and useful changes were made to the display, design, and the performance is way better than the GS65.
Without further ado, let's get into the details of this laptop.
Pros
Compact and lightweight

Slim and Sturdy case

Excellent keyboard and trackpad

High-quality 300Hz screen
Cons
Expensive for 1080p gaming

Compromised performance
Design
Necessary and evident changes were made to the MSI GS66 design this year. Although the case is still made of a sturdy aluminum just like last year's edition, it is now clad entirely in black. The aluminum case is very durable and can take a few bangs without breaking
. It is with a sleek design, compact and lightweight. You could think it's a sequel.
MSI GS66 is equipped with enough ports for better connectivity, so you don't have to fear if you prefer more ports on laptops. It has two USB C ports, in which one of the port supports a Thunderbolt 3, three types a USB port A, and a full-sized HDMI. It has a22.5 gigabit port for Ethernet connection and a 2mm headphone jack.
The GS66 Stealth speakers are the best I have seen on an ultraportable laptop. Unlike other portable laptops, it produces quality sound, and it's quite loud enough to bring out the melody of your music.
The keyboard is functional. The laptop comes with a SteelSeries on the keyboard with medium keys. It will give you a comfortable typing experience, although the fn key pushing against the right control key is somehow fiddly. The windows key was moved to the left side, pushing the power button to the top right-hand side of the laptop. Some coloring and pulsing options are made available on the keys.
The touchpad is a bit weird, it is large, and the right-clicking is challenging. Although it is still workable, you may prefer getting a mouse to enjoy gaming with this laptop.
Display
The display of the MSI GS66 is quite impressive. It has a 15.6-inch screen and 1920 x 1080 resolution, which produces sharp and vivid colors. The pictures and videos are bigger and thicker but very clear with an integrated branding element.
Performance
The MSI GS66 is designed to handle most of your day to day activities such as typing, creating and sending emails, video streaming, graphics designing, and gaming.
It comes with an Intel Core i9 processor and an RTX 2080 Max-Q graphics. The performance is way better than last year's edition, faster, and has a higher refresh rate when streaming video or any other function.
The MSI GS66 has a 32GB RAM which can be upgraded to a two NVMe SSD slots. You can do this by removing the bottom case of the laptop where the RAM is fixed.
The MSI GS66 has a battery life that can last for about 7 hours, 29 minutes when performing a CPU-demanding function such as streaming an HD video. The battery life is less impressive and might be a downside to you, depending on what you do with the laptop.
The MSI GS66 is an excellent laptop but still has some downsides, which is ridiculous, like the absence of an SD card reader. But overall, it is a great gaming laptop, and if you want an upgrade for your gaming laptop, MSI GS66 will serve you better.
Acer Predator Helios 500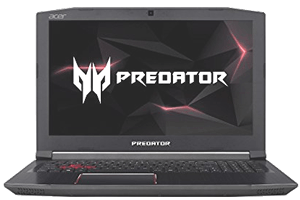 The Acer Predator Helios 500 is beastly, in its physical attributes and performance wise. It is an outstanding gaming laptop, and it can literally handle most games you try on it, without hiccups. This is not saying the Predator Helios 500 is perfect, as it has its little issues that could have been better.  Issues like poor sound, bad track pad, a keyboard that could have been better, and a battery that isn't strong enough to take you through a marvel movie.
The laptop will impress you if what you are looking for is a beastly gaming PC. However, you must be prepared to shell out more money if you want better peripherals.
Pros
Has massive gaming power

Comes with a color-corrected 144Hz display

Its CPU and GPU are easily adjustable

The fans are configurable
Cons
It has a poor track pad

The speakers are underwhelming

It is high on the price side
Design
The Acer Predator Helios 500 design is a case of a great build but underwhelming finish similar to the Acer Predator Helios 300. The build is quite sturdy, which will last for so long. However, the matter finish doesn't compliment the build in terms of quality, as it doesn't easily track finger prints. The look will be appealing to non-gamers, as it doesn't deploy the hardcore gaming look and it comes with blue trimmings, rather than the regular red trimmings.
The Acer Predator Helios 500 has quite a number of ports that help you connect to as much as three displays plus the laptop screen. That's quite impressive. The Acer Predator Helios 500 is heavy in weight and massive in look, it isn't a laptop you can easily carry around. It is more like a gaming PC that is meant to be stationed somewhere in your living room or bedroom, as you wish.
Display
The Predator Helios 500 display is great by its standards. It has a 17.3 inch screen that offers a 1080p IPS display and has refresh rate of 144Hz. This makes sure it has great color reproduction, and excellent viewing for movies and games. The display is also crisp in terms of details. It has the Nvidia GeForce GTX 1070, 8GB GDDR5; Intel UHD Graphics 630.
Performance
The Acer Predator Helios 500 was manufactured to give high performance, just like the Acer Predator Triton 700 which is a smaller 15 inch screen model. It comes with the most powerful mobile Intel Core processor available in the market, with the 2.90 GHz Intel Core i9 hexa-core that has a turbo boost of up to 4.8GHz). It also has a 16GB RAM, which is enough to play any game in the world right now. It has a solid state main drive and a secondary high drive combination, with its Nvidia graphics card.
This combines well to make sure the Acer Predator Helios 500 runs in a smooth way, and makes sure the gaming experience is great, with no lags or drops, also well detailed and appealing.
However, the battery life is not the best. Especially for such a beastly laptop, it only offers about two hours without charge.
Acer Predator Triton 500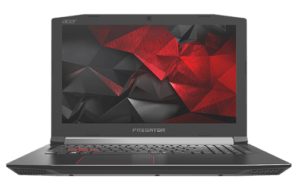 After reviewing Acer Predator Helios 500 just yesterday we're very excited to play with the smaller model Acer Predator Triton 500. We were able to play with them back to back and had so much fun. We really like the mobile aspect of the Triton.
Gaming laptops have swayed towards the slim design lately. For every new gaming laptop you get these days, you realize it is thinner than the previous. The Acer Predator Triton 500 is a good example of thinner gaming laptop. It is thin and light, and it comes with powerful hardware features, some of the most powerful you can find around. It comes with this level of power, while maintain a body that is easy to carry around.
The choice of design and portability definitely comes a little compromise in the build and thermals, but you have nothing to worry about as it made up for this through its beautiful design and high level power.
Let's take a deeper look into some of the features of the Acer Predator Triton 500
Pros
Comes with high level of power

The display is beautiful

Has a solid RGB

Battery is long lasting for its level
Cons
On the high side of pricing

Fragile lid

Keyboard layout looks awkward
Design
The Acer Predator Triton 500 is aesthetically pleasing with its beautiful big blue logo on the back, as wee as its good angular designs. Comes in at 4.41 pounds of weight, and 0.7 inches of thickness, which makes it easy to move around with. It's a metal build but lightweight. The display lid is fragile, which is one of the compromises made for its slim and light nature. It will be advisable to keep in a case, if you want to travel with it.
The keyboard feels great in terms of travel speed and feedback. However, the layout id awkward, as the placement of some keys are questionable. There is also the track pad, which might seem thinner than usual, but has great responsiveness.
Display
The Acer Predator Triton 500 has a great display with its 15.6-inch screen, which is a full HD 1920 x 1080 display, running at 144Hz. Although is 1080p, but it doesn't stop its awesomeness. The refresh rate is fast, and the display has great brightness and it's quite colorful. The display makes you enjoy certain games like never before.  For a gaming laptop, the bezels of the screen are quite thin.  While the bottom bezel might be thick, the rest of the bezels are nowhere to be found while playing games.
Performance
The Acer Predator Triton 500 comes with a lot power, as it is comes with the Intel i7-8750H processor and an RTX 2060. Add this to the 16GB of RAM, and you will realize that the laptop is a king in terms of performance. You don't get slowdowns, regardless of the activity, be it opening multiple tabs on your browser, or you are playing Overwatch with max settings.
The laptop is a great one when it comes to gaming laptops. However, you have to make do with its flimsy lid build, as well as the awkward layout of the keyboard. The performance level and design makes up for these shortcomings, as well as the display.
Final Verdict
Intel-powered machines till now were easily dominating gaming sector. They are all over the market and they come in different shapes and sizes. Now with the rise of AMD Ryzen processors the competition is much closer and choice is even harder. When choosing one, you need to consider what you plan to use it for: just gaming, watching movies or even work.
Whether you like the quality of Razer Blade and MSI or dependability of Dell or prefer practicality of Acer identify the features that you value the most and pick a machine that is strongest at what you are looking for.