MSI Prestige 14: Best All Around Lightweight Laptop
Jan 12, 2021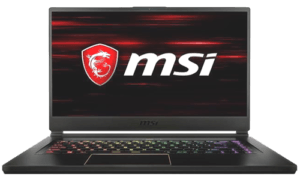 Talk about a powerful lightweight and the MSI Prestige 14 is your best bet in this category. MSI is known for its powerful gaming machines, but they deliver on many levels with this versatile laptop.
It comes in an attractive design, with its Rose Pink color giving off a beautiful look. MSI abandoned the boring silver and black shades common with a lot of modern notebooks. Its metallic pink is quite vivid and tilts towards pale than hot. This design color helps the keyboard deck and lid stand out. The elegant look is completed with a trackpad that matches the color and a lovely carrying case.
Let's talk about power. The MSI Prestige 14 beats most of its competitors in this regard, equipped with 11th Gen Intel's Tiger Lake Core i7 (six-core) processor and Nvidia's 1650 GTX GPU that allows some decent level of gaming.
Design and build
The MSI Prestige 14 has a premium level build. It has a crisp aluminum finish and a hinge that allows you to open the lid using one hand. The design stands out with the Prestige 14 coming in pink, which is a standout look. If you don't like that pink, you should look elsewhere.
It has such a thin chassis but I initially worried about how durable it is. However, I got to find out it doesn't break as it looks.
It is lightweight, coming at only 2.8 pounds which makes it easy to carry around. When you look at other laptops in its GPU category, you will appreciate its lightweight.
Display
The display isn't as great as its build and design. Its 1080p version only reached 282 nit's brightness, when compared to laptops in its category it doesn't look great. Despite the brightness issue highlighted, it still does well for casual usage. The glare is eliminated by the matte texture, which makes it great to use in bright settings both indoor and outdoor.
The display is good enough, with a 1920 x 1080 resolution for a 14-inch touchscreen. The color is crisp and vivid for a laptop of its level.
Keyboard and trackpad
You will enjoy typing on the MSI Prestige 14's keyboard. The keys feel a little shallow but the clicks are nice with each tap. The keys are wide, wider than what you will find in other laptops in its category. There is also enough spacing between the keys. On the typing test, I reached over 80 words per minute.
The keyboard has a white backlit that offers enough brightness in a dark environment. The trackpad is also wide leaving some extra space. It responded well to Windows 10 gestures and it is easy to navigate web pages.
Performance
Multi-tasking is great on the MSI Prestige 14. It comes with the Intel Core i7 processor with 1.6GHz speed. It has 16GB RAM and 4GB video RAM. It has the GTX 1650 GPU and can handle light gaming. The laptop easily handled over 20 open tabs alongside a Netflix stream.
The transfer rate is over 987 MB per second and it duplicated about 5GB of multimedia files under 6 seconds.
It can handle the average level of content editing and play some games in different settings. When you are not doing all of this, the MSI Prestige 14 handles its graphics via its UHD Intel GPU.
Connectivity
This is not the strong point of the MSI Prestige 14 but it has its fair share of ports. If you do not want to move around the USB type C hub, you can rely on the Type-A USB 3.1 port on the right side. You will also find a headset jack on the right. Over on the left side, there is an SD card reader and two Thunderbolt 3 ports.
Battery life
For a laptop with a discrete GPU, the MSI Prestige 14 performs so well in this regard. Despite how much power that this GPU consumes, the MSI Prestige 14 still lasted for almost 10 hours when put to the battery test. This test included web surfing using Wi-Fi and opening enough tabs. The category average is about 8 hours and 39 minutes, the MSI Prestige 14 easily beats this mark despite offering so much power.
Conclusion
The pink design is a fashion statement that is great for the bold. But if you don't like pink you can trade your laptop for another one. The MSI Prestige 14 combines this with almost 10 hours of battery life and solid performance. It is a lot of power packed into a light chassis and it handles it well.
There might be questions about the display and the brightness but it is decent enough for its level.