Alienware M15 R3: Dell Never Fails To Impress
Jan 06, 2021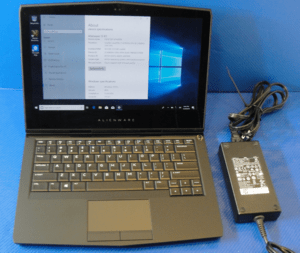 The M15 R3 is an aesthetically pleasing gaming laptop that offers a lot of power and high-end performance. The design stands out in a category with so many laptops with great features. As a gaming enthusiast, if you need power, portability, and a beautiful look wrapped in one, then the M15 R3 should be your go-to laptop.
Produced by Alienware, a subsidiary of Dell – the M15 R3 maintains the great look of its predecessor the model. But it adds a higher 300Hz refresh rate and comes equipped with the latest 10th Gen Core I7 from Intel. It also has Nividia's RTX 2070 as its GPU.
The only issue with the Alienware M15 is the below-par battery life. You will also need to incur more costs to get the best configurations available for the laptop. Despite this, if what you need is a smooth performance and a look that matches, then you should look towards the model.
Design and build
The outer casing and the keyboard surface of the 2020 M15 R3 are what makes it a good build. It is made out of magnesium alloy, giving it a low weight feel. It has a high resistance to prints, smudges, and stains, so no matter how careless you get with your fingers, it stays clean.  Although, over time it could get discolored, as it only comes in white.
The M15 has a convenient texture and the fact that it doesn't have a sharp corner, it makes it easy to carry despite its weight.
Display and sound
Asides from the great front-firing speakers on this laptop, the display is one of the best features of the m15. It comes with a 4k OLED panel that makes colors lively and everything on the display appears elegant.
You can get local dimming and up to 400 nits of brightness because it is HDR500 certified.
It lacks a high screen refresh rate and that makes gaming not comfortable.
The front-firing speakers come with the M15 R3, unlike the bottom-firing set that came with the M15 R2.
Keyboard and trackpad
The keyboard of the new laptop is a masterpiece. Beautiful and easy to use, because of the way there are properly spaced, it makes it hard to make mistakes when using. The trackpad is also one of the best in the market, it has a glass-like surface, very responsive, precise, and smooth to touch.
Performance
The 2020 Alienware M15 R3 comes with a 16GB of ram and dual 512GB PClem.2 SSDs in RAID 0 configuration. It is strapped with a 2.6-GHz Intel Core i7-10750H processor. You get a good gaming experience, and no matter the weight of the game, it runs effortlessly at high settings. When it comes to thermal performance, you will notice some choking when you select quieter game modes when playing games.
Even in regular use, you will notice that the laptop runs a little hot even when you are not using heavy apps.
Connectivity
On the right side of the laptop, there are two USB 3.2 ports and a microSD card slot. On the left side, there is a 3.2 USB port, an Ethernet port, and a multifunctional 3.5 mm jack. At the back, you will find a mini DisplayPort, HDMI, charging, and one thunderbolt 3 compatible Type-C port including the proprietary graphics amplifier port.
Battery life
The Alienware M15 R3 comes with an 86Wh battery. The power adapter weighs around 800g, and that may make the package heavy if you decide to carry it around. The battery life is not the best and it will only last a couple of hours whether you are testing the battery or making use of it. It takes two hours tops to get it charged up from zero. The reason for this could be the configuration, so if you want to use your laptop while charging, you shouldn't have a problem.
Conclusion
In conclusion, the Alienware M15 R3 is an amazing laptop. But because of the clause in its display, it's hard to recommend to hardcore gamers regardless of its crazy specifications. It could be a little less expensive and have a better thermal performance. 
However, if you're looking for an easy to carry gaming laptop with arguably the best overall hardware configuration, you should go for the 2020 Alienware M15 R3. With its sleek look and premium feel. You can trade your old laptop model for this one. If you are someone that leaves your laptop plugged in all the time, you should not have a problem. But if you want your laptop unplugged most times, it could be stressful for you.