What is the Best Laptop for Creators on a Budget?
Nov 25, 2020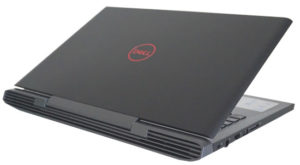 One thing almost every creator has to do is editing videos. That's on top of everything else that they are already doing with their computer. Content creation is not a cheap venture. It requires expensive hardware to get the best rendering results. However, we know that not everyone is capable of shelling out thousands of dollars for a laptop. We have taken the time to figure out what the best laptop for creators on a budget would be. And it is the Dell G5 15 SE.
The Dell G5 15 SE is a gaming laptop with an AMD processor and an AMD graphics. You can get this awesome gaming laptop for about $1,199. Don't be deceived by this laptop being called a gaming laptop. It is the best laptop for content creation on a budget due to its components. Those include multiple cores, good screen, and capable graphics card. For a laptop that comes at an entry-level price, the performance is far from basic.
One major difference between the AMD and the Intel versions is the lack of a thunderbolt port in the AMD version (as it is an Intel technology). Additionally Intel models have bottom illumination.
Specifications
CPU: AMD Ryzen R7-4800H
GPU: AMD Radeon RX 5600M (6GB dedicated)
Memory: 16GB of DDR4 RAM
Storage: 512GB fast SSD storage
Screen: 15.6-inch FHD screen @ 144Hz
Display
The display on the Dell G5 SE is a 15.6-inch 1920 by 1080 IPS display panel capable of a 144Hz refresh rate. The screen
I/O
1x USB Type-C (no thunderbolt), 1x USB Type-A, Mini DisplayPort, and 1x headphone/mic jack.
Performance
The performance of this machine is what you should really be concerned with. The Dell G5 SE is no slouch in this department. For the price the laptop is great. The AMD-4800H processor definitely performs better than the version with an Intel core i7-10875H processor.
Also, the Radeon RX 5600M is able to compete comfortably with the NVIDIA RTX 2060 GPU. It even outperforms it in some cases. In gaming, this laptop can definitely handle graphics-intensive games at 1080p resolution and over 60fps.
The battery test for the G5 indicates that it can last up to 6 hours which is a very solid time span for a gaming laptop. Of course, the battery life is expected to be much lower while you perform content creation tasks or play games, but who wants to edit videos on battery anyway.
In productivity-based benchmark applications like Geekbench 5 (multicore performance) and CineBench R20 (multicore performance), the Dell G5 is able to hold its own against heavy hitters like the Asus ROG Zephyrus G14.
Keyboard
The G5 has a keyboard that is pretty good for typing and gaming too has it has raised icons to help your fingers find the WASD keys more easily. The Num lock key, however, lacks any form of backlit indicator and the power button is also not lit as well. Apart from these two key features that the keyboard lacks, the keyboard of the G5 would get you through any content creation tasks.
The trackpad is an updated version similar to the one found on most modern business laptops. Although, as a content creator, odds are you would most likely be using this laptop with an external mouse anyway.
Final Verdict
The Dell G5 15 SE, is a capable gaming laptop that can be repurposed by content creators to perform video editing tasks and light VFX tasks. For anyone that doesn't have a ton of money to spend on a workstation and requires a reliable pc for content creation, their best bet is the Dell G5.
According to CNET.com, the Dell G5 SE scores a solid 8/10 in performance, features and design, and only dips to 7.5 in battery life tests.
For a beginner video editor or content creator in general, the Dell G5 with its 6GB of VRAM, 8-core AMD processor, 16GB of RAM, and fast 512GB SSD storage (upgradeable) can handle most content creation tasks with ease. If you need a great computer for everything you can trade your laptop for cash with us and buy the Dell G5.