Is the RTX 3070 really worth $500?
Nov 19, 2020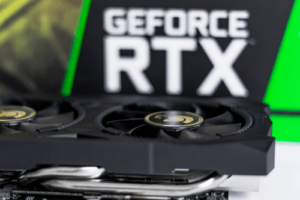 The NVIDIA RTX 3070 graphics card, which was perfectly timed to come out before AMD releases their new Big NAVI graphics cards, has had gamers and creators alike wondering if it is worth its price tag.
One thing that cannot be disputed is that NVIDIA's RTX 3070 offers performance on par with last generation's RTX 2080Ti, but for half of the price. Therefore, for anyone looking for a card that will provide the performance of the best card of the previous 20 series, then the RTX 3070 is the way to go.
However, the question on everyone's mind now is whether or not the RTX 3070 is worth their hard-earned money, or perhaps they should opt for another card in the series like the RTX 3080 (the monster card) or the RTX 3090 (Ridiculously powerful).
Performance
While the RTX 3070 is $200 less than NVIDIA's flagship card – the RTX 3080, it still packs some serious firepower under the hood. Just like the cards before it, the RTX 3070 comes equipped with the ability to perform ray tracing and make use of the DLSS technology to ensure performance gains.
The RTX 3000 series is advertised and has been tested to be the ultimate gaming GPU to game at 4K resolution (native) at buttery smooth frame rates. The RTX 3070 is the gaming GPU to opt for if you would rather enjoy gaming at 1440p resolution and enjoy smooth frame rates without sacrificing too much in terms of cost. For most gamers, their gaming monitors are either 1440p resolution screens or 1080p screens. Therefore, the sweet spot for most gamers is the 1440p gaming performance that the RTX 3070 offers. It is easy to see that the RTX 3070 is both budget-friendly (depending on what you consider being budget-friendly) and futureproof.
Things to consider when buying the RTX 3070
The RTX 3070, just like every other card in NVIDIA's 3000 series, is very quiet and runs cool. Optimally, to get the best out of the RTX 3070 card, it is best to play games at 1440p instead of trying to hit 4K resolution at lower framerates.
The RTX 3070 still needs a 650W power supply and a little extra power draw in case of overclocking or heavy workloads. It would also be best if you considered the fact that it has 8GB of supper fast DDR6x memory, which is more than enough for any game.
In terms of ports, the RTX 3070 includes a single HDMI 2.1 port and three 1.4a Display ports.
Gaming Performance
The RTX gaming performance shows that it is a GPU well optimized for 1440p gaming. Without turning on DLSS, heavy-duty game titles like Control was able to hit 95fps at mazed-out settings, according to THE VERGE. Metro Exodus was able to hit 30fps at its highest graphics settings.
Other games tested by the verge include Shadow of the Tomb Raider @ 111fps, CoD: Warzone @ 130fps, Fortnite @ 138fps, CS:GO @ 275fps, and Death Stranding @ 133fps.
Death Stranding was able to hit framerates of 172fps with DLSS turned on (performance mode). Fortnite saw the most performance boos going from 138fps to 215fps when DLSS was turned on and set to performance mode.
The 4K gaming performance of the RTX 3070 card hovered around 30fps to 50fps and barely made it to 60fps (without ray-tracing turned on). However, when DLSS is turned on, demanding games like Control becomes playable at 4K with DLSS and ray tracing enabled. Also, at 4K resolution and with DLSS set to performance mode, the RTX 3070 can spit out 139fps in Fortnite.
Final Verdict
There is no doubt that the RTX 3070 has been able to hold up to NVIDIA's claim of incredible performance and quiet operations, all in a small chassis. The $499 price tag that the RTX 3070 comes with makes it a very attractive option for gamers looking to expand their gaming experience to include 1440p gaming at very high refresh rates. I mean, the framerates that the RTX 3070 offers at 1440p makes it an incredible gaming GPU for 1080p gamers that want to get the best out of their high refresh rate monitors. More gamers will trade laptops with the new graphics card.
Now that more games support the DLSS and ray tracing technology from NVIDIA, the RTX 3070 is the perfect gaming card at 1080p and 1440p and can push performance at 4K as long as DLSS is turned on.