The Acronym X ASUS G14: Perfect Combination of a Gaming and Work
Oct 24, 2020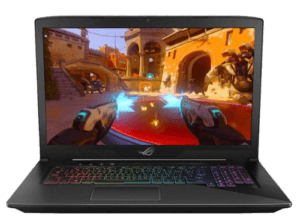 Laptop manufacturers are trying their best to ensure that the laptops meant for content creators and productivity professionals are distinguishable from those made for gamers. However, ASUS collaborated with ACRONYM to create a laptop that satisfies users' needs from both worlds. The Acronym X ASUS Zephyrus G14 is the brainchild of ACRONYM AND ROG. Their goal was to meet both gamers and content creators' needs with one laptop. We've seen exactly the same in the Razer Blade Stealth in yesterday's review.
Specifications
The Asus Zephyrus G14 is already crowned as the most powerful 14-inch gaming laptop on the market.
The CPU is the 8-core, 16-thread AMD Renoir R9-4900HS. Graphics is powered by the Nvidia GeForce RTX 2060 with 6GB GDDR6 VRAM. 32GB of RAM coupled with two  1TB SSDs make laptop a speedy machine with beefy components.
Display
The  G14's screen is a 14-inch WQHD 2k ISP-level panel screen with a 60Hz refresh rate. The place where the G14's screen shines is the 100% sRGB with Pantone Validated support Adaptive sync.
Ports
2 x USB 3.2 Gen 1 Type-A port, 1 x USB Type-C 3.2 Gen 2 display and power delivery port, 1 x USB Type-C 3.2 Gen 2 port, 1 x HDMI 2.0, headphone, and microphone combo jack, Kensington lock mechanism.
Design
This laptop's design is the most remarkable thing about it, as if it was not unique enough already. The design was done by Errolson Hugh, a veteran fashion designer involved with gaming world for years. Errolson Hugh's main goal was to create a laptop that would cater to both gamers and creatives needs. Hugh wanted to have a product that made the user feel more engaged.
Hugh believes that by being complacent towards the kind of technology that a person uses, it is easy for a user to become complacent with said technology, and therefore, less creative.
The ROG Zephyrus G14 comes with design accents and material treatment that makes the product wholly customizable and remain quite powerful.
The most noticeable thing about the laptop when it is open is the color accents of the keyboards. The striking design aesthetics make the Acronym G14 look unique and aggressive.
To design the ACRONYM G14 laptop, Hugh developed and joined two original typefaces into the design used for the G14. With the laptop as the base canvas, Hugh used custom paints and machinery to engrave graphics to the chassis. It can be called a work of art or a beast shrouded in incredible art design.
As a way of topping off the already esoteric design of the ACRONYM G14 laptop, the glowing graphics include the headshot of Hugh himself. While G14's performance cannot be put into question, the purpose of this laptop is to deliver performance in a form factor that motivates the user to be in a creative mood even before it is turned on.
Performance
The AMD R9-4900HS processor is coupled with the Nvidia GeForce RTX 2060 graphics. They make up for a mean gaming beast that will chew through any game at high settings super fast. Asus's choice of choosing an AMD processor becomes more apparent when the ACRONYM G14 is tested in productivity-based applications.
Content creators will be glad for the 8-cores and processing Threads that the AMD R9-4900HS provides as it allows for quick render times and great workflow in video editing applications. The 32GB of RAM is enough to get the best performance in any game and provide enough memory for multitasking with productivity applications.
The Pantone validated screen means that applications that rely heavily on color accuracy will benefit significantly from this laptop's screen.
Final Verdict
The ACRONYM X Asus Zephyrus G14 is a best trading laptop amongst both content creators or professionals and avid gamers. The G14 holds enough power under the hood to shred any productivity and gaming task. However, this laptop's strongest suit is its esoteric aesthetics that invoke strong emotions and bragging rights in its owners.