Top 3 Great Gaming Laptops You Didn't Know About
Oct 19, 2020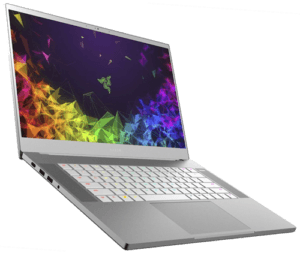 Do you need a desktop gaming pc to pair it with an Oculus VR set and get the absolute best gaming performance ever? NO! Laptops have come a long way from being the less powerful versions of their desktop counterparts to untamed gaming beasts.
This article is not about budget or midrange performance gaming. Oh no! This article is about the top 3 laptops that are absolute beasts in gaming performance in 2020. We are so excited about this list; we hope that you are too.
Razer Blade 15 (2020)
Specifications (Highest Configuration)
CPU:
10th Gen Intel
GPU:
Nvidia GeForce RTX 2080 Super Max-Q
RAM:
16GB
STORAGE:
1TB
DISPLAY:
4K OLED FHD
BATTERY:
80 Whr
Description
The Razer Blade 15 2020 edition brings everything to the table in terms of gaming performance, stylish look, functional keyboard, and an awesome display. This is hands down perhaps one of the best, if not the best gaming laptop money can buy.
The 2020 model is one of the best-looking gaming laptops around. And it delivers a stunning performance to match its looks. With the ultimate pairing of the latest 10th Gen Intel processors and the ray-tracing behemoths from Nvidia's RTX lineup, it is easy to see why the Blade shreds every game with ease.
The 300Hz full HD screen, in our opinion, is the best way to game competitively on a laptop. If you are a gamer that plays more story-driven titles like the Witcher 3 and GTA V, then the 4K OLED display model of the Razer 15 is the best gaming device you can buy.
Asus ROG Zephyrus G14 
Specifications (Highest Configuration)
CPU:
AMD Ryzen 9 4900HS processor
GPU:
Nvidia GeForce RTX 2060 Max-Q edition
RAM:
16GB DDR4 @3200
STORAGE:
1 TB NVMe SSD
DISPLAY:
14 FHD
BATTERY:
180W
Description
It will be an incomplete list of the best performing gaming laptops if there isn't an Asus Zephyrus on the list. The best performing gaming laptop in 2019 was last year's Asus ROG Zephyrus, and this year, Asus continued to deliver the best performing laptop with the Asus ROG Zephyrus G14.
The G14 is equipped with the AMD Ryzen 9 4900HS, which has proven to be both a gaming and content creation beast. The Asus ROG Zephyrus G14 comes equipped with the RTX 2060 Max-Q edition to give you all the gaming power you could ever need to play AAA titles at maximum graphics settings.
The G14 easily combines being thin, light, and extremely powerful in a compact and highly durable chassis.
The G14 impresses on every level of gaming and raw CPU performance. If you are a content creator that loves to play games and render quality 3D tasks at high settings, then the G14 is for you.
Asus ROG Strix GL503VS-DH74 Scar Edition 
Specifications (Highest Configuration)
CPU:
Intel Core i7-8750H
GPU:
Nvidia GeForce RTX 2060
RAM:
16GB DDR4 @2666
STORAGE:
256GB NVMe SSD and 1 TB SSHD
DISPLAY:
15.6 FHD
BATTERY:
64 Whr
Description
Asus has found that sweet spot between thin and light and high performance. The Asus Strix is the ultimate laptop that offers incredible performance for the right price. Even with an 8th Gen Intel Processor, it still delivers some of the best gaming performance seen on a laptop with no compromise.
The 8th Gen Intel processor combined with a non-Max-Q variant of Nvidia RTX 2060 makes this quad-core gaming rig some of the best high-performance laptop money can buy.
Round Off
The devices on this list are the top 3 laptops to keep an eye on if you are after raw gaming performance regardless of the price. The Razer Blade 15 comes equipped with the most powerful gaming GPU in the Nvidia's 20 series. The Zephyrus G14 combines raw gaming performance with incredible content creation ability. And the ROG Strix brings it all to the table with performance, style, and pricing. You can trade laptop of any brand, model and condition and get cash to buy the one you desire.