Surface Laptop Go: The Perfect Laptop For College Students
Oct 13, 2020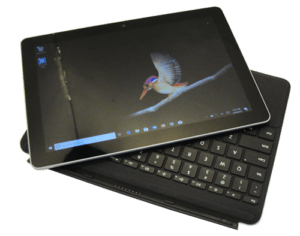 We all want and need a laptop that will make our daily activities easier. There are a few categories of people that will appreciate such a laptop than college students. The schedule of a college student is always hectic, as there are numerous assignments to work on, notes to track among other things.
These reasons and more are why college students will appreciate the Surface Go. This laptop might yet be the best thing to happen to college students. In terms of affordability and performance, it fulfills their needs.
Display and Screen
The Surface Go has a 10-inch 1800x1200 sized screen, and it certainly looks great. it has a good level of color accuracy, better than most other laptops in its category. Its 99 percent sRGB and 76 percent Adobe RGB color accuracy betters some Surface Pros as well. If you love spending time outside of the campus, rather than indoors – the brightness, which is around 435 nits is great for sunny conditions.
Performance
The Surface Go doesn't boast about being the most powerful, but its level of consistency and reliability is great for college students. It comes with a 4GB RAM and the Intel 4415Y processor for the base model. You could get models with 8GB RAM too. You can open your Microsoft PowerPoint or Word alongside multiple browsers at the same time, without seeing any slag.
While doing some work, you can also enjoy your entertainment apps. Listen to some music or see a movie, without experiencing any slowdown.
Keyboard
The Surface Go enjoys the Type Cover keyboard. It is optional but highly recommended. This is up there with the best keyboards I have used. It comes with the Alcantara fabric which is smooth to touch, while also strong and durable. I enjoyed typing on the low-profile keys, and the precision of the trackpad is great.
The only issue might be the smaller size of the keyboard, which can take time to get used to if you have always used huge laptops.
Battery
You need a solid battery as a college student. The Surface Go provides you with that. The battery lasts between 5-7 hours, which is dependent on the level of screen brightness and how much work the CPU is taking on. This level of delivery is sufficient for a college student.
Ports
It has the USB Type-C 3.1 port that allows for a fast transfer process and serves as a charging port with a tweak.
Why is the Surface Go perfect for college students?
Compactness
The Surface Go's compactness is of high value to college students.  At only 1.7 lbs, it epitomizes the meaning of compactness in a convertible laptop. It is not only featherweight, its small size also means it can sit pretty in any pocket of space in your bag.
When you consider the number of textbooks and notebooks that the college students have to carry in their backpack every day, you will realize how invaluable this compactness is. The student doesn't have to sacrifice books to carry the Surface Go.
Affordability
As a student, you need to save money wherever you can. That is exactly what the Surface Go helps you to do. There is already the heavy burden of having to pay a huge amount of fees for tuition, which is why
Not everyone has $1,000 or more to splash on a laptop while in college. This category of people need not worry about not getting a good performing laptop, as the Surface Go is there to help.
You can get the base model of the Surface Go along with its Type Cover, for only about $500. When you consider what it delivers, this is an absolute bargain. The base model is what a college student needs. There is no harm in getting models with increased RAM and storage, as they have their benefits, but the base model will do all you need just fine.
If you are in a class that deals with plenty of videos, you might want to go for a higher model of the Surface Go. Asides from that, as a college student, you will enjoy the base model. You will likely not need the LTE version of the laptop, as most college campuses have Wi-Fi everywhere and you can just connect.
Final verdict
This might be a great trading laptop for college students due to its affordability. For a device of its level, it is quite reliable in how it performs. All these added to its compactness makes it a great device for younger consumers.