Asus Zenbook 14: On Paper VS Reality
Sep 28, 2020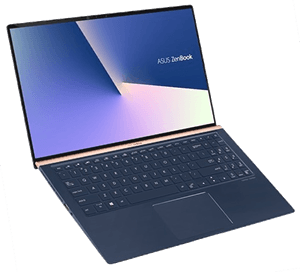 There are many new laptops trading on the market and finding the best one for you is very time consuming. Asus released recently released the Zenbook 14 and tagged it as the ideal laptop for creators. We all know how a laptop performs, in reality, can be different from what the company actually says. So, let's see how it performs in reality and if it's worth your money.
Design
The Zenbook 14 is a sleek laptop, no doubt. Its silver-grey color gives it a premium look. It's also durable and can withstand a few bangs without falling apart. Weighing only 2.54lbs, it's lightweight and easy to carry around.
Screen and Display
It comes with a 14-inch full HD screen with a 16:9 aspect ratio. The thin bezels on this device make it look modern and is also the reason it can utilize its screen real estate very well. You might notice a little screen bleed, but it's not a deal-breaker.
Asides that, the Asus Zenbook 14 is good for creators because of its deep blacks, good contrast, and impressive delta E scores. It has a brightness of 300nits, which means you will be able to use it outdoors or under a heavily lit room without any stress. If you want to know how its display performed, take a look at the scores: 92% sRGB, 71% Adobe RGB, 74% P3, 68% NTSC
These scores make it good for people who do lightroom, photoshop, and video editing. Another thing I love about this screen is that it has a matte display that rids it of any reflections or glare common to glossy screens.
The webcam is also very functional. It's good for making video calls and meetings. It also has built-in infrared, which means you can use windows hello face recognition to unlock your laptop.
Keyboard
The keyboard feels really good to type on because it has a decent key travel and tactile feedback. It has multi-staged backlighting to help you see the keys and type comfortably in dim environments and at night.
It also has a precision touchpad that is very responsive. You can do things like two-finger scrolling and other special windows 10 features on it.
Battery life
The battery life is decent. It comes with a 50w battery that can last up to 8 hours on everyday use. However, if you will be using it to create content, it might only see you through 6 hours. Overall, it has a really good battery life for the average user.
Performance
For basic things like word processing, media consumption, and browsing, the Zenbook 14 will handle anything you throw at it without a fuss.
However, for graphic-intensive activities like gaming or video editing, it won't perform as well as a high-end gaming laptop. This is mainly because of the LPDDR4 RAM they used. The advanced DDR4 RAM will definitely yield better results when it comes to tasks like these, but for the price, you really can't complain.
So, if you are a heavy gamer, you might want to skip this, but if you are a light or mid-range gamer, then it will serve you just fine.
Ports
On the left side, it has a power port. USB-A port, an HDMI port, and a USB-C port. The weird thing about the USB-C port is that it doesn't support charging, which is something I would have loved to see. On the right side, you have a headphone jack, a USB-A port, and an SD card slot. Asides the USB-C port that doesn't support charging, I feel the port selection on this device is decent.
Internals
It's pretty easy to get inside the Zenbook 14, you need to lose a few screws, and you're in. It has one fan, which is functional and does an amazing job of cooling the laptop without getting overly loud.
It comes with 8GB LPDDR4 RAM, which is soldered onto the board. This is a big disadvantage in case you're looking to upgrade your RAM in the future. So, before you buy, make sure the RAM can handle the job you want to use it for.
It also has a replaceable SSD card slot in case you need more space. It comes with a dual-band Wi-Fi 6 for good connection.
Thermals
The thermals are good on this laptop. The fans don't get cranked up and annoyingly loud it doesn't overheat. However, if you work the processor, you will notice a little heat at the exhaust vent located at the back of the laptop. The only bad thing about this is the location. Heat being to close to a laptop's screen isn't really a good thing. Thankfully, it's not hot enough to damage the display.
Speakers
The speakers on the Asus Zenbook 14 aren't the best in the market, but they are quite impressive for its price point. Although they are located under the laptop, at the rear end, they are loud, and the bass is good.
Price
Lastly, I want to talk about the price of this laptop. The price you get it determines how much value it gives you. At its retail price of $699, it might not be the best option out there with laptops like the Dell G5. However, if you buy it when it's on sale for $550, it's a great buy and good value for your money.
Final Verdict
If you are a creator or a light gamer with a low budget and good performance, then you should go for it. But if you're in search of a high performing laptop for gaming or heavy video editing, then you should look elsewhere. Before you buy, don't forget the RAM can't be upgraded, so be sure to confirm if it will be sufficient to carry out what you will be using it for.
Lastly, if you will be buying this laptop, make sure to find a good deal.