Microsoft Surface Duo- a Better Dual Screen Tablet or Not?
Sep 09, 2020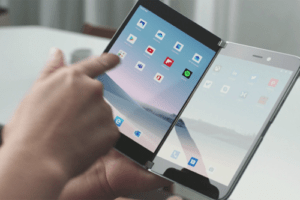 2019 was the year when a lot of companies decided that foldable phones with dual screens were the new way. The year is 2020 now, and Microsoft has decided that for a price point of $1,500, they have something even better to offer the consumers; The Microsoft Surface Duo.
The Microsoft Surface Duo still confuses a lot of people, as they are not sure whether to call it a phone or a tablet, or perhaps a hybrid of the two. However, one thing is certain about this phone/tablet, it is going to have dual screens that would support loads of multitasking.
Specifications
In terms of specs, the Microsoft Surface Duo is not going to be equipped with anything too fancy as Microsoft is marketing this more as a productivity device.
Therefore, the Microsoft Surface Duo comes with 6GB of RAM, 128GB or 256GB of UFS 3.0 internal storage, a Qualcomm Snapdragon 855 Mobile platform processor optimized for dual experience, pend and inking support, 3577mAh of dual battery, and of course, Dual PixelSense Fusion AMOLED displays. 
The camera on the phone is just a mere 11MP adaptive camera, so don't expect to snap any Samsung or iPhone-grade photos with this phone.
The Good stuff
The first thing that sounds like great news out of the box is that the Microsoft Surface Duo will not be powered by Microsoft's Windows software for PCs. Instead, it will be powered by Google's Android platform. This means that as a user, you will have access to all the apps on Google's Play Store.
However, as a means of saving battery life and maintaining a low size profile, Microsoft stated that the next-gen 5G wireless technology will not be included in the Surface Duo. This helps to keep the device to only being 4.8 millimeters thick when it is open and 9.9 millimeters thick when closed.
Of course, you came here to hear all about the folding screen. The device is made up of a 360 degrees hinge that enables the device to be used in a couple of different positions.
Design
It can be opened flat in a way that makes it look like a digital book. In this form you can operate two separate apps simultaneously on the separate screens. Or you can use both screens as a single large screen, almost like a tablet.
The next mode is the mode that lets you prop it up and place it on a flat surface in the form of a small laptop. The lower screen can be used as a keyboard, while the upper screen functions as… well, as a screen.
Another mode is what I like to call the "V" mode. This mode lets your place the phone on a surface with the screens pointing outward in opposite directions. This mode enables you to use the device as a media device.
The last mode is the one that lets you open the phone to its full 360 degrees and hold it in one hand as you receive a call.
Applications support
The Microsoft applications on the Surface Duo have all been optimized to be used seamlessly on the dual screen interface of the device. The optimization allows content to be transferred from one app to another like they are one single application. However, it is important to note that while every app will support being displayed on either side of the screen, not every android app will have the seamless integration that Microsoft apps have.
According the Microsoft officials, the Microsoft 365 on the Surface Duo is the best implementation of the Office Package to date.
The Hinge
This is definitely a significant aspect of the phone, and I have to say, this part was very well built. The hinge design and implementation did not make the Surface Duo feel like two phones glued together. Instead, it felt like a single device with a sturdy hinge that folded seamlessly.
Microsoft officials stated that they decided to go for that kind of hinge design to allow the screen be made of the most durable material possible (Corning Gorilla Glass), and therefore, support pen use without indenting the screen.
Accessories
Lastly, for an enhanced experience, the Microsoft Surface Duo will support Surface slim Pen, Surface Earbuds, Surface Headphones 2, and more.
Final Verdict
Since the device is not out yet, it is hard to say definitely what to expect from this device. However, one thing I can say for sure is that it has the potential to be one of the best dual screen devices on the market. Some Apple lovers might trade in iPads for the Surface Duo. We just have to keep our fingers crossed for this one.