What Does The MSI Creator 15 Offer Creators In 2020?
Sep 03, 2020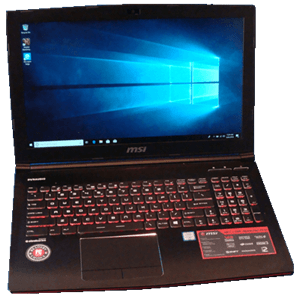 The year 2020 has been one in which many laptop manufacturers have made unprecedented shifts towards creating laptops for creators. MSI known as mostly gaming laptop maker, joins the trend with its MSI CREATOR 15. Laptop is marketed as being a high-end, powerful and versatile computer designed for creatives.
The Creator 15 was made with creators in mind, and on that note, it comes with powerful internals straight from the box. It is equipped with components that are tailored towards the needs of experts ranging from animators, filmmakers to video editors and 2D graphic artists.
Performance and Features
Laptop comes with a single option of a processor, which is the 10th Gen. Intel Core i7-10-875H, which according to MSI's official website, is 15% faster than the previous generation. This CPU has a maximum boost clock speed of 5.1GHZ on a single core. For all cores, however, it is limited to 4.3GHZ for a multicore boost.
Accompanying this powerful processor are five options of NVIDIA graphics cards. You can choose from the NVIDIA GeForce RTX 2080 SUPER Max-Q, RTX 2070 SUPER Max-Q, RTX 2070 Max-Q, RTX 2060 and the GTX 1660Ti. All with the GDDR6 VRAM technology.
You can configure your Creator 15 with 16GB of DDR4 RAM @2666MHZ all the way up to 64GB of DDR4 RAM. Depending on your work requirements, you can opt for 2 x 1TB of NVMe SSD, 1TB NVMe SSD and 1TB SATA HDD, or 512GB of NVMe SSD with 1TB SATA HDD.
In terms of display, you can opt for the 15.6-inch 4k UHD IPS-Level thin-bezel screen with 100% Adobe RGB color accuracy. If you prefer a touch screen, you can opt for the 15.6-inch FHD IPS-Level thin-bezel panel screen with touch screen capabilities.
Since I/O selection is a big aspect of what creators look out for in a laptop, MSI did not skimp on that either. The Creator 15 comes equipped with 1xUSB 3.2 Gen2 Type-C Thunderbolt 3 with PD charging enabled, 1xUSB3.2 Gen2 Type-C, 1xUSB3.2 Gen2 Type-A, 1x SD Card Reader, 1x HDMI, 1 x RJ45, and 1x DC in.
The battery of the Creator 15 is a 4-cell, 99.9 Whr battery, which charges with a 230 W slim adapter or a 180W slim adapter depending on the model.
What Does it Offer to Creators?
The MSI shares many of its components, as well as durability with the MSI Creator 17 laptop, except that it is small and has a larger battery capacity.
The heat pipes in the Creator 15 are 25% wider than the cooling solutions used in most of the standard cooling solutions found in other laptops to help optimize performance. The touchscreen available in both the 4k resolution and HD resolution version offers artists and other professional artists alike a higher level of flexibility.
To ensure that the laptop caters to the need of creators that rely heavily on color accuracy, the display comes with the true pixel display technology. With its 4k resolution and Adobe RGB 100% color gamut, the Creator 15 is calibrated from the factory for a Delta-E that is less than 2. Accompanying the display is True color Technology.
For a flexible viewing experience, the Creator 15, with its 180-degree lay-flat hinge design and flip and share function, allows the screen to be viewed from different angles. The thin bezel around the screen makes the viewing experience more immersive both for the creator and the viewer.
A big advantage the MSI Creator 15 offers to creators is its big battery. The 99.9 WHr battery allows creators to unleash their creativity on the go and not have to worry about running out of creative juice due to lack of power.
MSI did not stop at just the processors and screen. The front-firing Duo Wave speaker design means that the laptop can generate sounds that are warm with deep bass while maintaining crispy clean octaves.
Final Verdict
The MSI Creator 15 was carefully crafted to fulfill the needs of any creator regardless of their field. The MSI Creator 15 also comes with a good mix of functional I/O ports to ensure that a creator never has worry about having the right port for sharing or input. Considering high price tag you can trade in laptop for any other model if for some reason you don't like it.