Pros and Cons of the Asus ROG Strix Scar II
Aug 26, 2020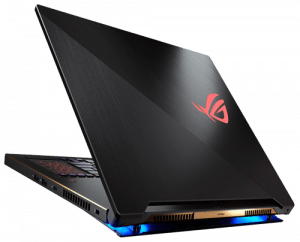 This gaming laptop is another remarkable product of Asus besides the ROG Phone 3 that we talked about yesterday. It comes with a lot of competitive specs that will excite most FPS gamers. It is equipped with the newest NVIDIA GeForce RTX™ 2070 graphics, an impressive eight generation Intel core i7 processor and an excellent display. We tested all the features looking for laptop's pros and cons.
Performance
The Asus ROG Strix Scar II run on the Windows 10 pro operating system and is powered by a remarkable CPU and GPU. It has an Intel core i7-8750H processor and up to 32gb of DDR4 memory. Its 1440MHz 20-series GPU is latest RTX recently rolled out by NVIDIA and has 8gb of VRAM, utilizes AI-enhanced image processing coupled with advanced ray tracing technology.
The laptop comes with a lot of storage space options that will accommodate users gaming needs and other storage related demands. It has a 1TB NVMe PCIE SSD and a 1TB Firecuda SSHD. Both drives are relatively fast.
Design
This Asus claims to feature the first 144Hz super-narrow bezel display that has an outstanding 3 millisecond response time. It has a compact body and is less heavy and narrower when compared to its predecessors. The Strix scar II has an improved Hypercool pro thermal system which has a self -cleaning anti-dust cooling system and also helps cooling the CPU and GPU. It has an artistic trapezoid cut on the lid which allows for effective removal of heat. The laptop comes with an intelligent dual-fan design to cater for long term usage.
The keyboard of the Strix Scar II scores a high point for the laptop. It is one of the most durable keyboards found on a laptop and boasts of a Hyperstrike pro technology and an exclusive ROG overstroke tech which gives it an impressive soft touch feel. The keyboard has an outstanding lifespan of about 20 million key presses.
Display
The ROG Strix Scar II has a 15.6 (1920 x 1080 pixels) full HD display. Its outstanding GTG response time comes to play here as the laptop refreshes in record time thanks to its IPS panels. Its high-end IPS-level display is anti-glare and showcases impressive visuals that do not exhibit motion glitch.
The ROG Strix Scar II has an enhanced connectivity setting thanks to its multi-antenna rangeboost tech and its Intel gigabit WiFi feature which increases its Internet connectivity. It also has an aura sync technology that improves the gaming experience and color. For gaming, it offers the latest Armoury crate software and it offers a wide range of performance and control related setting will providing an easy to use interface.
The downsides include;
Size
One of the major upgrades that came with the Asus ROG Strix is a reduction in weight. However, the laptop is still relatively heavy and weighs about 2.4 kg making it uneasy to carry about.
Camera
The location of the camera on the ROG Strix Scar might not be the best location for a webcam.
Final Verdict
The Asus ROG Strix Scar II is an impressive laptop and a delight for gamers. Should you trade your laptop for this one? The answer is yes as it will cater for a lot of your gaming and computing needs.