Should I buy the $670 Acer Nitro 5?
Aug 24, 2020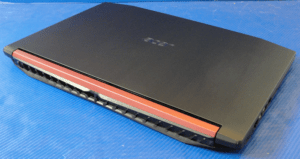 If you are looking for high performing gaming laptop but don't want to spend a grand or more you might want to check out the Acer Nitro 5. It is probably going to be the cheapest gaming laptop to come out in 2020. Even though it has a few downsides, for this price, it still offers a lot when it comes to gaming computers.
This model is actually known for being affordable, and became very popular over the last few years. No wonder our video disassembly of the laptop gets so many views on YouTube.
This year, they made some significant improvements, which I will be talking about in this article.
Display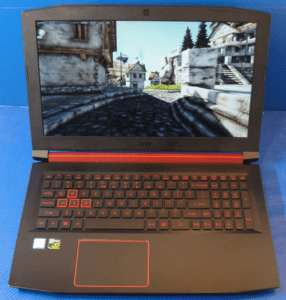 The screen is a 1080p, 60Hz panel, which is expected considering this price point. The color accuracy, as I expected, isn't excellent, with an RGB score of 63% and an Adobe RGB score of 48%. Again at this price, I wouldn't expect more than that.
However, there's just one problem with the screen, which many might not be bothered about, but its something to watch out for.
It's the 266 Nits screen brightness. From my gaming experience, I've realized that dim screens or screens with low brightness perform poorly when I'm playing shooter games. It's harder to track opponents and could make gameplay a bit frustrating. If it's something you can cope with, that's fine. Otherwise, you should think well before buying the laptop.
This problem only applies to shooter games.
Keyboard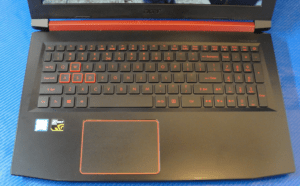 The keyboard is the same as last year's model, which is a bit disappointing because it had an issue I hoped would be fixed in this model.
For typing, you might not have any issues, but for gaming, there's this issue I couldn't overlook.
The 'WASD' keys are too close to the edges of the keyboard, which makes it hard to play games on it. Even for average-sized hands, you will still have difficulties using those keys on this keyboard, except you have tiny hands or you're getting it for a kid.
Before you buy this laptop, please take note of this and see if you can cope with it. An alternative is a gaming mouse or a gamepad, but I just wanted you to bear that in mind.
The keyboard has red backlighting, which is pretty basic, although I would've preferred a better color.
The trackpad is also extended to the left side, so bad that you will have to disable it when gaming to avoid accidental clicks. You won't enjoy the trackpad when typing too cause of this fault, but it's something you can still work with.
Asides this issue, the trackpad is accurate and responsive enough.
Performance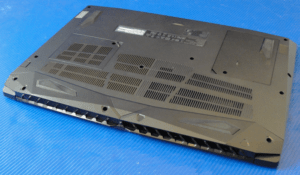 The performance of the Acer Nitro 5 2020 is simply mind-blowing for its price, and I think that's the major selling point. With the AMD Ryzen 4600 chip and the GTX 1650 graphics card, it was able to play Witcher 3 at 60fps, Doom at 70fps, and Overwatch at 143fps.  These refresh rates are amazing for this price point, and it just proves that as far as gaming is concerned, you'll love the Acer Nitro 5.
The thermals are also perfect. It doesn't overheat, and the fans aren't annoyingly loud. Dedicated software helps to control the fans, but that won't be necessary as it does a great job maintaining an average temperature in the default setting.
Laptop can handle every other daily activity without breaking a sweat.
Internals

Taking a look at the inside, the back case is easy to remove, and the motherboard is easily accessible. You have three SSD card slots to add as much space as you need. You also have an extra RAM slot in case you'll be doing a lot of heavy-duty work.
It has two fans and a good amount of heat pipes to expel excess heat.
It comes with a 40w battery that will give you 3 hours of use. For this price, you can't complain about the battery life.
The speakers are 'gaming laptop speakers,' which means they're nothing to write home about. Don't overthink it, just buy a high-quality gaming headset.
Ports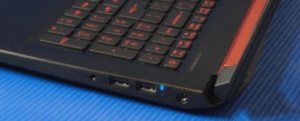 The Acer Nitro 5 has a good array of ports, which include 3 USB A ports, ethernet jack, and one USB C port. It doesn't support Thunderbolt 3 (in case that's something you want), and the adaptor port is located at the back, which is a good thing because it makes things organized.
Final Verdict
Overall, the Acer Nitro 5 is a great value gaming laptop at its base model. For everything you're getting on this device, it's a $670m well spent.
However, I wouldn't advise you to get the upgraded versions because they are more expensive, and for that price, you'd get several computers that are better performing.
If you have a used Alienware or Razer Blaze you can trade in laptop online and get the new Acer for the same money.