Asus Zenbook 13
Jul 23, 2020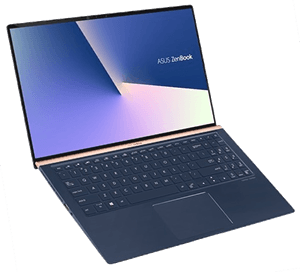 Asus ZenBook 13 is about making premium features affordable. It offers great performance and a battery life that you will admire. Its 8th Generation Core i5 processor shows power, that in a combination with a lovely chassis makes an absolute bargain at under $850. This is a straight Windows based competitor to Apple's MacBook Pro. This isn't saying it comes without its flaws. It has poor speakers, a somewhat cramped keyboard, and the not-so-good 13-inch display. However, all this doesn't affect the fact that the Asus ZenBook 13 is a premium level laptop that comes at a good price.
Pros
The design is premium and great to the eyes

It offers a very solid performance level

The battery life is admirable
Cons
The display is blurred and could have been better

It has a short keyboard deck

It comes with poor speakers
Design
The Asus ZenBook has a premium design that you will fall in love with. The Asus logo sits at the center of the laptop's outer lid is gold and glossy looking. It combines well with the royal blue aluminum looks so calm. The entire look will have you staring at first glance, but hold on it will make you realize that you have left fingerprint marks on it.
The lid extends over the hinge, which you will notice when the laptop is open. The keyboard didn't raise much on opening the lid and I was greeted by the font covered in flashy rose gold, same as the edges of the hinge. The Asus ZenBook 13 is only 2.7 pounds in weight and 11.9 x 7.4 x 0.7 inches in size. This makes it a little thicker than new MacBooks. There is a range of port selection unlike on most Apple laptops.
Display
The ZenBook with 13.3-inch glossy panel of 1920 x 1080, which is quite colorful, but blurry. The display sits at 225 nits, which is considerably dim when you compare it to the 321 nits which are average in its category.
Performance
The Asus ZenBook 13 is armed with the Intel Core i5-8265U processor and 8GB of RAM. You could open up multiple tabs, as much as 40 and stream up to three videos and the Asus ZenBook 13 wouldn't even stutter. It also has the Intel UHD 620 GPU, which isn't as strong as the average in its category but definitely does a good job. However, the Asus ZenBook 13 edges most with its astonishing battery life. Way better than its category average, as it could clock over 11 hours at full function and full charge.
Final verdict
The Asus ZenBook 13 stands out with its great performance and long-lasting battery life among laptops trading online around the world. This is enforced with its lovely styling and affordability. Hiccups like the dim display and cramped keyboard could stay lingering though. Overall, the Asus ZenBook 13 is a nice premium laptop and the pricing is great.