Asus ProArt StudioBook Pro X 2020
Jul 20, 2020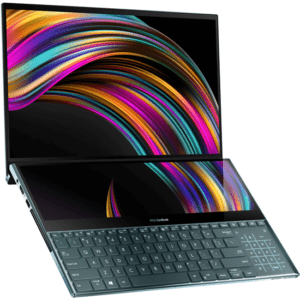 Asus ProArt StudioBook Pro X is the perfect laptop for a photographer, freelancer trying to do his or her job online, or gamer streaming his game on YouTube.
Pros
High-Resolution screen

HD Webcam

It is super-fast
Cons
Plain keyboard

The keypad can be easily triggered
Design
It comes with a thick cover and has several matching ports. The ProArt StudioBook Pro X is thicker in texture than any other we have in the market. It is tough to find a laptop of this build for low graphics work.
The ASUS ProArt StudioBook Pro X also comes with a well-designed Pro-looking metallic chassis and a Turquoise Grey master finishing to top it up. It has a NanoEdge screen display. You can view the screen from various angles and still get the desired productivity.
Screen
The ProArt StudioBook is widely recognized for its powerful 17- inch IPS panel. It has a cool hinge that allows the system to open easily using just one hand.
The screen is the best when it comes to color separation with a Resolution Color Gamut of 1920×1200, 97% DCI-P3. It also comes with a Pantone Validation and has its factory calibrated to Delta E<1.5 accuracy. This feature is seldom found in other laptops. It explains why the ProArt is unique and relatively expensive. It also comes with a High Definition webcam.
Keyboard
The keyboard has extra keys at the right-hand side, keys like Home page, page up, and even page down. The keyboard comes with a backlight. Due to the texture of the laptop, the keyboard is one part of it that will give you a great time when you are interacting with it.
The keys are very soft to the hands, as they have wonderful feedback once they are clicked. It also has a cool feature on the system, which is the Screen Pad that was added to give you the feel of the next-generation computing.
Hardware
The Asus ProArt StudioBook Pro X has one of the finest graphics processors with the Intel Xeon E-2276M and an Nvidia Quadro RTX 5000. It can come with a RAM size up to 128 GB. It can take both SSD and HDD with up to 4 TB storage space. This laptop competes with the Acer ConceptD 9 Pro on the market.
It comes with Wi-Fi and Bluetooth as a wireless feature, having multiple USB ports that suit the need for any work. It also supports fingerprint verification, card reader slots, and audio jack. It is suitable for running high-quality jobs through it, and the system would not break down.
The ProArt StudioBook is one system with a great video graphics memory and processor, and it's perfect for work station purposes as the laptop can run different software that you will need for your desired work on the windows operating system. Asus aims to sell this laptop to graphic designers looking for power to run CAD and 3D design tools.