Acer Chromebook R11
Jul 05, 2020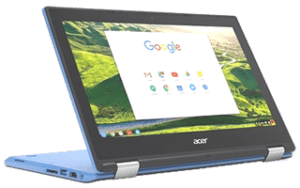 The Acer Chromebook R11 is a laptop built to last long with its outstanding battery. Although its minimalist design doesn't spark much excitement. It is convertible and can be used as a laptop or a tablet.
When compared to other Chromebooks, the Acer Chromebook R11 is much better, largely thanks to its 360-degree hinge. However, it is not the fastest in terms of processing speed, especially when compared to Windows based computers and Macs.
Chromebooks are mostly great because they don't go out of fashion quickly like Windows laptops. 
The Acer R11 is not different to other Chromebooks in terms of functionality, as it compatible with Android apps and you can connect to the Google Play Store.
Pros
Convertible, and can change form via its 360-degree hinges

Minimalist design is quite attractive

Great battery life
Cons
HD-only screen

Terrible track pad
Design
One of the features that makes the laptop attractive is the size and weight. It weighs in at only 2.76 pounds and has a size of 11.57 x 8.03 x 0.76 inches. It is mostly built with of a white plastic and thin chassis, with a matte finish. The lid, however, features a textured white metal panel that looks as great as it feels. This textured white metal extends through the laptop, and gave it a lovely grippy feel when you carry it around. The design of the Acer Chromebook R11 isn't the sexiest looking, but it definitely isn't dull.
The Acer laptop might be mostly a plastic build, but it gives a sturdy feeling when you hold it regardless. Although, the white exterior easily gets dirty.
Performance
The performance is fueled by its Intel Celeron N3150 processor and the 4GB RAM. This combination helps to keep things running as smooth as possible. You could type a doc, while streaming a video and jamming to a song all at once.  However, there might be occasional lags for one or two seconds while typing, but it is quite infrequent. The battery life is great, lasting over nine hours without charge.
Display
The Acer Chromebook R11's screen is quite good for its level. Although, some might feel it could do better than its 1366 x 768 display. The brightness level is okay, and the IPS technology that comes with the screen makes the viewing angles great. The display is averagely crisp, but its contrast wasn't all that. The display level is good enough for streaming some YouTube videos, as well as surfing the web and writing. In its tablet form, you have to use the touchscreen feature, which is decent but not all that great. Thank to the low price he Acer is among the best selling laptops in its category.