The First Mini-LED Laptop will get Creators Excited
Jun 25, 2020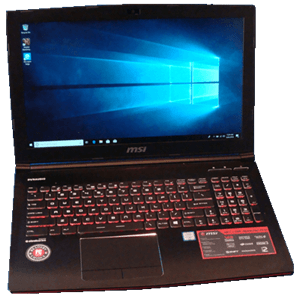 In late December 2020, and also during CES in January 2020, MSI showcased a new laptop built especially for content creators and graphics professionals: the MSI Creator 17. It is the world's first laptop to feature a Mini LED display that fulfills the HDR 1000 standard, making it perfect for filmmakers, photographers, and other creators who work in graphic professions. Let's get into it.
Display
A couple of years ago, Apple was rumored to be bringing a new type of display technology to their MacBooks and iMacs and potentially iPads too. It was said to greatly improve the image quality of their devices. This fantastic bit of technology is called Mini-LED displays. Seeing as Apple is a wealthy company and spends a huge chunk of their money on R&D, everyone thought they would be the first to come out with Mini-LED, consumer mobile devices. However, rather shockingly, Apple got beat to it by MSI. The MSI Creator 17 is the first Mini-LED based laptop on the market, and it is absolutely awesome.
Mini-LED, although relatively new, is set to take the tech world by storm. This is tech that I think will be going into every kind of high-end laptop and high-end tablet going into the future because it is just so much better. I think this is the way the tech industry will be moving forward with screens on laptops, not OLED displays as we hoped they would.
Let's talk about MINI-LEDs first. What are they, and what makes them so special? Well, a Mini-LED display gives you a brighter screen with way higher contrast ratios and much better color accuracy than most screens on the market. Mini-LEDs offer most of the advantages that OLED panels offer without issues like flickering, lifespan, and color accuracy we see on OLED displays. Mini-LED really is game-changing.
The traditional high-quality IPS display most laptops spot is an LCD panel backlit with LEDs. Although they can look pretty good and companies have been working on them for years, we've seen so little improvement in IPS panels of laptops. IPS displays are lit with LEDs that are around a millimeter in size, and these LEDs together make a "wall" or panel of light that can only be brightened or dimmed together. The brightness of IPS screens offers no individual adjustment, and that sets limitations on what a panel like this can do.
Mini-LEDs feature LEDs of about 0.2 millimeters in size and, hence are much smaller than traditional IPS displays. Because of the size of the LEDs, this Mini-LED powered laptop can do something absolutely remarkable- it has local dimming. The Mini-LED display has 240 zones that will automatically turn up and down the backlighting based on the image. So, for brightly lit sections of the image, those zones will crank it up, and for sections of the image that are dark, those zones will dim down. What you end up with is a very high contrast ratio, with your blacks being extremely black and not just dark gray and dazzling whites too. Although OLED displays may offer perfect black which MINI-LEDs cannot offer, MINI-LEDs still offer amazing contrast ratios than your traditional IPS panel.  And because you get such amazing contrast ratios with MINI-LEDs, you get proper, standard HDR, peaking at 1000 nits.
The color accuracy on this display is also really good. You get 100% DCI P3, very low ∆E, none of the flickering problems that OLED panels have, and zero burn-ins.
In my opinion, this is an awesome screen. I think this is the best looking 17" panel that is available on the market.
However, the screen does fall short on its refresh rate, sporting a 60hz refresh rate, although this is expected on a content creation device. In spite of that, the display is still nothing short of amazing. This amazing screen is the thing that defines the MSI Creator 17 and makes it a must-have for content creators.
Performance
The MSI Creator 17 is a bit of a sight to behold, especially the two more expensive models. These offer 1TB/2TB SSD storage, the new RTX 2070/2080 Super graphics cards, 32GB of RAM, and as I highlighted before, MINI-LED powered, 4K 60Hz displays.
The MSI Creator 17 looks like a fairly average laptop. It sports a simple design and won't have you or anyone else recoiling from any flickering lighting. The lid of this device looks elegant, showing just the MSI signature logo.
The peculiar keyboard is the only region in which MSI gives any hint of its legacy. Each of the keys is italicized, and the backlighting looks rather bold.
The MSI Creator 17 is lauded as sporting military-grade durability. This sturdiness and strength should help protect your laptop should it, under any circumstances, suffer accidental spills or drops.
The MSI Creator 17 laptop comes with USB-C, three USB-A 3.2, Ethernet, Thunderbolt 3, micro SD, microphone jack, headphone jack, and an HDMI port, which is quite a lot. Wi-Fi 6 is available for great wireless connections.
Performance
The MSI Creator 17 packs an 82 watt-hour battery, which doesn't give you long battery life, but does top out at around 4 hours with the screen at 250 nits. However, if you crank the screen to brightest, you get just under 2 hours of screentime. It's obvious that in giving that sweet 1000 nits, MINI-LED display, the biggest trade-off is battery life.
Final Verdict
The base model of the laptop sells for $1800. That is not cheap, but it's worth it with the incredible display and 8-Core Intel i7 processor. Should you buy it? Yes. Definitely if you will use the laptop professionally.