Dell Latitude 7400. Ideal Business Laptop
Jun 16, 2020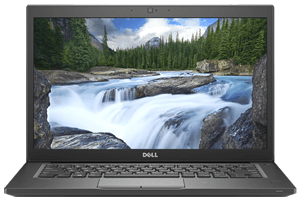 Dell Latitude 7400 2-in-1 is the first PC ever made that makes use of the Context Sensor Technology from Intel. Dell Latitude 7400 is a two in one device which can be used as a laptop and also as a tablet.
The Context Sensing Technology from Intel enables a smart feature on the device that causes the screen to automatically go into sleep mode, lock itself when you are away and automatically wake up when you return to the front of the laptop.
Its features include an aluminum design, comfortable body feel, with a lightweight and elegant design. It has an anti-scratch 14-inch HD screen. It comes with types A and C USB ports, a 1.4 HDMI port, and a Type-C 65W USB charging brick. It has fingerprint sensors and comfortable keypads, which does not make much noise when typing.
It has a Microsoft Windows 10 Pro Operating System and 2019 Microsoft Office Professional embedded in an Intel Core i7-8665U quad-core processor and 16GB RAM. Dell's signature utilities like Command Centre, Support Assist, Power Manager, and new facial recognition tool are added to this product.
The facial recognition technology enables the device to be unlocked when it detects your face. Dell Latitude 7400 2-in-1 is an ideal business laptop that allows adequate levels of productivity. It has features like comfortability, smaller than average keypads, two-stage backlighting keyboard, responsive glass trackpad, excellent display quality, and picture brightness, courtesy its integrated Intel UHD Graphics 620. It has proper media playback and a good sound system.
Its responsive and pressure-sensitive touchscreen enables stylus usage. With that, you can make real-time image sketching, drawing, and a perfect webcam for indoor videos. Its battery capacity lasts for at least 8 hours upon continuous usage. However, the battery does not last much when using a cellular connection.
Specifications
Display
Size: 14.00inch

Resolution: 1920x1080 pixels

Touch Screen enabled
Processor  i7 8th Gen 8665U
Memory 16GB
Intel Integrated HD Graphics 620
Storage 256GB SSD
Connectivity
Wi-Fi supported

Bluetooth version: 5.0
Input
Inbuilt web camera

Touchpad pointer device

Internal mic

Stereo speakers

Fingerprint sensor enabled
Pros:
Punchy keyboard texture

Average battery life

Good display

Narrow bezels sensor technology

Awesome design

4G LTE option (based on pre-orders)
Cons:
Contains one slot for micro SD but does not have an SD card slot

High selling price

Not suitable for use as a tablet
Final Verdict
Despite its high cost and difficulty in usage as a tablet computer stores successfully sell laptop to businesses. Dell Latitude 7400 provides fantastic features such as proximity sensors, fast and reliable processor, functional feel keypad with backlighting, average battery life and excellent performance.