World's First 5G Laptop
Jun 13, 2020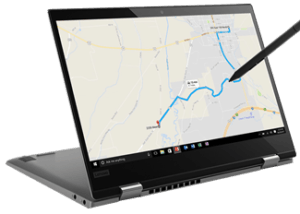 Microsoft tried to outsmart the market with its Surface Pro X PC, however, it still had its massive flaws. Lenovo announced in January at the CES in Las Vegas, that it will be the first to give us a 5G PC. In addition, compared to the Microsoft Surface Pro X, the Lenovo Yoga 5G would have the powerful Qualcomm Snapdragon 8cx chip and a battery with the ability to last up to 24 hours. Although, there is an expectation that there might be others vying to be the first to announce a 5G laptop at the event, however, none has been touted to be as powerful as the Lenovo Yoga 5G.
The first appearance of the new Yoga was at the Computex, in 2019. It was called Project Limitless. The clamshell notebook has a powerful display with its 400 nits brightness, although the 14-inch screen sized PC balances it with its 1080p resolution, which helps save its battery life.
The Lenovo comes with a Qualcomm chip, a chip that prides itself on having an always-on feature. The new Yoga 5G exploits this feature, as it has a nanoSIM card slot and also the capability to house an eSIM. Although, Lenovo has not revealed much about the modem inside the Yoga 5G, but they confirmed that it supports the 5G millimeter-wave technology which guarantees short-range wireless bursts and an ultra-high-speed. It was also revealed that the Yoga 5G will have the long-range sub-6GHz technology.
A lot of information has been revealed about the Lenovo Yoga 5G, but one thing that we are yet to ascertain is the price of the PC. The reports coming from Qualcomm's CES press conference say that Lenovo will sell laptop in base configuration for $1,500, but the report does not have enough credibility. Also, the company has failed to give a specific release date, as they only mentioned that it should be out by spring 2020.
Qualcomm included the option of a digital pen with the PC, a feature that isn't mandatory if you don't want it. Also, no price was announced for the digital pen option.
Here are some of the basic specs we know about the Lenovo Yoga 5G
Processor – Qualcomm snapdragon 8cx
Display – 14" IPS (1920x1080)
Memory – 8GB DDR4X
Graphics – Adreno 680
Storage – up tp 512GB SSD
Camera – IR
Battery – 60Wh (lasts up to 24h)
Weight – 2.97lbs
Operating system – Windows 10
Dimensions – 12.65 x 8.64 x 0.58 inches
Connectivity – 5G mmWave, Bluetooth 5.0