Razer Deathadder Elite: Best Thing to Happen to PC Gaming
Jun 02, 2020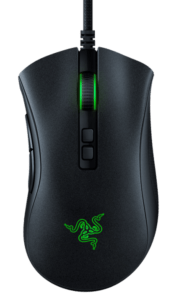 The Razer Deathadder Elite is an affordable gaming mouse with excellent overall specifications. It comes with seven programmable buttons and two Razer Chroma lightning zone. The mouse has an impressive performance, and it is suitable for playing any kind of video game. Deathadder has a 1000Hz polling rate with a fast hand movement sensor. Its combination of high IPS, high DPI, and high acceleration thresholds makes it a beast amongst the other gaming mice available in the market. The best part is that after you sell old laptop you get to keep the mouse and use it with a new computer. 
Let's get into the details.
Pros
Excellent optical sensor

Attractive design

Impressive performance
Cons
Rigid cable

Registration requirement
Design
Razer Deathadder was designed to have a classic scoped body. It has two oversized thumb button, and the sides are slanted inwards along with a textured rubber pad for an excellent and secure grip. The mouse also has a nice low profile, which will fit comfortably with either a palm or claw grip. The smooth matte black plastic surface feels nice under the hand.
The mouse features a total of seven DPI buttons. The right and left button feature a subtle groove for your fingers to rest. This does not only give you comfort when using the mouse, but it also enables quick lateral movements of the mouse during gaming.
The elite mouse has two side buttons that are virtually unchanged from that of the Chroma. The buttons are large and comfortable to press with good tactile feedback and an audible click. The buttons are positioned beneath the mouse and styled with a curve that matches the mouse overall design.
The scroll wheel features a coarse nub on its surface for a more tactile feel. Although the click mechanism does not have enough travel, there is no tension on the scroll steps, which makes it perfect for gaming.
The bottom of the mouse is designed with two oversized Teflon-feet. With the new 5G optical sensor that boasts of a DPI range from 100 DPI to 16,000 in 100 DPI increments.
Finally, on the design, the Elite mouse RGB lighting system is excellent, and it is not tacky. It shows light from the scroll wheel to the entire mouse body. The light can be configured to 16.8 million different colours.
Grip
Razer Deathadder mouse is a medium-large sized mouse. It has an ergonomic design that does not accommodate a broad variety types of grip. If your hand is bigger than 17.5cm in length, the mouse is suitable, but those with the smaller hand should get another mouse.
Performance
The performance of the Death adder mouse is impressive. It is definitely a gaming mouse royalty because of its fast lateral movement when gaming.
It offers a flawless in-game performance, a uniform, and a lovely clicking experience.
It comes with a maximum DPI of 16,000, which is quite impressive. A polling rate of 1000 Hz and a DPI error of 1.3%. The high polling rate results in a smooth cursor movement.
Final verdict
The features on the Deathadder Elite mouse are things you will not find in most of the gaming mouse. It is nicely designed with excellent performance. For a gaming mouse, you should consider going for the Deathadder Elite mouse.