Closer Look at the New Microsoft Surface Go 2
Jun 01, 2020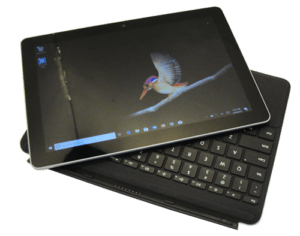 The Microsoft Surface Go 2 offers a larger display, better computing, and also a much longer battery life than its predecessor, the original Surface Go.
It has more capabilities than the iPad and is even more versatile than the 'orthodox' laptop. This tablet PC for the masses is mostly improved and joins the list of some of the most excellent midrange Windows tablets with its stellar build quality, impressive computing performance, and longer battery life.
It is about 50% faster than the original Surface Go in benchmarks, applications load more quickly and multitasking is easier.
While the Surface Go certainly isn't cheap, let's see why you just might consider getting this sleek beauty.
Pros
·
Impressive audio quality
·
Gorgeous, bright
·
1080p quality face recognition camera
·
Runs a full Version of Windows 10
Cons
·
It is expensive
·
Keyboard cover not included
Design
The Surface Go 2 is Microsoft's latest attempt at selling device that's a small Surface tablet that when paired with keyboard works as an ultraportable laptop. And the most notable change in this new Go device is the screen size, which measures at 10.5 inches diagonally, up from the previous 10 inches.
Although it's only a 5% increase, every half-inch matters when it comes to small devices.
Even with the increase in screen size, the device is only 0.05 pounds heavier. This portability is what makes it different from the Surface Pro and places it in the league of the iPad.
On the port perspective, everything is pretty much the same; it has a USB-C port, headphone jack, a Surface Connect port and a memory card slot, you can use either the USB-C or Surface port for charging which comes in handy if you also want to charge while USB accessories are plugged in.
Display
The screen is a beauty, more so considering its $399 price tag, a laptop that costs the same probably doesn't have 1080p. The Surface Go 2 has a panel of 1920×1280 panel, which is bright, sharp, and vibrant.
Performance
On the Surface Go 2, applications take a bit longer to install than on laptops with more powerful processors.
You have to switch out of Windows 10S mode, which is on by default on the Go 2 when you want to install most third-party apps. However, the all-around computing experience of Go 2 is lovely and not in any way sluggish.
The Surface Go 2 doesn't come with a cooling fan, so there's no annoying noise that scourges every computer when the processor is loaded with heavy tasks.
The battery life of the Go 2 is outstanding for a compact tablet, it is a noticeable improvement to its predecessor's. It also has a boosted 128GB SSD, LTE modem and 8GB of memory.
Final Verdict
The Surface Go 2 is an improvement to the original Surface Go with its better display, better battery life and outstanding computing performance. It uses an Intel Core m3 processor which is an upgrade from the Pentium Gold CPU that powers the original Go.
The Surface Go 2 is just for you if your computing needs are light, it is a lightweight work-from-home and idle time companion.