Best Laptop For Graphics Design: Acer Conceptd 7 Ezel
May 29, 2020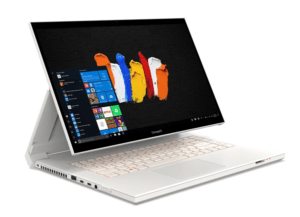 Graphic designers are picky when buying a laptop for work. This is understandable as graphic design requires a laptop that is versatile enough to be used in both tablet mode for sketches and laptop mode for heavy editing. In the past very few laptop makers paid attention to this need but now Acer has finally joined in. We introduce to your Acer ConceptD 7 Ezel.
Acer ConceptD 7 Ezel is a laptop that was designed specifically for designer and creatives. ConceptD 7 is a full-blown notebook that can be converted into a tablet. The best thing about this device is that it sacrifices none of its power for it to be converted into a functional tablet. ConceptD 7 has three conversion modes- Laptop mode, Tent mode, and Tablet mode. It was designed to be a portable version of the Microsoft Surface. The tablet display can be positioned to face upward, while it still offers access to the keyboard. This allows the display unit to be used as an easel just like a Microsoft Surface.
Oh! And that is not all. This laptop also comes with a Wacom digital pen that was designed specifically to be used on the color accurate 15.6-inch IPS touchscreen that comes with the ConceptD 7 Ezel laptop.
Specifications
You didn't think we would skip this now, did you?
Processor: The Ezel rocks a top of the line 10th-gen Intel Core H-Series CPU that allows it to handle CPU intensive task with ease.
Graphics: A powerful Nvidia RTX 2070 graphics card or a RTX 2080 graphics card with up to 8Gb of GDDR6 memory.
RAM: Supports up to 32GB of DDR4 memory card
Storage: Up to 2TB of NVMe PCIe drive.
Ports: Two power hungry Thunderbolt 3 ports, an SD card slot for easy file sharing, a display port and HDMI 2.0 output for high definition visual experience.
Conclusion
The new Acer has everything that any designer in general could every require to make their creative work smooth and enjoyable. The laptop is designed with quality materials that ensures that it has minimal flex and allows it to support its versatile nature when in use. Using this computer is like using three devices in one. If you are in the market for a portable workstation, you need to search no longer. Trade your old laptop for this machine. It is all you will need.