Best Drones For Filming in 2020
May 28, 2020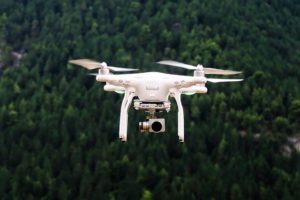 Every day more and more drones are traded changing many industries like delivery or spying just to mention a few.
One of the most remarkable innovations in the filmmaking industry has been the production of drones with high-quality cameras. These drones have enabled filmmakers to capture their aerial view perfectly without the need for expensive logistics.
The evolution of drones has brought about a different quality of content on television and other forms of media. Now, you have your blogs, social media sites, and even movies filled with better video content shot with quality bird's eye view camera. Some camera drones offer face recognition.
Drones are excellent tools for filming videos as they offer a unique take on filmography. They are capable of capturing places people can't reach by themselves. Many of the presently used drones come with GPS and built-in cameras to make it easy to control for the user. When buying a drone for filming, the camera quality and features of the drone are in proportion to your budget.
With that said, here are the top 3 drones for filming movies:
DJI Inspire 1 V2.0 Quadcopter
This is a ready-made drone that is ready to fly whenever and wherever you need to record. It is the ideal equipment for making aerial movies with a 720p HD view, all that is required is the appropriate mobile device and the required application.
This drone comes with a smooth, aerodynamic, lightweight body. It includes a flight controller, 3-axis gimbal, powerful motors, 4K camera, and large propeller. With this stable quadcopter, you gain dual control and maneuverability and professional camera shooting due to an advanced optical flow system and impressive flight capabilities.
It comes with an in-built camera that can record 4K videos at 24 to 30fps or 24 to 60 fps at 1080p. You can also rotate the camera 360 degrees to get a sound recording of the surrounding environment irrespective of the drone's flight path, and it can capture 12MP images while in flight.
The gimbal and camera are detachable, but it requires a lithium metal battery to fly. With the use of the latest Lightbridge technology, you can transmit images and videos at a distance of 2KM. The product dimension includes 17 X 17 X 12 inches with a maximum flying height of 1600ft, weight 6.5 pounds, and a flying time of 15 to 20 minutes.
DJI Phantom 4 Quadcopter
This is another ingenious drone system with lots of functions. Some of the features include improved obstacle/collision avoidance system, 4K camera, automatic subject tracking, Lightbridge video transmission, new intelligent battery, and better optics. These are the qualities of a perfect quadcopter meant for aerial filming.
The DJI Phantom 4 has the same design as other quadcopters, an aerodynamic line for elegance while flying, and even with its lightweight frame, the drone still maintains its stability.
You can also find the following functions on the drone; multiple flight modes, advanced GPS technology system, Obstacle sensing system, and tap to fly feature.
The camera of this device can capture 12MP photos and 4K HD videos at 30fps. This drone comes with the best features to aid in quality video production. There is an HD 1080p slow-motion effect that occurs at 120fps. This is useful in adding special effects to your recording. Product dimension 15 X 8.7 X 12.8 inches with a 28 minutes flight time on a fully charged battery at a maximum speed of 20 m/s with a control range of 5KM.
DJI Mavic Pro 2
This is another fantastic device ideal for photographers and aerial cinematographers. This is such an excellent drone with all the necessary features to shoot a perfect movie. It comes with a 3-axis gimbal and an in-built Hasselbad L1D-20c Camera, which aids in projecting live video of the drone during its shooting.
The Mavic Pro drone includes an ActiveTrack 2.0 system for tracking video subjects and predicting the subject's trajectory even while it's out of view. You can take high-quality images and videos on your own or with the assistance of the ActiveTrack 2.0. It shares the same features as the Phantom 4, and the device comes at a higher price, but it is worth your money if it's what you need to shoot.
Final Verdict
These are the top three drones for filming in the market currently, and they're the best for aerial videographers. However, choosing the best depends on your personal preference. So take out time to study each of them before making the purchase.