The Pixelbook Go: Google's Masterpiece?
May 22, 2020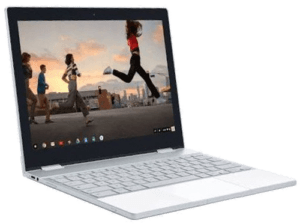 I'm going to be clear and right to the point from the start: I really love the Pixelbook Go. I love the decisions Google made with it and all the parts it got. The Pixelbook Go is Google's first attempt to make a Chromebook that doesn't cost like a $1000. The relatively affordable laptop sells at about $650 for the base model.
Spoiler alert: I love this Chromebook. I'm going to spend the rest of this review telling you why.
Pros
Long battery life

High quality 1080p camera

Overall amazing build quality

Great sound output
Cons
Design
The most incredible thing about this piece of high tech is the build quality. With a magnesium alloy outside and a ribbed bottom, the Pixelbook is comfortable to carry and unbelievably light. However, the most pleasant thing about the design is the firmness of the frame and how thin it is.
Google also did a great job creating beautiful but subtle curves around the frame, no weird seams and no part feels out of place. The overall design brings to mind a luxury car, albeit an affordable luxury car.
The Pixelbook Go features two USB type C ports and a headphone jack. Also, the keyboard and trackpad are excellent, with the keyboard buttons nicely spaced and the trackpad reliable.
As far as speakers are concerned, the Pixelbook Go delivers all and more. They're loud, clear, and delightful to listen to. They definitely get my high praise.
So, getting technical, the Pixelbook Go comes with an 8th Gen Intel Core m3, i5, or i7 processor. Equipped with a RAM of 8GB/16GB and SSD of 64GB/128GB/256GB, the low priced Chromebook offers speed and space and weighs only 1.04 kilograms with a thickness of 13.4mm. Also, the front-facing camera is a 2MP sensor that shoots 60 fps, 1080p video.
The battery that powers the Pixelbook Go lasts for approximately 12 hours and can support fast charging. The Chromebook runs WiFi specified as dual-band (2.4 GHz, 5.0 GHz), 802.11 a/b/g/n/ac, 2X2 (MIMO), and Bluetooth 4.2.
Display
The 13.3 inch Pixelbook Go has a 16:9 LCD touchscreen of 1920 X 1080p (HD) or 3840 X 2160p (4K).
The display is bright, clean, and has excellent viewing angles.
Performance
Like all Chromebooks, the Pixelbook Go runs on Google's native Chrome OS and has a fanless CPU. So, although one should not expect much from it, the Pixelbook Go still delivers. Although the lower-priced versions might be less than expected, the i5 version is excellent for primary usage and even a little photo and video editing.
The laptop can run Android games and play 1080p games just fine, but anything beyond that might make the system lag a little. This is not a problem as Chrome OS is not designed to support many demanding applications.
Final Verdict
Would I recommend a Chromebook? Maybe, if you're ready to migrate to a chrome lifestyle.
Would I recommend Google's Pixelbook Go? Definitely. The laptop is a thing of beauty, a work of art, and an excellent piece of tech.