The Ghost Canyon NUC 9 Extreme
May 19, 2020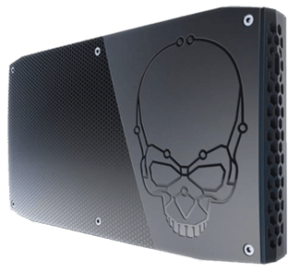 The Ghost Canyon NUC 9 Extreme is shockingly powerful given the size, but it relies on a mobile processor to get the job done. Can we still call it a desktop?
Intel's latest gaming PC is certainly a mouthful, but it's a potentially disruptive piece of tech. Crammed into a 5-litre case, the NUC 9 Extreme is the smallest mass-produced gaming PC on the market. Just the size makes you want to trade your laptop for it.
Pros
Top-of-the-line performance

Internal power supply

Three-year standard warranty

Upgradeable

A healthy selection of ports

Compact

Easy to assemble

Relatively quiet
Cons
Pricey

Can only be oriented one way

Limited GPU options
Design
The new NUC 9 looks almost the same as the original NUC. For one, the 9 Extreme is slightly larger to accommodate the much more powerful internal components and loads of airflow required to cool down the beast.
The 5-litre gaming PC has measures 9.37 x 8.5 x 3.78 inches, has an assortment of ports and was engineered with upgradability in mind. With this much portability and the sheer amount and quality of hardware inside, the way you game and use a desktop PC might genuinely never be the same.
The Ghost Canyon NUC 9 Extreme runs on an unlocked 9th generation Intel Core i9 processor and is also available in Intel Core i7 and i5 variants. In this little guy's arsenal is also up to 32GB Dual Channel memory for Core i5 and i7 versions and up to 64GB for the Core i9 processor.
Although not included, the NUC 9 Extreme supports discrete graphics cards up to 8 inches in length and is even dual-slot capable. With an upgradeable Intel NUC Extreme compute element and quiet cooling, this machine delivers.
There is no shortage of ports on the PC with two Intel Gigabit LAN ports, four USB 3.1 ports, an HDMI 2.0A port, two Thunderbolt 3 ports, 3.55mm audio jack, a PCle X16 slot, a PCle X4 slot and a 500W internal power supply port. And that's just the back of the PC. On the front is a UHS II SD card slot, two USB 3.1 slots and a 3.5mm stereo headset jack. Intel WiFi 6 and Bluetooth v5 is used in wireless connections.
Performance
No one buys a gaming system unless they want to push their gaming limits (except if you like to blow thousands of dollars on a gaming PC just to write on it), so here's the $1700 question. How does it game?
With a laptop grade processor and desktop-level graphics card, the NUC 9 Extreme packs a punch. Playing AAA-rated games at 1440p with high graphics settings performed well with above 60fps. The gaming PC performed between 30fps and 90fps for a variety of high-level games with all graphical settings turned to the max. The games include Shadow of the Tomb Raider, Forza Horizons 4, Star Wars: Battlefront II and Red Dead Redemption II. However, with the resolution set at 1080p, as most people play today, the numbers shoot up, and you hit higher frame rates.
With numbers like this, Intel's choice to use a laptop processor is of little consequence as the NUC 9 Extreme performs as well as a full-fledged gaming PC with a desktop processor and similar graphics card.
However, the choice of a laptop chip does affect thermals and the cooling effects requirements of the gaming PC. Lacking internal cooling systems, the NUC is cooled via its internal fans. The CPU's temperature generally ranges from 70 to 80 degrees Celsius at peak performance and around 40 degrees Celsius when being used for low productivity work. Those temperatures are excellent numbers for a gaming PC.
The fans are surprisingly quiet with the PC working at high performance when compared to a typical gaming laptop. However, the fans are more noticeable when performing low productivity work like web browsing with routine on and off, which can be quite distracting or even borderline irritating.
Video rendering speed, although not on par with larger rigs, is similar to high-end laptops with the same processor. This is something content creators and video editors will appreciate.
Final Verdict
I do see the NUC 9 Extreme being used by businesses and companies, maybe those that are involved in design, rendering and even gaming in situations where you do need full desktop graphics performance for your employees or customers, but also you need to be very space optimised.
The NUC offers an easy solution, but for desktop gaming, you really can build a much better gaming system yourself, save a ton of money and even make a better machine. However, when it comes to gaming on-the-go, you're much better off with a gaming laptop in my opinion.