Lenovo ThinkPad L13 Yoga: An Affordable Little Business Machine
May 16, 2020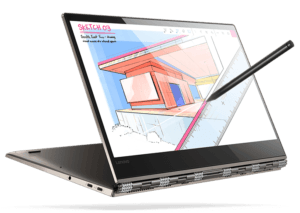 I'm a big fan of Lenovo's Thinkpad line, especially their Yoga line when it comes to business focused laptops. So, when Lenovo released their all-new Thinkpad L13 Yoga late last year, I was quite ecstatic. I like this laptop. I like its versatility, this being a convertible, of course, I like the fact that you could store the pen in the device, I love the keyboard, the touchpad and of course the track point. The laptop also has a very lovely 1080p display, and best of all, it doesn't break the bank.
Let's get into the good and bad.
Pros
Affordable

Lightweight

Upgradeable

Good performance

Pen

Great audio

Convertible
Cons
Design
One of the reasons I'm interested in this model is its price. With a starting price of $677, I think this is an excellent price to value ratio.
The L13 Yoga comes in a beautiful stealth black design and outstanding build quality. The unit weighs 1.43kg and measures 311.5mm x 219mm x 17.6mm. The Thinkpad also comes with a pen that is stored and charges in the device.
The Thinkpad is not all looks though. After a series of tests, the laptop earned a military standard 810g rating, meaning this is one sturdy machine. One thing to be aware of is that this computer is a major fingerprint magnet so you will be wiping it down quite a bit.
The port layout is pretty much standard stuff. On the left side of the laptop, you get two USB Type-C ports, a breakout port for your Ethernet, a USB A port and a 3.5mm headset jack. On the right side, you have your power port, a micro SD card for storage expansion, another USB A port, an HDMI port, a Kensington lock port and moving over to the front is an optional smart card reader.
The L13 Yoga is powered by 10th generation Intel Core i7 processors (1.08GHz, up to 4.90GHz with Turbo Boost, four cores, 8MB cache). With a memory of up to 16GB DDR4 2666MHz of RAM and up to 1TB SSD PCle NVMe, it delivers powerful performance in a 13.3-inch 2-in-1 package.
The laptop comes with a 12-hour capable, 46Wh battery that supports rapid charge and includes a 65W AC adapter.
The keyboard is one of the best parts of this laptop, offering an excellent typing experience. It has excellent tactile feedback, good key travel and pretty much everything you would expect from an ideal keyboard. It also a multistage backlight for low light typing.
The laptop also has a fingerprint scanner located below the keyboard that works reasonably well.
The crystal clear audio is perfect for watching videos, listening to music and making phone calls thanks to Dolby Audio Premium technology. The inbuilt microphones are noise-cancelling dual-array far-field microphones which is great for voice recording and video conferencing.
The laptop connects wirelessly using Intel 9560 802.11AC (2 x 2) and Bluetooth 5.0.
Display
I'm a big fan of the 13.3-inch display. I like the way it looks with some intense black and vibrant colors.
The laptop has a Full HD resolution that is 1920 x 1080p, and that means you get a 16:9 aspect ratio which is excellent for consuming media, watching Netflix, YouTube, Amazon Prime video and the like. It also has some pretty good contrast as well.
As far as brightness is concerned, it measures 302 nits which makes it suitable for indoor and outdoor use. However, you may have some issues using the L13 Yoga under direct sunlight because it is a little bit of a glossy screen.
It has somewhat slim bezels although you will notice the chin on the bottom and that's because you will be using this bad boy as a tablet and you will need somewhere to hold. The top bezel houses the excellent webcam.
The webcam is a 720p 30fps sensor that works well for video conferencing, Skype and even snapshots. The webcam also has a shutter switch giving you privacy and security.
Performance
The Lenovo Thinkpad L13 Yoga offers decent performance. You can do Microsoft Office, email, web browsing perfectly fine.
Although this is not a gaming laptop and AAA-rated games on the highest setting don't work, you can play some of the older titles if you lower the settings.
As far as thermals are concerned, Lenovo did an excellent job in terms of cooling. The fan doesn't get overly loud or obnoxious, and the entire system stays relatively cool during use.
Final Verdict
To wrap it all up, can I recommend the Lenovo Thinkpad L13 Yoga? Absolutely!
Considering the price the laptop sells at and it's ratio to the performance, I like it. The vivid display, the military-grade toughness, the keyboard, the trackpad and the impressive assortment of hardware this laptop holds, all add up to robust engineering. And I think Lenovo did a great job.
In essence, the Lenovo Thinkpad L13 Yoga is definitely worth your money.