Lenovo Flex 14 review
May 12, 2020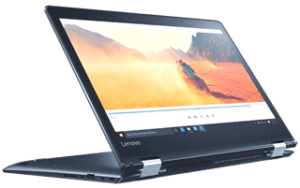 The Lenovo Flex 14 laptop is a good entry-level 2 in 1 machine, but don't mistake it for an ultrabook. It comes in two models, which have different processors, the AMD Ryzen and an Intel Core i5 processor. Both have their strengths and weaknesses, which we will dive into shortly. 
Let's get into the details.
Pros
Affordable

Privacy enhancement

Sufficient ports for better connectivity
Cons
No stylus storage

Low bass on speakers
Display
The display of the Flex 14 is quite impressive. Coming with a 14-inch 1080p screen, you get sharp and vivid colors but with a slightly dimmer screen. If you work in places with much light, you'll need to increase the brightness.
The touch is also responsive. The bezels are bigger to give enough room for your thumb when using it in tablet mode. The screen can play 4K videos smoothly without any drop rates, which is excellent. It's not the best screen out there, but for its price range, it functional enough.
Design
The Lenovo Flex is made of this rubber-like plastic, which makes gripping easier and feels good in your hands. The hinges are very functional, and you don't have to worry about it snapping.
It comes with two full-sized USB 3 ports, a USB C port, HDMI, and a MicroSD card slot. The MicroSD card doesn't fit completely in the port, which is quite uncomfortable. There's no internal stylus pen storage, so you have to store it beside the ports, which causes obstruction and doesn't feel right.
Lenovo always takes note of privacy, so the Flex 14 has been equipped with a fingerprint sensor and a webcam shutter for enhanced safety.
The keyboard is backlit and well-spaced, but the travel is a bit shallow. The trackpad is also good and responsive. Overall, it's a great keyboard.
Performance
The Lenovo Flex 14 can handle basic tasks like word processing, web surfing, video streaming, graphics designing, etc. without breaking a sweat.
The battery life is quite fair in the Intel version, lasting for 6 hours. Although it's way better in the AMD model, which lasts for 8 hours.
For gaming, the Flex 14 is not ideal. It can't play new games conveniently unless you reduce the display settings, which makes it less fun. It didn't perform well when playing several games except for older games like Half Life. If you are a hardcore gamer, this isn't the laptop for you.
One other thing to note is that it doesn't come with a stylus pen. You'll have to purchase one from Lenovo if you will be needing it. I know this can be annoying, but for the price, it's reasonable.
Final Verdict
The Lenovo Flex 14 isn't a spectacular laptop. It's more like an everyday computer. It's a perfect fit for kids, office workers, and the elderly. For better performance and battery life, you should opt for the AMD Ryzen model.
Overall, the Lenovo Flex 14 is worth the price. If you want to buy it you can sell your old laptop to us and use the money towards the Flex 14.