3 Fascinating Drones with Face Recognition
May 12, 2020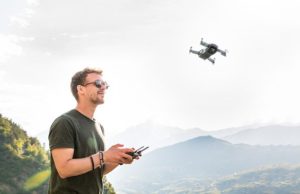 Killer drones are aircraft that remotely controlled from the ground, often a considerable distance from the war zone. In the market today, several drones are available with sophisticated facial recognition software. This isn't fiction; this is reality. These drones can scan and detect your face.
This drone can recognize many faces that have been saved in the database, and they have an excellent sensor that can detect a human face. As a drone trading place we are luck to be able to test many different models. Let's check out top 3 fascinating killer drones with facial recognition.
DJI Spark
The DJI Spark the best drone available in the market at the moment with facial recognition. The facial recognition feature in the Spark is really amazing and can scan your face once it's switched on.
Out of many drones with facial recognition, the DJI Spark FHD camera runs through a hardware stabilization system. Although the Spark's gimbal is not a 3 – axis, instead, a 2-axis gimbal was installed, but it is still enough to give you full access to control the scenery.
DJI Spark has fluent GPS coverage and an enormous array of autonomous flight actions, which makes taking aerial photograph simple. The gesture control feature with palm control and palm lunch that makes a hands free controlling mechanism possible is also present. It does not feature the OCUSYNC, meaning its standard is nothing special.
Talking about the battery life, it can stay up to 15 minutes during flight without breaking a sweat.
Hover Camera Passport
The Hover Camera Passport has gained massive popularity since it got released some years back. It has generated many good reviews from the top tech reviewers because of its astonishing performance to price ratio. It has a weight of approximately 242 grams with a spectacular foldable design. The drone is a safety-first design-oriented giving it extra weight, but this does not make it to underperform. It is installed with facial recognition software, and the camera is the strong point of this model. With a camera of 13MP CMOS sensor, it can record with a 4k resolution and take brilliant pictures.
The Hover Camera Passport camera boasts for a good battery life lasting for about 10 minutes during flight.
The Zerotech Dobby
The Zerotech Dobby was one of the very first autonomous drones designed with a good camera. Just like the Hover Camera Passport, the Zerotech Dobby also comes with a small-sized foldable design, and overall high performance.
The drone has a 13MP sensor, and it carries an integrated EIS that works with recording at 1080p or sometimes below it. The 13MP can record an aerial video of 4k resolution too. Still, the layer of smoothness is what is missing in this device.
In addition to the face recognition feature of this drone, it has some other exciting features, such as voice control. It also has a good battery life of about 10 minutes.