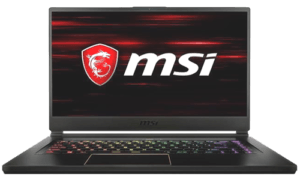 MSI GS66 stealth is an excellent gaming laptop. It is a substantial upgrade to the GS65 stealth that was released last year. The GS66 is more powerful, especially in its screen's refresh rate with a blazing fast 300Hz. Evident and useful changes were made to the display, design, and the performance is way better than the GS65.
Without further ado, let's get into the details of this laptop.
Pros
Compact and lightweight

Slim and Sturdy case

Excellent keyboard and trackpad

High-quality 300Hz screen
Cons
Expensive for 1080p gaming

Compromised performance
Design
Necessary and evident changes were made to the MSI GS66 design this year. Although the case is still made of a sturdy aluminum just like last year's edition, it is now clad entirely in black. The aluminum case is very durable and can take a few bangs without breaking. If you break it you can trade in laptop for cash at SellBroke instead of fixing it. It is with a sleek design, compact and lightweight. You could think it's a sequel.
MSI GS66 is equipped with enough ports for better connectivity, so you don't have to fear if you prefer more ports on laptops. It has two USB C ports, in which one of the port supports a Thunderbolt 3, three types a USB port A, and a full-sized HDMI. It has a22.5 gigabit port for Ethernet connection and a 2mm headphone jack.
The GS66 Stealth speakers are the best I have seen on an ultraportable laptop. Unlike other portable laptops, it produces quality sound, and it's quite loud enough to bring out the melody of your music.
The keyboard is functional. The laptop comes with a SteelSeries on the keyboard with medium keys. It will give you a comfortable typing experience, although the fn key pushing against the right control key is somehow fiddly. The windows key was moved to the left side, pushing the power button to the top right-hand side of the laptop. Some coloring and pulsing options are made available on the keys.
The touchpad is a bit weird, it is large, and the right-clicking is challenging. Although it is still workable, you may prefer getting a mouse to enjoy gaming with this laptop.
Display
The display of the MSI GS66 is quite impressive. It has a 15.6-inch screen and 1920 x 1080 resolution, which produces sharp and vivid colors. The pictures and videos are bigger and thicker but very clear with an integrated branding element.
Performance
The MSI GS66 is designed to handle most of your day to day activities such as typing, creating and sending emails, video streaming, graphics designing, and gaming.
It comes with an Intel Core i9 processor and an RTX 2080 Max-Q graphics. The performance is way better than last year's edition, faster, and has a higher refresh rate when streaming video or any other function.
The MSI GS66 has a 32GB RAM which can be upgraded to a two NVMe SSD slots. You can do this by removing the bottom case of the laptop where the RAM is fixed.
The MSI GS66 has a battery life that can last for about 7 hours, 29 minutes when performing a CPU-demanding function such as streaming an HD video. The battery life is less impressive and might be a downside to you, depending on what you do with the laptop.
Final verdict
The MSI GS66 is an excellent laptop but still has some downsides, which is ridiculous, like the absence of an SD card reader. But overall, it is a great gaming laptop, and if you want an upgrade for your gaming laptop, MSI GS66 will serve you better.