Lenovo ThinkPad P53 Review
May 09, 2020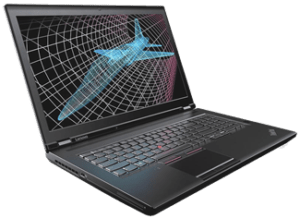 The Lenovo ThinkPad P53 is the latest high-end laptop from Lenovo with a fast GPU NVIDIA RTX 5000. The ThinkPad has a traditional 15.6 inches mobile workstation and offers users faster hardware, more ports, and exceptional expandability. The ThinkPad P53 comes with a Core i7 processor, a full-HD panel, 32GB RAM, and over 1TB SSD. This could be one of Lenovo's best selling laptops this year in workstation category.
Pros
Fantastic keyboard to give the user an enjoyable typing experience

Two Thunderbolt-3 port

Enhanced security

Bright 4k and FHD screen options

Good connectivity

Decent maintenance option

Extensive warranty
Cons
Runs hot easily

Poor quality webcam

Mediocre speakers

No preinstalled antennas

Poor battery performance

CPU strangling under stress
Design
The ThinkPad P53 comes with a black plastic surface chassis that is extremely rigid and does not have any flaws in its design. The base can't be bent as it doesn't yield or appears not to creak either. While its two hinges are rigid and can avoid teetering, they do not help the lid close shut at the edge. The lid which houses the screen is not as slim as most modern laptops, but it's not as rigid as each angle.
The ThinkPad P53 comes with an upgraded version of port selection as there is an HDMI 2.0 output on its left, two USB Type-A port, two card readers, and one USB Type-C port on its right. There is also a nano-SIM card slot on the left side of the system.
Due to the position of the USB Type-A port on the right, this may affect the user's experience in some cases. Its two Thunderbolt 3 ports can be found at the back of the device.
Performance
This device comes with specific changes to the display quality of this new version. The configuration of the base includes Full-HD panel of 300 cd/m2 brightness level, Full-HD variant, 4K matte display, and a new variety OLED panel option. You can see the backlight bleed when you view dark pictures, and if you look closely, you can see the difference in brightness levels. When the brightness is at 90%, it reduces from 510 to 236 cd/m2 and hits 149 cd/m2 at 80%. The matte panel gains from its high maximum brightness when outdoor or in a very bright environment.
The ThinkPad P53 uses a Core i7-9850H processor, which serves as a powerful 6-core CPU with a base clock of 2.6 GHz. It also has a 4.6 GHz Turbo Boost frequency to match its base clock performance.  With a temporary 90 watts power unit and a continuous 60 watts, Lenovo has created certain CPU power limits. If the device gets cold, the consumption rate drops to 89 watts at 6x 3.7-4.1 GHz for a few seconds. After these few seconds, the rate drops to 54 watts and 6x 3.3-3.4 GHz.
Lenovo's ThinkPad P53 has installed Samsung M.2 PCle SSD P981a, which offers users 1 TB storage space and 903 GB after it finishes booting for the first time. In general, this device allows a smooth system operation with fast response time and no delays. There is no experience of blue screens or freezing.
Final Verdict
The ThinkPad P53 is not built according to the current trends in the market. Still, it's a very robust system with lots of ports available for the user. Upgrading this system is easily possible, and the hardware is compelling and suitable for the user. This system also offers more selling points than its predecessor in terms of a more powerful graphics card. Although, you will find its cooling lacking in some areas. This laptop can easily compete with HP's workstation laptops.