The First Manned Aerobatic Drone
May 06, 2020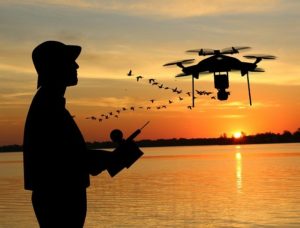 Drones are regarded as unmanned aerial vehicles, but today that definition has changed, or rather it has now been revised as there are now cases of manned drones around the world. In respect to this, the first manned aerobatic drone set flight early this year in Vrsar, Croatia. Drones Champions AG developed it. They are the company in charge of the Drone Champions League (DCL), which is renowned for being the world tournament for professional drone racing. Also, they are the makers of the DCL game, which is designed for players around the world and serves as a mechanism for recruiting drone pilots for the main competition.
Drone Champions League
According to Drone Champions, there had been complaints about how small and fast the drones used in the DCL were and how hard it was to see them when in flight. So, in response to those complaints, they increased the body size of the drones, but the complaints persisted. So, they went to work and built a drone that was much bigger, and here is the result, a 16-ft wide manned aerobatic drone.
Manned Aerobatic Drone
Initially, it was tested indoors in Germany before it took a maiden flight outdoor in Croatia. The drone has a fine chassis that is aerodynamically faired. It has six arms on its sides that have two coaxial rotors, each brings it to twelve rotors in total and uses an astounding number of batteries, thereby producing about 217 horsepower. It can attain a speed of 87 mph and can carry a maximum weight of about 368 pounds at a go.
Steering
The drone can take only one passenger at a time; however, it is not piloted by that passenger but rather a trained drone pilot using a remote control. The drone was first flown with a dummy human onboard and flew over an extensive area while performing some flight maneuvers such as rolls and loops. It did this for quite several times before landing. If it crashes you can sell broken drone to us.
World Record
After landing, it then featured a human passenger in the person of Herbert Weirather, the CEO and founder of Drones Champions. The drone rose to a considerable height before it landed, thereby setting a world record. The makers of the drone have called for drone racing pilots around the world to participate in the DCL game and stand a chance to be recruited to fly this drone, or as many manned drones, the makers have to offer. According to Herbert Weirather, 'everyone should have an opportunity to fly, and the DCL game provides the starting point.' This will come as a piece of welcome news to drone racers around the world. There will be a lot of anticipation for the next world drone racing championship.
Conclusion
It is exciting to see drones go beyond just filming into new areas like racking, and this says a lot for the future. However, will these crafts come into full use? That we cannot say yet, but what we can boldly say, is that there is a manned aerobatic drone that works. It is also essential to stress the importance of safety when dealing with drones like this, and this may be the factor that extends the period of time before manned drones come into full use.