5 Best Laptops for Content Creators in 2020
May 04, 2020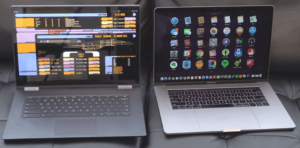 If you're looking for information on the best laptops for creators in 2020, then you've come to the right place. We have carefully compiled a list of the best 5 laptops for creators that anyone can afford. This list is made up of the best-designed laptops that fall within a reasonable budget by American standards. They are now available at most stores that sell laptops and electronics.
These laptops have been tested for performance, battery live, design, and value for use in respective designs. You're getting an incredible laptop if you buy any of these laptops listed below.
HP Spectre x360
This 10 generation Intel Core i5 laptop has undergone major upgrade as it comes with a 13.3"1920 X 1080 BrightView micro-edge WLED backlit multitouch screen with Intel iris Plus graphics and a truly impeccable 2-in-1 quality made chassis. When it comes to quality, the HP x360 is the best money can buy in the market right now as it can accommodate documents up to 256 GB – 2 TB. While this laptop doesn't come cheap, you'll definitely get value for your money with trustworthy security features and quality speakers.
HP Elite Dragonfly
The HP Elite Dragonfly is the best model for a business laptop as it's a very stylish and well-designed laptop that suits and meets your needs. It also comes with wonderful features that beat the target of the user. This machine comes with an Intel IUD graphics 620 cards with an 8 GB – 16 GB RAM. Its 13.3" screen offers a diagonal Full HD display function to a Full HD touch sure view display. You can store as much file as you want with its 256 SSD storage space. One thing this machine can boast of is its excellent battery life and an incredible design that makes this laptop the best for anyone who could afford it.
Dell XPS 13
The Dell XPS 13 has done fairly well to earn a spot in the list of best laptops for creators year after year since its release. It retains everything from its flagship design by Dell, from its gorgeous light to its Intel UHD Graphics card to a 13.3" screen that suits perfectly to the modern components that power this system.  You are entitled to a wide range of custom-made options when you purchase this system. The only update to this system from its predecessor is the change of location of its webcam from bottom of the screen to the top.
Huawei Matebook 13
The Huawei Matebook is an 8th generation Intel core i5-i7 laptop that comes with some of the latest components of the technology world as compared to its predecessor. This lightweight design laptop comes with a discrete NVIDIA MX150 graphics card. It offers its users an 8GB RAM and storage capacity of 256-512 GB SSD so there's enough to keep as much file as you want.
MacBook Pro 16-inch
Last but not least is the 2019 version of Apple's product. The 26-inch laptop takes over from the 25-inch version but its lighter and sleeker than its predecessor. The 9th generation Intel Core i7-i9 computer is, without doubt, the best MacBook product from Apple as it comes with an AMD Radeon Pro 5300M – Radeon Pro 5500M. With this device, you gain amazing speakers and a rejuvenated keyboard for your use.
From this list as a creator, you can choose whatever is affordable for you and buy but be rest assured that each of this device will deliver on their promise of aiding you to get a good job done.