Lenovo Yoga 720 Review
Apr 22, 2020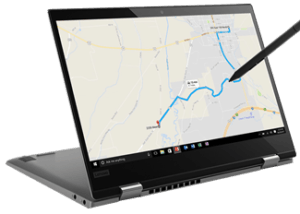 Yet another Lenovo Yoga this week. We love the hybrid design that can serve as a laptop and a tablet. It is extremely portable due to its lightweight and offers impressive features while remaining budget-friendly. It is available in 12.5, 13.3, and 15.6 inches. The Lenovo Yoga 720 allows you to switch from laptop mode to tablet mode seamlessly without pausing any action. A good point for this laptop is its remarkable performance, keyboard, and touchpad. No wonder this laptop sells so well. Let's get into details.
Pros
Elegant, portable, and light chassis.

Good performance

The touchscreen is compatible with Active pen

Affordable
Cons
Limited ports

Average battery life
Performance
Apart from having a Windows 10 OS, the base configuration of the Lenovo Yoga 720 is powered by a 2.5GHz seventh-generation intel core i5 processor, coupled with an 8 GB DDR4 SDRAM. It has an integrated Intel HD 620 graphics. The other configuration is powered by an intel core i7-7500U, 16 GB DDR4 SDRAM. When it comes to performance, this mid-range laptop tends not to disappoint.
Display
For its category, the Lenovo Yoga 720 offers a relatively good display but not the best in its class. Its IPS panel screen display full HD has a resolution of 1920 x 1080 pixels coupled with an impressive response time. As expected, the screen is a touchscreen and has an anti-glare feature. Also, the screen is compatible with the Lenovo Active Pen and other stylus pens, such as Wacom. The highest configuration of the laptop offers Ultra-HD display.
Storage
The storage is relatively fair, depending on the configuration of the laptop you go for. The base entry has a storage space of 128 GB SSD. Other configurations have 256 GB and 512 GB SSD storage capacity, respectively. Your storage needs will inform you on which configuration of the Lenovo Yoga 720 is best for you. However, higher storage space means additional costs.
Design
The laptop has a metallic chassis that gives it a grand look that makes it look expensive. However, this is one of the perks that make it budget-friendly. Generally, it has a compact and sleek design that places it well in the portable laptop category. It is convertible and has an impressive hinge that allows 360-degree flip making conversion easy.
The heat emission is well-managed thanks to its cooling system design and the positioning of the fans. This design makes it easy to release heat with very little or no noise, whether the PC is in laptop mode or tablet mode. Now, to the keyboard. Lenovo Yoga 720 has an excellent keyboard that is easy to work with and a remarkable touchpad that has received accolades.
In the port department, the laptop tends to disappoint people who like laptops having a considerable number of ports. The laptop only comes with two USB Type-C ports and one Type-A port. Added to this is a headphone jack. It has no HDMI port. This means you will need an HDMI adapter if you need to connect to an external monitor.
Battery life
For its category, the battery life of the Lenovo Yoga 720 is relatively fair but not the best. According to Lenovo, the battery life should last you 8 hours after a full charge. This should be enough to carry out most of your operations.
Final Verdict
Overall, the Lenovo Yoga 720 convertible laptop does not disappoint in most departments and will get the job done in terms of performance. It will be a good buy for business people and students. However, if you have more demand for display and ports, you should probably look elsewhere.