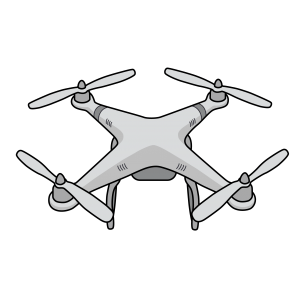 Are you looking for the smallest drones ever made? They're quite popular and come in different price ranges. Whether you're amateur, beginner, novice or pro, you can have lots of fun for whatever price. If you're in the market for small-sized drones that are durable, affordable, and easy to use, then I hope one among this list catches your fancy.
Note: there is a high tendency for crashing, and the device has limited flying time due to its size. Accidents happen but you can easily sell broken drone to us and get a new one. I would advise that you get an extra set of propellers and a spare battery.
Let's dive into it.
This small-sized quadcopter is a pretty basic user and budget-friendly device. It offers users three-speed modes with both headless mode and altitude control, all for around $40. This is a perfect drone for beginners and kids.
The full package includes; 1 USB charging cable, one transmitter, manual, and four small blades. These accessories have shroud protection to enable it to recover quickly when it crashes into walls or any obstacle. It does not come with any batteries for the transmitter as you would be required to use at least 3 AA batteries. You can also purchase this device in front person view. Charging time 30mins, flying time 7 min.
This is a small-sized drone with folding arms and a controller, which doubles as a case compartment. It also comes with a holder to accommodate your smartphone to view live FPV transmission. The design of this device enables users to fit the drone into its charger for portability and convenience.
You get three-speed modes to allow amateur users to gain experience, bright led searchlights for smooth movement at night, altitude hold, one key takeoff, and headless mode. There is VR mode to enable users to gain experience of the FPV.
Charging time 40 mins, flying time 5-7 min. The package includes; 4 spare propellers, controller, four propeller guards, 1 USB Charger, one propeller crowbar, screwdriver, care card, and user guide.
The Syma X21W Mini Drone is a super new system with Wifi FPV, hover mode, and altitude hold. This system has an excellent design and comes with a new function through its SYMA GO App known as a flight plan, which allows you to draw a route on your screen. The machine would accurately guide itself there using autopilot.
Features include one key takeoff/landing, 0.3MP Camera, Wifi FPV App control, remote control, screwdriver, main blade, USB Charger, mobile phone retaining clip, and a 3.7V 380mAh Lithium battery. This drone needs 4 AA batteries for its remote control. Charging time 50 mins, Flying time 5 min.
This is the perfect drone for beginners, as you can practice with it indoors. The system has propeller ducts that make this piece durable and lets it bounce off walls without damaging any of its parts.
You get a One-Key return and 360-degree ROLL-OVER button with this device, and it can locate its remote control's location. Features include; 3.7V 150mAh Battery, USB Charging Cable, 4 Propellers, and a transmitter. You also need 3 AA batteries for its remote control. Charging time 45 Mins, Flying time 5 min.
If you're one with a little more budget and want a top of the line equipment, you have it in this machine. The DJI Mavic Mini Drone is a fine line of material with a camera on a 3-axis gimbal using motorized stabilization to capture 2.7K videos and 12MP photos.
The drone reaches 29mph in sports mode and features different flight modes, vision-based sensors for a safe landing, GPS positioning, remote control, battery, extra set of propellers, micro USB cable, three phone connectors, Gimbal protector, six extra screws, one pair control sticks, and a screwdriver. Charging time 90 mins, Flying time 30 min.
Final Verdict
There are many more small drones in the market, but hopefully, this list helps you make that purchase. As you can see, these tiny drones come in different designs and possess various features that meet your needs at a particular time. If you want to make a purchase, it's down to what fits your needs and what you can afford.