LG Gram 17 Review
Apr 18, 2020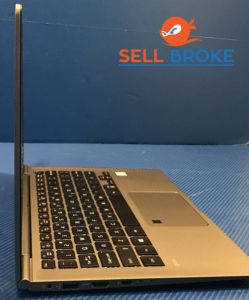 At first, when you hear of LG Gram 17, you may be quick to put it in the place of old generation 17-inch laptops that tend to feel like a lot of load to deal with and aren't worth the stress of carrying them around. This isn't the case of the Gram 17.
The big LG Gram is the lightest selling laptop with 17 inch screen. It has a simple, minimalist look that would make you underestimate its abilities. Its weight can be compared to that of the 13-inch MacBook Air. On top of that, it has a nice cool carbon nanotube-reinforced magnesium chassis, a smooth touchpad, moderate storage capacity, and an array of ports.
Pros
• Slim and lightweight
• High-resolution display
• USB-C charging port
• Decent battery life
• Biometric security
Cons
• Old Processor generation.
• Stiff mouse and keyboard.
• No keyboard backlight
Design
When I am asked what I think about the LG Gram 17, I can boldly say it has all the qualities of premium Ultrabooks. To start with, It has installed an optional USB-C port for charging. It has a good battery life (up to 19.5 hours, according to LG), a good assortment of ports, an impressively lit display with an aspect ratio of 16:10. It is packed with all the power you'd need for productivity.
When it comes to biometrics, the LG Gram 17 has a fingerprint sensor integrated with the power button for easier, seamless login, and an aluminium chassis that is shock and dust-proof. The keyboards on the laptop are not that bad but it can be a little stiff when typing. The LG Gram 17's keyboard isn't backlit, so yeah, you need the lights on in the dark. The touchpad is efficient enough.
It has a smooth, spacious surface that would allow for the use of gestures easily. Although clicking with mouse - like the keyboard is a bit stiff, so yeah, you got to apply more pressure.
Performance and Display
Judging from the name, the LG Gram 17 is a 17-inch laptop with a 2560×600 resolution display. The LG gram 17 comes with a single configuration that consists of an 8th-generation Intel Core i7-8565U processor, 16GB of DDR-2400 RAM, and a 512GB SSD. This configuration would speed up boot time. Although the LG Gram 17 is using quite an outdated core processor considering its year of release - 2020, the laptop lives up to expectation in the aspect of productivity.
The display found on the LG Gram 17 is not incompetent in any way. I like the idea of it having the 16:10 aspect ratio considering its 17-inch size. With the high-resolution display, the 2560×1600 resolution display improves the look of everything being displayed on the LG Gram 17. The LG Gram 17 has a well-lit display reaching brightness up to a whopping 362 nits. This puts it on the high side for a laptop of its caliber or even the average laptop.
Final Verdict
If you like big screens and high functionality on a laptop, then this is the laptop for you. However, if you're a traveler, it's kind of big and won't be a good fit. Overall, LG Gram 17 is arguably one of the best 17-inch laptops you'll find currently on the market.